This thread will be a repository for showing off monsters that I wrote up for my
blogamajog
,
Dragons In Dungeons
, at least the ones that are public and not set to patrons only.
To start us off:
FROG-SOTHOTH!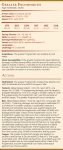 Okay, so not quite Frog-Sothoth. Really just a bigger, badder
froghemoth,
a D&D monster that it was a wonderful surprise to see appear in Volo's Guide to Monsters considering the obscurity of its origins (a certain 1980 module I'm a big big fan of).

Click through to my Patreon to check out today's (I keep wanting to type "this week's" but I'm aiming for a daily, not weekly, schedule) bonus monster, the Blink Frog.