The current 3.5 campaign I run as DM, "The Kordovian Adventurers Guild," has only one more session before we close it down. (We should be playing that session on 11 Jul 20.) The campaign before that, "Wing Three," ended with the PCs finding the pieces to a "universe seed," which would allow for the creation of a new universe once their current one got too old, and the deities of that nascent universe were to be patterned after the PCs who had gathered the seed. Then we moved forward 20 years in the "Wing Three" campaign with new 1st-level PCs and ran "The Kordovian Adventurers Guild" for about five years in the same game world.
So, I've decided my next campaign is going to take place in that "future universe," which means this will be the first truly home-brewed campaign I've ever run; my previous D&D 3.5 campaigns have taken place in a modified Greyhawk setting, with tweaks made here and there as needed. But this one I'll be building from the ground up. (At least I already have the pantheon pretty much figured out, as I just had to divvy up the domains among the Wing Three PCs and their prominent NPCs, after whom the gods and goddesses will be patterned.)
The first thing I decided I wanted to do was have dreams play a major role in the campaign. In fact, I intend to have some adventures take place entirely within the Dreamlands, with the PCs in their dream-bodies in a shared dream. I actually plan on the PCs meeting up for the first time in the Dreamlands, as they'll have been gathered together by the Queen of Dreams for the specific purpose of them becoming her agents in the Mortal World, as she exists only in the Dreamlands and has no physical presence. But there's a "dream plague" spreading across the continent, where people fall asleep and enter into a sort of suspended animation coma, stuck in their dreams and unable to escape without outside assistance - which is where the PCs will come in. I envision at least the first half of the campaign involving the PCs traveling the continent, coming to the aid of those stuck in their dreams.
So, the reason the Queen of Dreams chooses the PCs will be because they're special: not only were they born with an inherent ability to cast a 0-level spell (from any spell list, regardless of their starting class) once per day, but they're some of the few people in the Mortal World who can wake up from a night's sleep (even the elves will sleep in this campaign, which is good because one player eventually decided to play an elf PC) having remembered their dreams. This is imperative for an agent of the Queen of Dreams, who can only speak to her minions as they dream; she's had several frustrating attempts with others where she trains them as they sleep and then they don't remember anything about any of their training when they wake up.
So, here are the PCs my players have come up with, in the order of their creation.
My son Logan decided he'd try playing through a D&D 3.5 campaign in "hard mode," so he went with a half-orc cleric/paladin named
Wakuren
who wields no weapon, merely a shield. Logan wants Wakuren to start out as a 1st-level cleric of Cal (God of the Air and Healing, and the primary god of the pantheon - kind of like Zeus), then take alternating levels of paladin and cleric from that point on. We've decided he'll forgo having any paladin spells at all, but will gain cleric spells as if all of his paladin levels count as cleric levels. (So at level X, he'll cast spells as an X-level cleric.) Wakuren's 0-level ability is
disrupt undead
.
Here's Wakuren, as envisioned by Logan: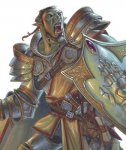 Next up, my 13-year-old nephew Harry who lives with us decided he wanted to try a human bard who played the lute. He usually needs some help with coming up with a name for his PCs, so together we decided on
Xandro Silverstrings
. Xandro wields a rapier and has the 0-level
ghost sound
as his spell-like ability.
Here's the image Harry chose for Xandro: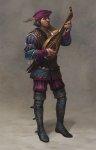 Vicki, our only female player, decided she wanted to try running a dwarven cleric and came up with the name
Alewyth Putterpye
. She's a cleric of Aerik, the God of Earth and Protection (as are most dwarven clerics in this campaign - he's the primary dwarven deity), but since "cleric of Aerik" sounds silly we decided they prefer being called priests and priestesses. Alewyth's 0-level ability is
ray of frost
.
Not finding a female dwarf mini she liked, Vicki had one made for her in Hero Forge. Here's the Alewyth mini, which is the image she decided on for her initiative card (note that female dwarves do not have beards in this campaign - Vicki has no desire for her PC to have a beard!):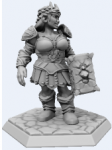 Vicki's husband Dan had an idea he wanted to try out, similar to Logan's cleric/paladin: he wanted to alternate between fighter and wizard, possibly taking a prestige class later on that would advance both his swordsmanship and his arcane spellcasting (right now he's leaning on spellsword). He was originally leaning towards making his PC an elf (as the elven fighter/mage is an old concept from AD&D 1st Edition, which is when he started playing), but then decided on a human named
Thurloe Pulver
. His 0-level spell-like ability is
touch of fatigue
and his first level will be as a fighter.
Dan also went with Hero Forge to have a custom-built mini for Thurloe: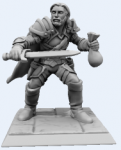 And that left Dan and Vicki's 16-year-old son, Joey. Joey has had a history of not being able to decide what he wants to play, and then when he finally gets that ironed out he has a tough time coming up with a name for his PC. Literally months after the other four players had decided on their PCs, Joey finally decided he'd run an elven sorcerer...and then spent another month or so trying to come up with a name for his PC. Finally, during our most recent Kordovian session, I sat him down in our family room with a pile of Scrabble vowel tiles and another pile of Scrabble consonant tiles, all turned over so he couldn't see them. He picked four consonants and two vowels and then started rearranging them to see if he could come up with a name; when he couldn't, we started adding and jettisoning letters. He finally ended up with CWILSON, which he immediately decided to re-spell "QUILSON" (fair enough - the Scrabble tiles were just a prompt to get the creative juices flowing), and then decided on the spot his PC would be named
Zander Quilson
. Of course, I realized right away that "Zander" was an awful lot like "Xandro," but I think we'll probably have people refer to his elf PC as "Quilson" more so than "Zander." In any case, Zander's 0-level spell-like ability is
cure minor wounds
.
Joey designed his elven PC via Hero Forge like his parents did. Here's Zander Quilson the elven sorcerer, with a somewhat incongruous patch of beard on his chin (perhaps there's some human blood in his ancestry):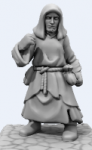 So, that's our lineup: a pacifistic half-orc cleric/paladin, a human bard, a dwarven cleric, a human fighter/wizard, and an elven sorcerer. Our first gaming session in this new campaign won't be until July (specifically, after the 11 July end to our Kordovian campaign, so probably on 25 July as we usually play on Saturdays and we've been trying to shoot for every other weekend).
One other thing I've decided on for this campaign is to do away with tracking XP; instead, I'll have five adventures at each level from 1st to 20th, making for a nice, even 100 adventures - the same number as our "Wing Three" campaign had. That will likely take some getting used to, but I want to give it a try.
Johnathan
Last edited: