To go with the official release of
Baldur's Gate: Descent Into Avernus
(my review will be released shortly), Wizards of the Coast is releasing a few accessories. As with some other recent books, like
Tomb of Annihilation
and
Guildmasters Guide to Ravnica
, a dice set is one of them, but
Baldur's Gate: Descent Into Avernus Dice and Miscellany
is more than a few polyhedrals.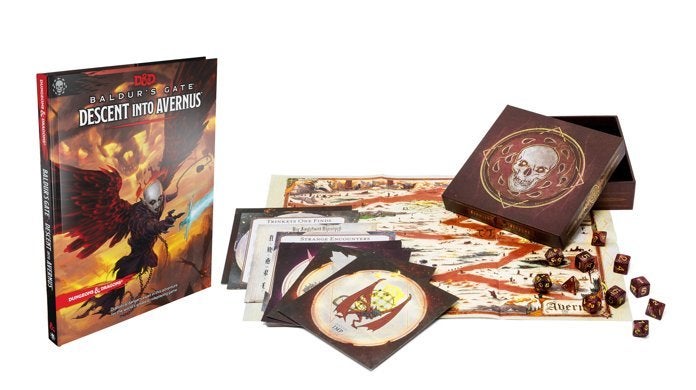 The dice look really good in a deep burgundy bordering on bronze/brown pattern swirled with gold and gold numbers. The set contains 11 dice – the standard seven plus three additional d6s for those who prefer the 4d6 and drop the lowest character generation method and an extra d20 for advantage/disadvantage rolls. The font size for the percentile die seems a touch small but otherwise, they're well done. It's the extras, though, that elevate the set.
Inside the protective plastic case that covers the set for retail shelves is a box with the Avernus symbol and metallic accents. The two-part box is velvet lined so each side can be used as a dice tray. As much as I love dice tins like they've done before this version is very nice and dice trays are very handy.
I'm a dice lover but the miscellany part provides some very handy items for players. One handout is for infernal script with an explanation on the other side from the best known researcher in the Realms – Volo Geddarm. That will make it easier for the players to translate items they find. The enclosed map of Avernus is gorgeous. On the other side is an example of demon and devil sides for comparison.
Another card provides 20 trinkets that can be found in Avernus. The next card provides 20 Avernus-specific encounters. The remaining 17 cards highlight a variety of demons and devils from imps and abyssal chickens to Balor. One side has art and the other a short commentary by Volo for that creature.
All in all it's a handy little set with high production values. While not essential for playing
Baldur's Gate: Descent Into Avernus
it would definitely add to the experience.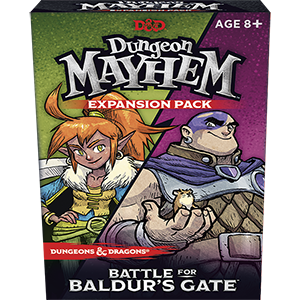 Players of the card game
D&D Dungeon Mayhem
can also enjoy Avernus with the
Dungeon Mayhem Expansion Pack: Battle for Baldur's Gate
. The original Dungeon's Mayhem game is needed to play. This expansion pack adds two 28-card decks, which add the characters Jaheira, the shape-shifting druid and Minsc, the ranger. It also comes with hit point trackers, tockens, reference cards and damage tokens. It's a fun way to add some variety to the base game and accommodate more players.
If
Baldur's Gate: Descent Into Avernus
tickles your fancy, these additions are a good cherry on top. If you just love the look of the dice, it could still be worth it since you get the box/dice tray and the cards could still be useful in a homebrew campaign. I'm definitely looking forward to
Baldur's Gate: Descent Into Avernus
so stay tuned for my reviews.