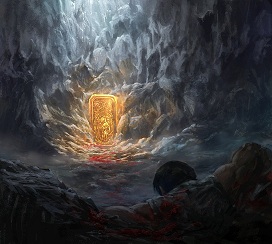 This is the start of a (roughly) weekly blog covering EN Publishing's various projects.
Shortly after Christmas I was handed yet another gift, this one in the form of a complete manuscript for ZEITGEIST Adventure 3 – Digging for Lies. Really, getting a ZEITGEIST manuscript is a treat for someone like me, as not only do I get to wrap my head around the intricacies of the adventure, but also I get to start pushing my mind to converting the adventure into Pathfinder rules.
Where Adventure 1 was primarily setting a scene and getting the PCs' feet wet and Adventure 2 was a web of political intrigue and constant plots, Adventure 3 begins to unfurl the greater picture of the conspiracy based campaign with a more episodic adventure. Avoiding spoiling key secrets and plot advancements here, I can say Digging for Lies opens the boundaries of the ZEITGEIST setting into the unknown and alien.
What do I mean by "alien"? I mean alien in an almost Cthulhuesque way. Things best left unspoken of and unthought (not a real word) of make their way to thwart the members of the RHC in the third ZEITGEIST installment. Now why would alien creatures from beyond the material world make their way to the city of Flint and be pitted against investigators of the RHC? Well, clearly you'll have to pick up the adventure to find out!
Unlike standard fantasy monsters (goblins, giant vermin, undead, etc) the alien entities that show up in Digging for Lies required some new rules to integrate their mind-breaking effects into the rules. As a special preview, here are some of the effects one could expect to see from the unique monsters of Adventure 3…

Alien Presence (Ex) This special quality makes a creature's very presence unsettling to foes. This ability is always active, and cannot be voluntary lowered. Opponents within range will find their sanity tested. The range is usually 30 feet, though is specifically marked for each creature. This ability affects only opponents with fewer Hit Dice or levels than the creature has. An affected opponent can resist the effects with a successful Will save (DC 10 + 1/2 alien presence creature's racial HD + alien presence creature's Cha modifier; the exact DC is given in the creature's descriptive text). An opponent that succeeds on the saving throw is immune to that same creature's alien presence for 24 hours. On a failed save, the opponent immediately suffers one random insanity (See Gamemastery Guide for Sanity and Madness rules). Alien presence is a mind-affecting fear effect.​
Format: alien presence(60 ft., DC 21); Location: Aura.


Distant Madness​
Type disease, varies; Save Will DC 16
Onset 1 day; Frequency 1/day​
Effect -4 penalty on all future Will saves after the first failed save. Random insanity following the second failed save (See Gamemastery Guide for Sanity and Madness rules). All subsequent failed saves increase the Will save penalty in increments of -2. ​
Cure 2 consecutive saves, all Will penalties are immediately removed following the curing of the disease as well as any acquired insanities.
​
Obviously it wouldn't really be nice to force players to fight such creatures without a little bit of backup, so here's one PC boon that GMs will be able to give out to their players in order to counteract the alien influences present.
Insane Insight​
Your allies thought you were acting crazy, but in that moment of self-peril, you saw reality from afar and understood your situation with an inhuman clarity.​
Training Requirement: You must have followed a detrimental course of action related to your insanity during this encounter.
Description: Once per day you gain one of the following benefits:​
Take an additional standard action on your next turn.

Treat any single d20 die roll as a natural 19.

Cast one spell that you have already cast this combat without losing it.
This is just a small taste of what can be expected from ZEITGEIST Adventure 3 – Digging for Lies. Expect to see the full adventure released later this month.
-Thurston 'Thursty' Hillman
ENworld Pathfinder Peon



Last edited by a moderator: