Work is progressing on the 5e version of
Festival of Dreams
, the ninth adventure in the
War of the Burning Sky
campaign saga, and I wanted to share one of the newer / more out of the ordinary parts of this version.
For those of you familiar with the adventure, you will remember that there is a massive battle that represents a fight between over 1,200 combatants. As I looked at how to effectively bring this to 5e, I wanted to keep as much of the original concept while keeping everything moving as much as possible so that the players are not stuck watching the GM roll dice and calculate damage for 20 minutes every round. At the same time, I wanted to have the resistance have to retreat unless the heroes actively turn the tide.
The end result is that the squads, such as the Gate Pass Squad below, don't roll dice for their primary attack. Instead, the squad chooses 4 targets within an area to take damage. The area is a 10-foot square for ranged attacks or within its area for a melee attacks. Medium or smaller targets can only be target once per attack. Larger targets (including other squads) can be targeted up to all four times. The GM calculates the damage that the target receives based on the target's AC.
Within the adventure text, a table has the damage pre-calculated by AC so the GM does not actually have to continuously recalculate, and the text also notes the 2 primary numbers that the two sides will be using as the Ragesians attack the entrenched Resistance. A Gate Pass Squad will do 48 damage to an AC 17 Ragesian Platoon within 80 feet (4 * 24, then apply resistance). While the 3/4 cover of the buildings gives the Gate Pass Squads an AC of 20 against a ranged attack, and a Ragesian Platoon would thus do 32 damage to a Gate Pass Squad within 80 feet (4 * 16, then apply resistance).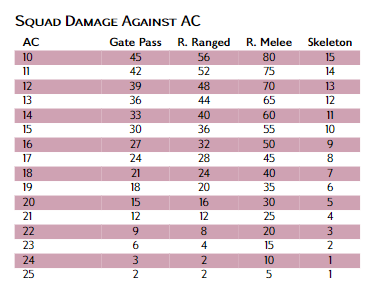 Hopefully this is interesting to some of you. The testing has gone really well and allowed the battle to continue moving and quickly return focus to the heroes (which is good, considering how much else goes on during the battle).