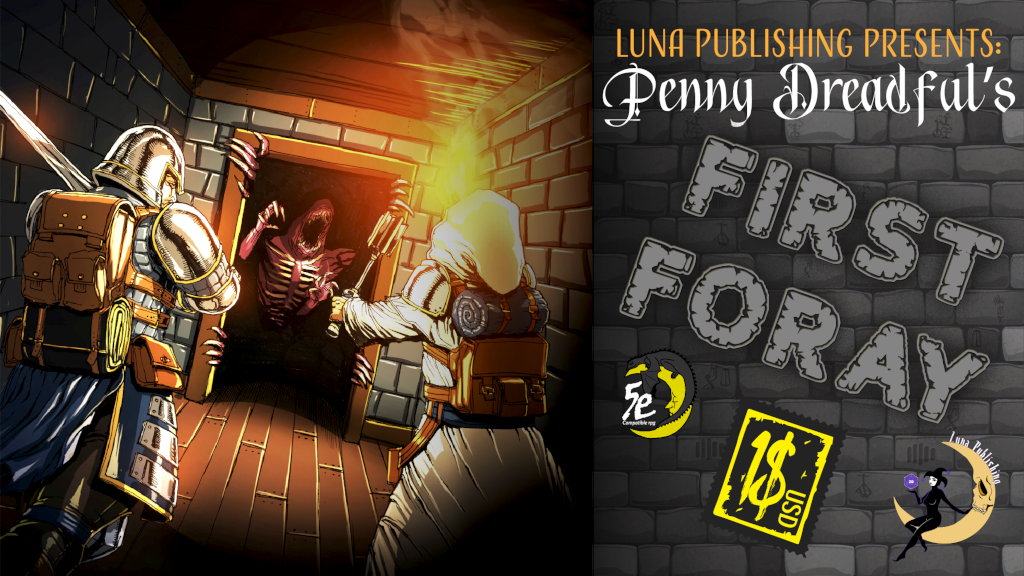 Luna Publishing is happy to present another set of 5 fun and unique mini adventures for the world's greatest roleplaying game, D&D 5th Edition.
This last set of Penny Dreadfuls is designed for one of the most important sessions of your game. The first one.
5 short adventures designed for parties of 1st level adventurers. Use the adventures to fire off a new campaign easily. Each of the 5 adventures is themed after unique or classic 1st adventure encounters complete with a horror twist. These adventures can be used stand-alone, or you can link them into your overall story. Each adventure contains methods of gathering and helping your adventuring party to charge ahead together. All for less than the price of a cup of candy bar.
This set also comes with an optional supplement. Called Session One, it includes suggested scenarios for drawing parties together, ways to handle low-level character death, new character backgrounds, new useful alchemy for low-level parties, useful low-level spells, and it also comes with a load of predesigned character packages for quickly equipping a character for play!
As before you have the option of picking up some of our previous works in PDF form to help support this Kickstarter. If you missed out on Cheap Thrills, Fanged Fables, Sinister Sacrament, Liber Sanguinis, or the Dollmaker this is an excellent chance to pick them up for less than retail price!
In addition, this will complete our first four pack set. We will be, after this Kickstarter, preparing and packaging all of our modules together in one large Hardcover book available for order through DriveThruRPG. Stay tuned after this Kickstarter is finished for details!