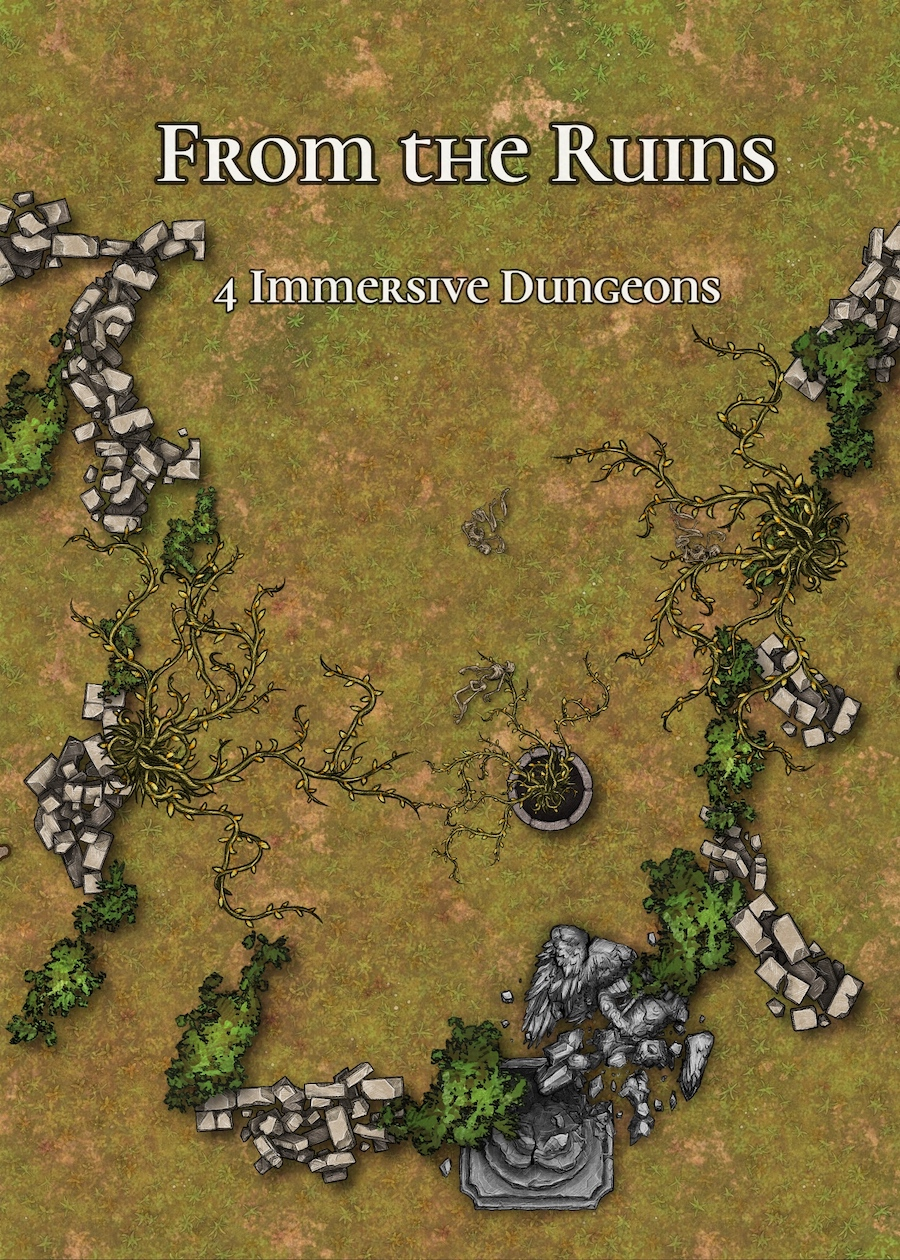 Barrow of the Red Soldier: In the depths of an ancient barrow, bones stir and unholy light glimmers as a long-dead warlord returns to life.
The Vault of Spiders: A long-lost Giant vault promises lore and riches to those who can brave the resident spider infestation.
The Lost Village: A once-thriving village has fallen into ruin, now host to only warped creatures, undead, and rumors of a powerful witch.
The Gardens of Cer Mora: Sentient fungus and animated plants clash among an ancient, extravagant garden. Below, an unseen force guides the conflict with sinister motive.
Adventure abounds in this dungeon-focused supplement for 5th edition! Balanced for parties of 4th to 8th level,
From the Ruins
encourages resourceful adventurers to face the mysteries, denizens, and hazards of 4 immersive dungeons. Ranging from 1 session sidetracks to multi-day delves, these dungeons are easy to drop into an existing campaign to fit your needs. Each dungeon includes:
Beautiful, detailed, easy-to-read JPEG maps ready to plug into your favorite VTT.
A simple, powerful Risk system to bring life and high stakes to your dungeons.
An open-ended backstory that can be easily adapted to any campaign.
Adventure hooks to entice heroes of all interests.
Unique creatures and treasures.
This supplement includes, in total,
34 pages of content
,
16 new enemies
,
5 new magical items
, and
13 maps.

$2.99 on
itch.io
and
DriveThruRPG
--
Barrow of the Red Soldier
is available for free download on itch.io (or through the preview function of DriveThruRPG).
Happy gaming!
Last edited: