https://ideas.lego.com/projects/d0c19cd7-ad7a-4775-b185-debbf29968d7
LEGO has a section about suggestion of ideas for future products, and one of them is a version of the classic hack & slash board game. I am not kidding. The suggestion is real.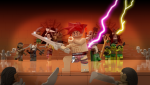 I loved this game, and sometimes I miss them. There was a project about a 25 anniversary edition, but they are working about it... for years.
What do you think, would you buy it for the children of your family?