I think this is the claim that is hard to swallow. A text of any significant length without any ambiguities is in itself basicaly inconceivable to me. And even if such en incredible feat of language was acheived, human errors like misreading, incorrect memory and pushing the limits is bound to cause situations in actual play where two persons are having different idea about the rules of the game.
This is reasonable to expect! I think what
@pemerton
is saying is that, to this day, there are no major outstanding rules uncertainties in AW, as any that have arisen before have been ironed out over the years through community discussions and revisions to the rules. Yes,
@pemerton
?
Within a group itself? I'm onboard with you that there are rules uncertainties that naturally emerge during the ongoing play given different interpretations of the rules. The difference with other gaming traditions, though, is that there usually there exists a correct interpretation of the rule that honors the authors intent. If we decide to apply it differently at our table, that's us already hacking the game to suit our needs.
*Quick aside to mention that the system we use vs the system as written are two different intersecting circles.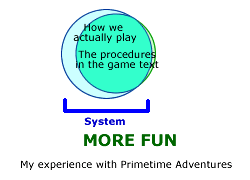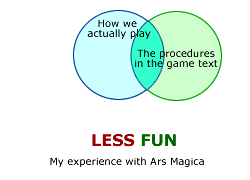 My question is - is that what is actually observed "in the wild" - in actual play? I dont know as I have not had enough actual play experience with these systems. However I think a lot of those being suspicious about the claims regarding how well GM - RPG work wihout GM authority over rules are tied to the suspicion that there is indeed some covert GM rules authority going on in the success stories.
Oh! I can share something. I'm currently playing in an AW game where I'm one of the players and one of my friends is MCing. I'm also the most experienced person at the table with the game and have a firm grasp on how it really works. This gives me a lot credibility!
Whenever any rules uncertainties come up (which is normal as most of the other players are still learning the game) I usually let the MC handle it, but on occasion I will speak out if I know of a different interpretation of the rules. I can typically provide supporting arguments/evidence for that different interpretation. The group, generously, always tends to accept my contribution to the discussion as final.
AW is silent about who the "keeper of the rules" is, clearly leaving it up to the individual groups of players to decide how to handle it. It's up to all members of the group to accent, case by case, what the correct interpretation is.