Well, that was fun
Staff member
You can now create collaborative("Wiki") threads.
A wiki thread is one which anybody can edit. If you have a collaborative project you would like to start, a wiki thread is the way to do it. When you designate your thread as a wiki thread, anybody can edit the first post. You can turn off the wiki function at any time (reverting it to a normal post) or you - as the thread starter - can "revert" any changes you choose to.
This applies to the first post in your thread only. Others can reply to the thread as normal. Only the first post is wikiable.
Collaborative projects might include:
lists, collections of information, shared projects, shared words/settings, and more.
To start a wiki thread, just start a thread anywhere on the forum as normal. Below the main text box you will see this:

You can also toggle wiki on or off on any of your existing threads (even those which were not originally created as wiki threads) by simply editing your first post and checking or unchecking the wiki option.
If the post has been vandalised (or just changed in ways you, as the post owner, do not agree with) you can revert it by click on the "edited by...." notification.

That will take you to a screen like this:

You will know you are looking at a wiki thread because you will see two things. (1) You will see a bar at the top denoting it is a wiki thread. (2) You will see an EDIT button, even though it's not your post.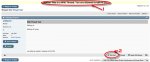 If you're looking at a forum, wiki threads will be highlighted in yellow like this:

You can start a wiki thread in any forum. It will remain a wiki thread unless you turn it off.
Here
is an example wiki thread
.

SaveSave​
Last edited: