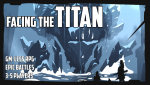 https://www.kickstarter.com/projects/gulix/facing-the-titan
A week ago, I launched my first Kickstarter in order to get this Roleplaying Game published. We're right now at 173% of funding, and unlocking Stretch Goals.


Facing the Titan
is a GM-less roleplaying game in which you'll play as the Companions, the ones who will face the Titan that reigns over the world. It's a story-game set for one-shot games. Each game will feature a different cast of Companions, a different Titan, a different Setting. This game is a discussion, and as the Companions, you will recall your journey before facing the Titan.
Facing the Titan
is not a game of tactical combat. It doesn't feature a riddle to solve in order to win the fight. It's a game to tell the stories of the Companions and the Titan. And the epic fight that will ensue. The Companions are set to win this fight, but at what cost, with what consequences?
Facing the Titan
will be released as a PDF and as a Print-on-Demand softcover book. The book will feature the rules for running the game, advice on how to play the game and six Titans.
Each one of the six Titans
will be illustrated by Roger Heal and will be included in a micro-setting, ready to play. The book will be around 160 pages, in a 6''x9'' format.
Here is Lofituina, one of the Titans you will be able to face.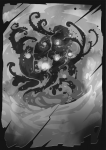 This RPG is GM-Less and requires zero preparation. It's suited for a one-night game of 2-3 hours.
If you have any question about the game or the campaign, feel free to ask!
Last edited: