City of Tarok is a project we wanted to make for years. We had plenty of experience as we create our maps in 3D and we also created many 3D printable miniatures. We thought, aside from modular sets, there are not many custom buildings on the market. We love creating small worlds like dioramas where you can feel that every piece of the terrain is hand-crafted and living. Now, with the world of 3D printing, we think our imaginations finally have a chance of materializing.
Join us now and you will receive six highly detailed stand-alone buildings as STL files for your 3D printer!
Click on the next link:
CITY OF TAROK: 3D PRINTABLE BUILDINGS
We have reached our main goal within 2 hours, which means you'll receive all the six core buildings at the $60 Settler reward and above. Now we are on to unlock as many free additional sets as we can. If you join you'll help us to make your pledge more valuable.

What free stretch rewards would you like to see later in the campaign?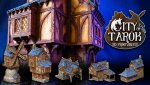 Last edited: