Elite Dangerous RPG
by Oliver Hulme Spidermind Games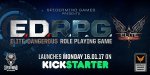 The game (
EDRPG
) is a skill based system using a D10 and a skill bonus to exceed difficulty numbers. Each character begins with their own spaceship, just like in the computer game.
Not only can characters improve these ships with upgrades to the weapons and internal systems but, with the right amount of money, players can trade in their ships for larger and more powerful models.
There are three arenas of combat, each with their own set of rules. As well as spaceship combat players can engage in personal combat and do battle in a myriad of surface vehicles.
Elite: Dangerous is the modern day incarnation of the seminal space trading game Elite. 30 years after the original game reinvented the way people experienced playing computer games, Elite: Dangerous is 'The spectacular new multi-player instalment in the seminal open world series of space games that started with Elite'.


Simply put, Elite: Dangerous deserves a role playing game. Not only do the two platforms merge seamlessly together but in the case of Elite: Dangerous it has adopted as one of its core principles the idea of the 'sandbox' approach to play. This concept of forging your own path, choosing your own destiny is the foundation on which most role playing games are based and is the key to their success.


And the official website for this Elite Dangerous Role Playing Game is
https://www.edrpg.co.uk/