I'm a week late in finding out that EN World has a forum site, but here's the press release for my game:
Fantasies for Foreplay's
Kickstarter
opens today!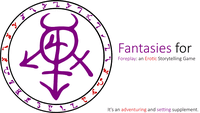 January 28 2019: Fantasies for Foreplay, an expansion for Foreplay: An Erotic Storytelling Game (2+ players) has just opened its Kickstarter! This expansion brings a whole new layer of depth in gameplay as well as a multitude of optional mechanics and materials to apply directly to the fetishes and interests of your players to the only successfully kickstarted tabletop roleplaying game devoted specifically to exploring sexual imagination and erotic reality. Once again, some of the reward tiers include toys, which I recommend players use while playing, but now with the option in to add toys at lower tiers, as well as copies of the base game. This is not the usual "adult" game. Players are required to sexually arouse each other in order to succeed in creating an erotic story to be enjoyed by both their characters and themselves, and this expansion provides a great deal of additional options (from the introduction):
Herein, you'll find all of the weird stuff I could come up with that might have scared off vanilla players (or those not interested in genre stuff), covering the necessities for kinkier activities and stories as well as some stuff to expand your access to genre fantasies with magic and monsters.
In addition to things that I had set aside when writing Foreplay, there's a lot of sweet, fresh content in this supplement, including setting materials for three different genres and A Slut in King Rupert's Court, a more traditional tabletop adventure. And with new adventuring settings comes some new adventuring rules and an alternative character sheet.
Gameplay examples are still erotic fiction intended to get players into the mood of the game, but now somewhat weirder.
The Art
The main purpose of this Kickstarter is to commission equally erotic art for the book from Synaesthetics Illustration (
http://www.synaestheticsillustration.com/
).
The writer, D351, is an upcoming game designer whose previous release, Foreplay: An Erotic Storytelling Game, was successfully Kickstarted and is currently available through drivethrurpg.com and indiepressrevolution.com, as well as this Kickstarter. This is a completely independently organized project with assistance from friends and a few industry contacts providing mentorship for Kickstarter preparation.
https://www.kickstarter.com/projects/d351/fantasies-for-foreplay-an-erotic-storytelling-game
Last edited: