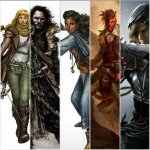 24 Calistril, 4710
It has been a decade since the mysterious disappearance of House Rogarvia and its scions. With the iron rule of Issia and Rostland's conqueror/unifier gone, the fragile peace of the proud land of Brevoy has rapidly deteriorated and the land finds itself on the precipice of civil war. Furtive alliances and duplicitous plots have allowed Issia's House Surtova to rise to the top and become Brevoy's ipso facto rulers. The Swordlords of "Free City of Restov," located in southeastern Brevoy along the Shrike River, bordering the River Kingdoms and its areas often referred to as the Stolen Lands, have politely refused King-Regent Noleski Surtova's repeated attempts to recruit them as enforcers for his reign. Surtova has since had his Dragonscale loyalists disguise themselves as hopeful Aldori apprentices to steal their techniques. This has only further caused rumblings of unrest and potential civil war.
Despite these problems, King Surtova has been convinced by Restov's Lord Mayor Ioseph Sellemius that it is necessary to protect Brevoy against the turmoil in the River Kingdoms along Brevoy's southern border. A call has gone out seeking adventurers to settle within the Stolen Lands. While technically within the River Kingdoms no one has proven able to maintain control of the region. This northern region of the River Kingdoms consists of outlands that not even the most brazen of bandits are willing to proclaim lordship over. For generations the land has been unsettled, with barbarians, centaurs, all nature of deadly beasts, and nefarious things that go bump in the night staving off would-be conquerors and plunderers of its potential and rich resources.
Our story starts with the party having answered this call to adventure. You find yourselves outside the audience chamber of the Lord Mayor of Restov, having been led here by a gentlemanly steward. In separate corners of the room, three other groups are standing and conversing amongst themselves. The steward quietly opens one of the double doors, pokes his head through and whispers something before closing the door and patiently waiting with the two posted guards.
Last edited: