Survival

Caspian waits for the world to stop bouncing around before gingerly prying his way out from the nanofoam crash bubble that his emergency jumpseat has deployed around him. A hand grasps his and helps yank him out - its van Ghent. The senior chief looks bruised but otherwise intact. CGO Bryant hasn't been as lucky - her crash bubble has been thrown against the shattered bridge wall and impaled on a broken girder. She's unconscious and bleeding badly from a shattered arm. Several of Bryant's team are missing, their crash bubbles - like hers - torn clean from their floor mounts by the ferocity of the impact.

There's at least two dozen serious injuries and six dead on the shattered bridge of the Wagner: a relatively low body count, perhaps, but the danger remains. The entire structure has been vented to space when the starboard bow sheared off and now the survivors pat down their emergency vac-suits as they set about helping injured comrades and searching for the missing. More crucially, Caspian notes, the emergency lifeboat station is jammed shut - the massive blast doors crumpled at odd angles.

"Richards? Lt. Foster? Anyone with a hard suit?" Caspian taps the comms.

"Jr. Lieutenant Asad here, sir. I'm afraid the L-T's bought it. We're trying to get the blast doors down but it could take a bit."

"Very well then - keep us appraised on the progress." Caspian says looking at his own emergency oxygen supply. 12 hours in the compact pod and he can see some of his bridge crew handing out the spare bottles from the emergency boxes. A few others are starting to pry Bernd's Casket module loose for removal.

A series of silent flashes light up the rents in the Wagner's hull - a reminder though the Wagner is out of it, the battle still rages.

<AT LAST, CAPTAIN. I HAVE FOUND YOU.>

The unearthly voice seems to come from within his skull. Yet the intonations are familiar. Captain Tiburce Rodin. Wasn't he off to the lifeboats the last time Caspian saw him?

The eerie face of a SSC Dusk Wing mech frame appears at the gaping hole in the starboard side of the bridge - then the many-armed chassis crawls its way in. Surely, this is the dreadful apparition that every war criminal fears - a DOJ/HR investigator in a mech.

<APOLOGIES FOR THE UNCONVENTIONAL COMMUNICATIONS. SIGNAL DISRUPTION FROM STELLAR FLARES INTERFERES WITH THIS MECH'S RADIO. DO YOU REQUIRE ASSISTANCE? HAWKER AND I CAME TO HELP.>

A highly mobile flying mech like Rodin's is most welcome - it can help secure a working lifeboat, ferry survivors to it, and search the debris for others. Certainly an unsettling visage, but right now the inspector's aid is sorely needed.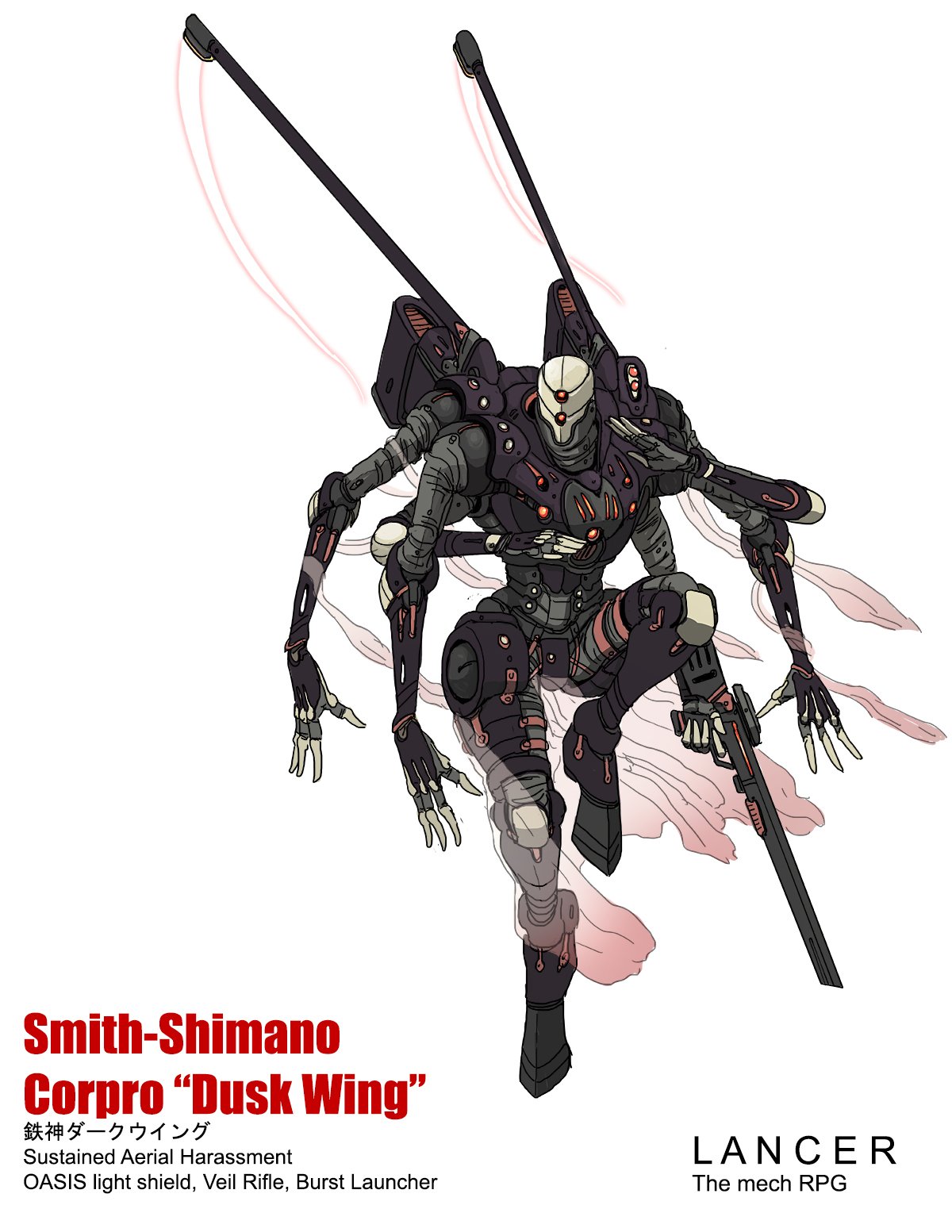 Dusk Wing art by Tom Parkinson-Morgan