The "Lovecraft inspired"-series of VTT Battlemaps is growing!
Latest release is the
"Alchemist" battlemap,
including an underground lab and larger house.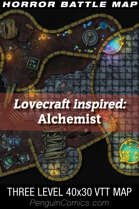 "Gates of Yog Sothoth"
is a deep dark dungeon map with tons of mysterious sections, doors and horrors!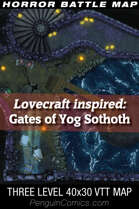 The
"Innsmouth House"
is an abadoned building with lots of magic madness to discover...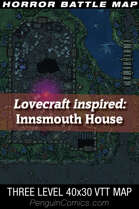 All maps are three levels, 40x30, grid and gridless. 72 + 300 DPI versions, with printable PDF-files included.
Get them all at
PenguinComics DriveThruRPG shop
.
Have fun!