CAST OF CHARACTERS
Rhun -
Anundr Valkrsson
CG Male Human Barbarian 1
HolyMan -
Wi Yuin
CG Male Human Fighter 1
Walking Dad -
Raven
- LN Male Human Monk 1
Tailspinner -
Zooey Heimlich
CG Female Human Rogue 1
GlassEye -
Iradias Moon-Touched
CG Male Human Cleric of Glarias 1
jkason -
Nathan Tchanlach
CG Male Human Sorcerer 1
[sblock=Dragon's Delve Player Intro]
Maybe you first heard the name in a tavern well after closing time, as two old adventurers, well past their prime, spoke of it in hushed tones. Maybe it was from your own mother, who swore she'd send you there when you misbehaved. Perhaps you read the name in an ancient tome of history and lore illuminated by flickering candlelight late at night as the wind howled outside. Wherever you first heard of the place, you have long heard tales of Dragon's Delve.
A vast underground dungeon of labyrinths and catacombs, built perhaps by dwarves or perhaps by wizards--or maybe even dragons--Dragon's Delve is infamous among treasure-hunters and monster-slayers. Filled with deadly danger and ancient treasures, the dungeon offers both risk and reward in equal amounts, each growing more intense the deeper one goes. How much peril is worth risking for how much return? It's all up to those brave enough to try.
The tales of Dragon's Delve teem with contradictions and unbelievable anecdotes of impossible encounters and bizarre monstrosities. And yet, some of it all must be true. Do demonic cultists really use Dragon's Delve as a secret base? Is there truly some kind of ambient magic seeping up through the place? Did wizards of old hoard away powerful artifacts in the dungeon's vaults? Do gateways to remote lands and even other planes of existence really lie somewhere in Dragon's Delve? Does the prince of all dragonkind really hold court in the deepest reaches of the subterranean stronghold? No one knows for certain, but those that could find the answers to even some of these questions, or learn even a few of the dungeon's other secrets, might earn for themselves notoriety and wealth beyond imagining.
If they survive.
Dragon's Delve lies in a remote corner of a long-forsaken wilderness that people once called the Duchy of Chordille. Yet a hundred years ago or so, the folk of the surrounding lands took up arms against Chordille. They razed the keep and slew the duke. It's hard now to find someone who knows the real reason why this happened. A few speak of evil intent on the part of the duke, who had plans for conquest. Others, however, say that the duke's actions were always benevolent, and that the conflict arose from misunderstanding, or perhaps deception on the part of some mysterious third party.
All that is known for certain is that folks call that remote realm the Fallen Duchy. It boasts no ruler and little population. Wilderness reclaimed Chordille, and it is now a land of dangers.
People in Brindenford, a small town just two miles to the north, claim that murderous humanoid creatures prowl those ruins. Goblins? Orcs? Worse? No one seems to know for sure, and eyewitness accounts are few, and always contradictory. They also claim that the place is both haunted and cursed.
So many questions. So many secrets.
If you dare to brave this ancient dungeon, go well equipped. Be ready for anything. Keep your eyes open, and search everywhere. Any passage or door you find could lead to wealth enough for you to retire. Or it could lead to certain doom.
But that's what being an adventurer is all about, right? This isn't an undertaking that you'll finish in one foray or even a dozen. This is the challenge of a lifetime. As someone thrilled at the prospect of exploring the unknown, incredible challenges, and the promise of gold and magic, Dragon's Delve is exactly where you've always wanted to go.
[/sblock]
[sblock=Surrounding Environs]
In the middle of an area now known as the Fallen Duchy, the environs of Dragon's Delve include many overgrown (and sometimes forgotten) ruins. The Duchy of Chordille fell almost 100 years ago, and compared to those happier days, the region now lays as an almost uninhabited wilderness.
At the center of the Fallen Duchy lie the ruins of Chordille Keep (which itself provides entrance to Dragon's Delve). This ruin offers no intact structures--only vine-grasped piles of stones, overgrown outlines of foundations, and the furtive hint of walls and arches. The entrance to the dungeon itself is little more than a twenty-foot wide open pit with an exposed stone stair that descends into darkness. Various explorers and treasure seekers have left the entrance well-cleared. Likewise, the observant adventurer may notice the remnants of cooking fires and other signs that previous delvers have made camp near this pit.
Chordille Keep rests atop a long, gentle hill known as Bryson's Look. The area grows thick with silver maples, boxelders, and the occasional firethorn. Somewhere south of the keep lies a mysterious, abandoned structure some call Terregaunt's Tower. At the north end of Bryson's Look, near the mighty River Turant, lies Brindenford. This small town offers a few amenities to those looking to risk the dangers of Dragon's Delve thanks to its minor importance in trade. Brindenford rests at a major crossing of the Turant for the Queen's Road, upon which travel caravans laden with the spices and salt traveling to the west and those bearing wool and iron goods to the east. Likewise, loggers from the north use the Turant to send wood down to the mills to the south, and Brindenford offers a landing for this process as well.
Currently, the town remains independent, as no authority higher than its lord mayor claims the wilderness in which it carefully nestles. Technically, the entire region falls under the rule of High King Rudik in faraway Kelmanosh, but even his vaunted tax collectors do not venture this far west. With trade once again increasing, however, this may change in the near future.
Brindenford lies approximately two miles from the ruins of Chordille Keep. Most folk of the town know better than to go there, fearing the very real tales of orcs and goblins lurking there, and the more fanciful (but still possibly true) tales of evil spirits and curses that haunt that sad place. Still, one can't spend an evening in the taproom of the Lost Shepherd Inn, chat with the locals in the hiring hall, or sit with the fishermen on the dock as they complain about the loggers without hearing a rumor or legend about the mysteries that lie within Dragon's Delve.
[/sblock]
[sblock=Environs Map]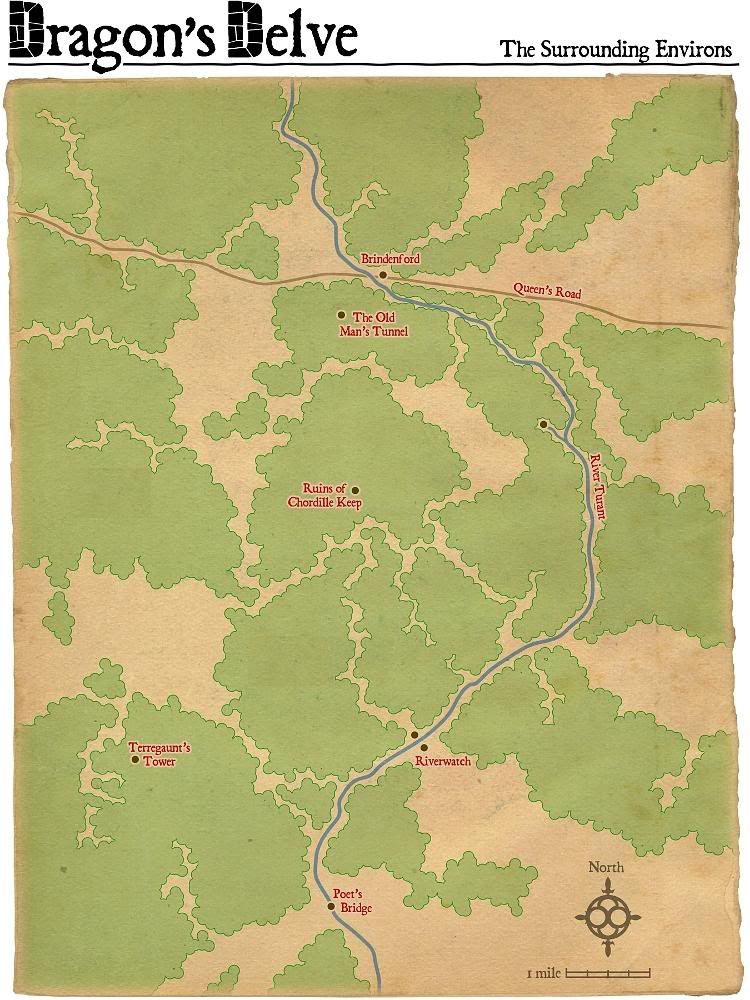 [/sblock]
[sblock=Brindenford Map]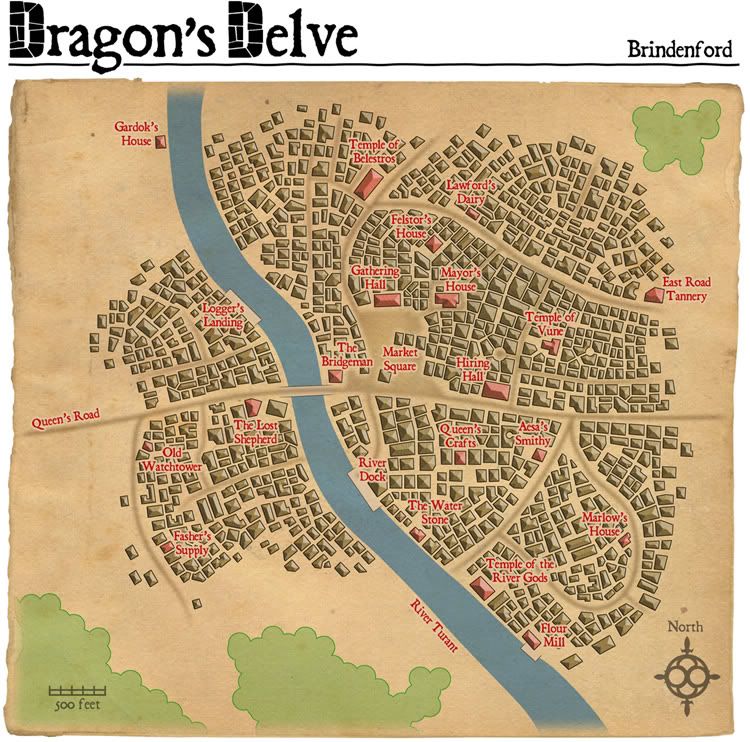 [/sblock]
[sblock=Rumors]
[sblock=Anundr]
1. A paladin named Baine Strongbow was slain in Brindenford by assassins after driving off a powerful spellcasting hag that lives in Dragon's Delve. His potent sword, Grace, was stolen and now lies somewhere in the dungeon.
2. Within the dungeon lies an umber hulk king that seeks to raise an army and invade the lands above.[/sblock]
[sblock=Iradias]
1. The Bestial Host serve the Beast God, a savage and terrible deity that demands blood and violence. The host has a strange fascination with Dragon's Delve.
2. There is a magical pool in the dungeon once sacred to Glarias the Moon Goddess but it is now cursed and poisonous.[/sblock]
[sblock=Wi Yuin]
1. Deep within Dragon's Delve lies a training dojo built by Master Mui Yan in his exile from his own far off homeland. Anyone finding it can still, to this day, learn otherwise forbidden fighting styles.
2. Portions of Dragon's Delve intersect with a mystical matrix called the wendways that allow one to slip between the spaces between spaces--but at a spiritual cost.[/sblock]
[sblock=Raven]
1. The artifacts known as Sao's Bones lies in a vault somewhere within Dragon's Delve. Supposedly, these dice control some aspect of cause and effect on a fundamental level.
2. A temple to the demon goddess of medusas lies in Dragon's Delve, which includes egress to the terrible plane upon which the goddess herself can be found.[/sblock]
[sblock=Nathan]
1. Somewhere within the winding confines of Dragon's Delve lies a magical portal to the lost island of Khorant. No other means exists to reach this mysterious locale located somewhere on the Sea of Eternal Storms.
2. The infamous Mages Four controlled all of the dungeon at one time, using it for their strange experiments and to house their otherworldly allies and servitors.[/sblock]
[sblock=Zooey]
1. If you find the three carpets of Tral-Ferrer and put them together, they reveal some secret about Dragon's Delve.
2. If one delves very deep into Dragon's Delve, one may discover the hidden tomb of the sorcerer-priest Orr, filled with great treasures but guarded by some of the deadliest traps ever devised.[/sblock]
[/sblock]
Last edited: