So I was thinking about the idea of using comic books, TV shows, movies, novels, etc. as inspiration for a character's One Unique Thing. I'm certain there is a ton of resources, so I thought I'd start this thread to see what we could come up with.
OUT (One Unique Thing): Your body is made of living crystal.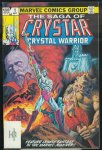 This one would be a cool visual, but I can see where a crystal body could have mechanical benefits (improved AC?), which means it may not be well-suited for a OUT.
So what ideas do you have?