Well, that was fun
Staff member
This chart was published back in October (we discussed it here then), but I thought I'd list the popular combos in order. These are those with 2000 or more.
Human Fighter 4888
Elf Ranger 3076
Elf Wizard 2744
Human Wizard 2568
Human Rogue 2542
Human Cleric 2339
Human Paladin 2326
Elf Rogue 2257
Dwarf Cleric 2199
Tiefling Warlock 2188
Dwarf Fighter 2009
And the least popular are:
Aasimar druid 65
Aasimar monk 87
... oh, wait. It's all aasimars and druids!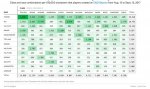 Last edited: