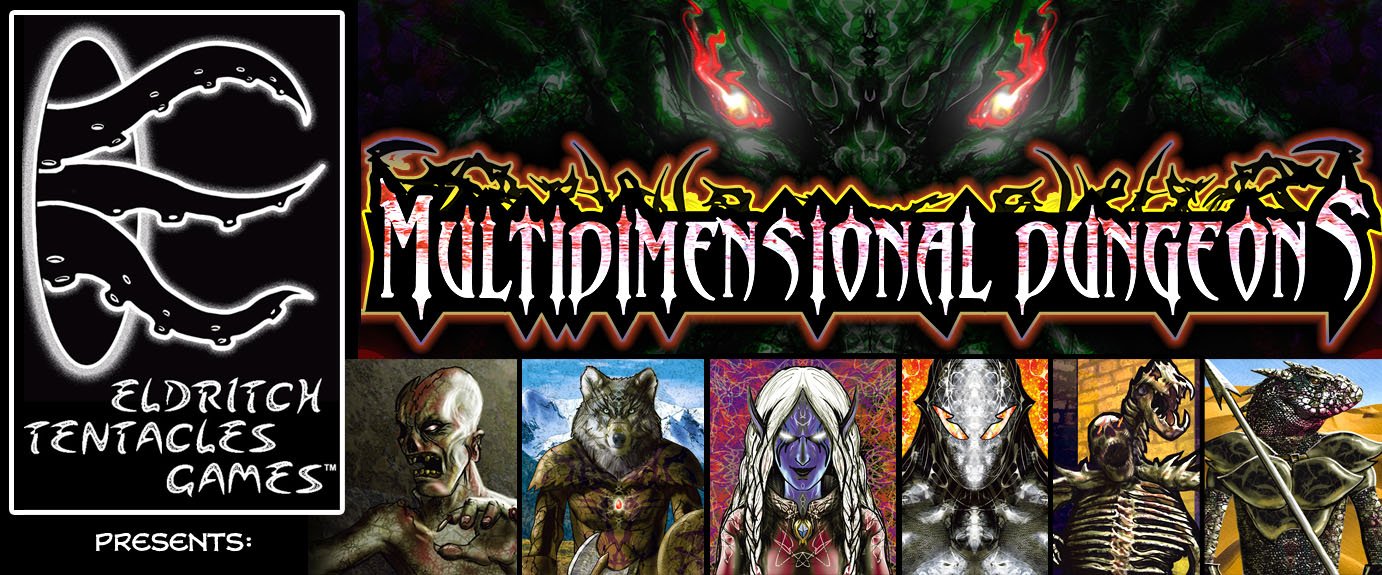 Hello all. My game,
Multidimensional Dungeons
is A Cooperative, Deckbuilding, Tabletop RPG for 1 to 4 Players. Designed to Be FUN, Easy to Learn, and Deep, With Extreme Customization. It's going to be a while before my kickstarter campaign launches but you can find it here:
https://www.kickstarter.com/projects/morgancaraway/multidime...
More general information can be found at
eldritchtentacles.com
. You can learn more about me and the absurd amount of creative projects I'm involved in at
morgancaraway.com
.
Features of
Multidimensional Dungeons
:
• Co-operative gameplay for one to four players. Card and dice-based gameplay allowing for maximum variation. Always a different experience – no two games will be alike.
• A deep and intuitive role playing system.
• A simple yet comprehensive stat system—the entire character sheet is half a page!
• Three main classes, 9 playable sub-classes and 19,683 potential multi-class combinations
• 23 (and counting) types of beings to play including elves, half-beast
primals
and undead
revenants
. Don't see one that you want? Create it!
• Hundreds of items. Deadly Traps. BOSS BATTLES!
• The initial set will allow players to make their way to level five. If the game succeeds and if I want to do it, I'll make expansion sets in the future up to level 10, 20, or perhaps even higher.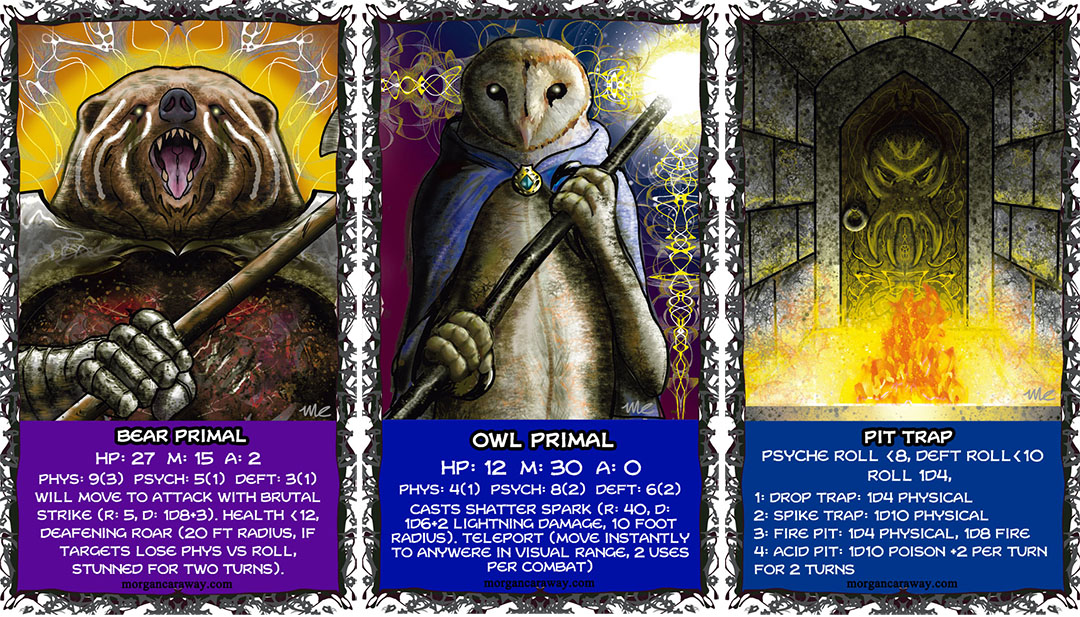 The boxed set will include around 150 full-color cards with dark fantasy art including flavors of Lovecraft, a full set of polyhedral dice, laminated character sheets, a combat grid, character and monster tokens/counters, a rulebook (under 50 pages). Below, you can see the character sheet I've come up with. I wanted to have it be as simple, streamlined, and straightforward as possible and not too crowded with unneeded information.
Thank you for your time and attention! Morgan.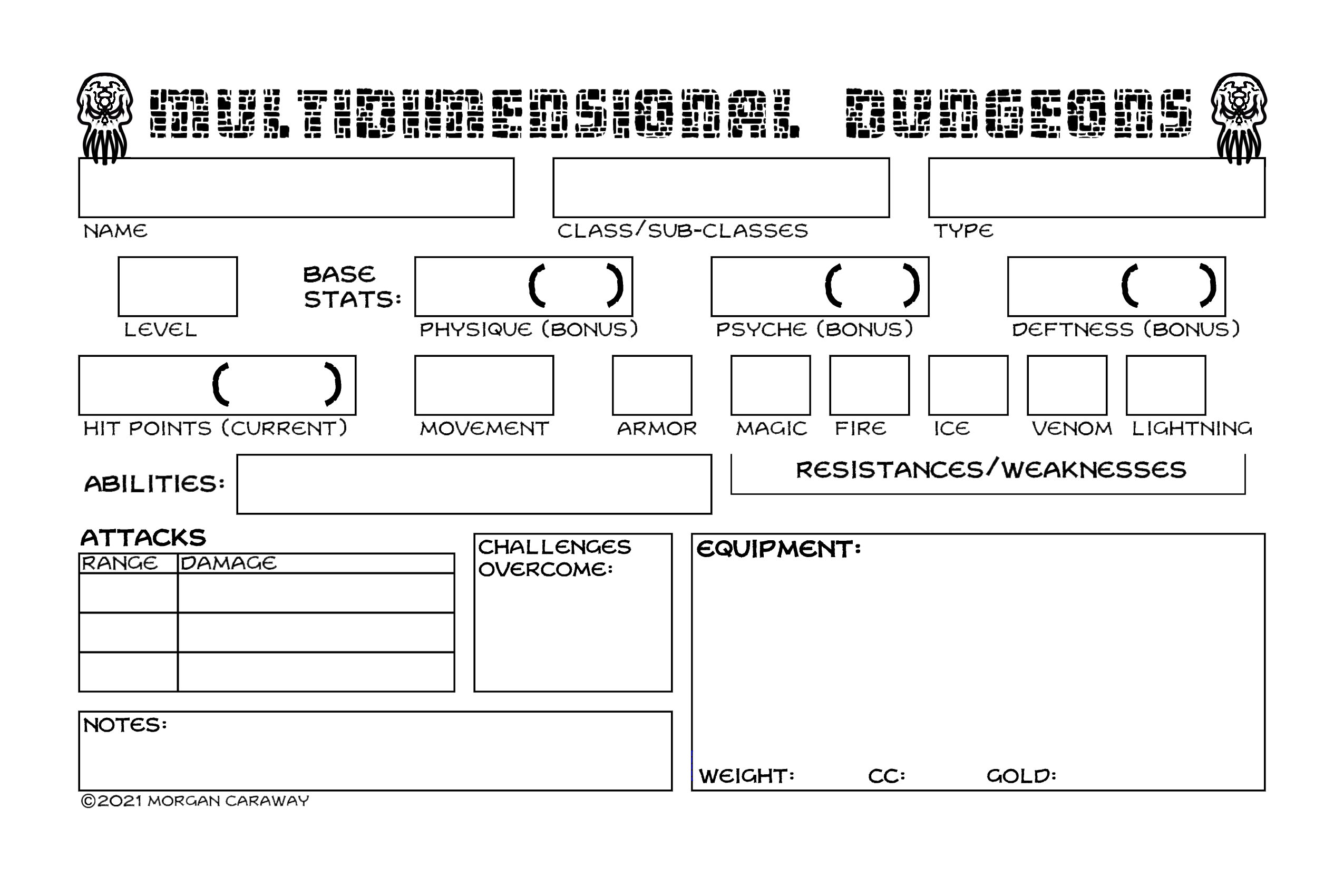 Last edited: