Hello everyone, Darryl here with this week's gaming news! Games on Kickstarter crosses $1 billion raised,
Ghosts of Saltmarsh
DM Screen and more announced, preview of the new Drizzt novel
Boundless
,
Warhammer
fan survey open, and more!
Kickstarter announced that projects in the Games category officially crossed $1 billion raised across over 17,000 funder projects earlier this week
. Over the ten years since the category was launched, all games subcategories have collectively raised more than $1 billion from video games, playing cards, and tabletop games. And believe it or not, tabletop games gets most of the credit with more than $680 million raised. The growth not only of the tabletop industry but tabletop games on Kickstarter specifically have caused the crowdfunding company to take notice and launch initiatives like this
past February's RPG Zine Quest
. Kickstarter also confirmed their commitment to gaming in the blog post by highlighting several projects live now, including two video games and three tabletop games:
Firmament, Calico, Roam, Oceans,
and
Blood on the Clocktower
.
Gale Force 9 announced their new DM Screen for the upcoming Ghosts of Saltmarsh
. Breaking with tradition for the company, this DM Screen isn't named after the adventure, but instead is called
Of Ships and the Sea
, featuring both nautical-themed art (seen above) and reference information like full random generation for ship encounters (starting with the general type of ship to its crew down to the ship's name), a complete random encounter table for three different tiers (level 1-4, 5-10, and 11-20) focused on aquatic enemies, and a table of hazards and setbacks that can happen on the open seas. The DM screen will release this June with a retail price of $10.49.
The marketing team at Wizards of the Coast received an award for the Stream of Many Eyes
. The live streamed event last year for the announcement of
Waterdeep: Dragon Heist
and
Waterdeep: Dungeon of the Mad Mage
won the American Drum Award for Best Event/Experiential category. While not that well-known outside the marketing industry,
The Drum
is one of the largest trade magazines for public relations, marketing, and advertising. This is the first time that a roleplaying game company has received such recognition for their marketing efforts. The follow-up event for 2019,
The Descent
, takes place on May 17 through 19 in Los Angeles and will be
live streamed on the official Dungeons & Dragons Twitch channel
.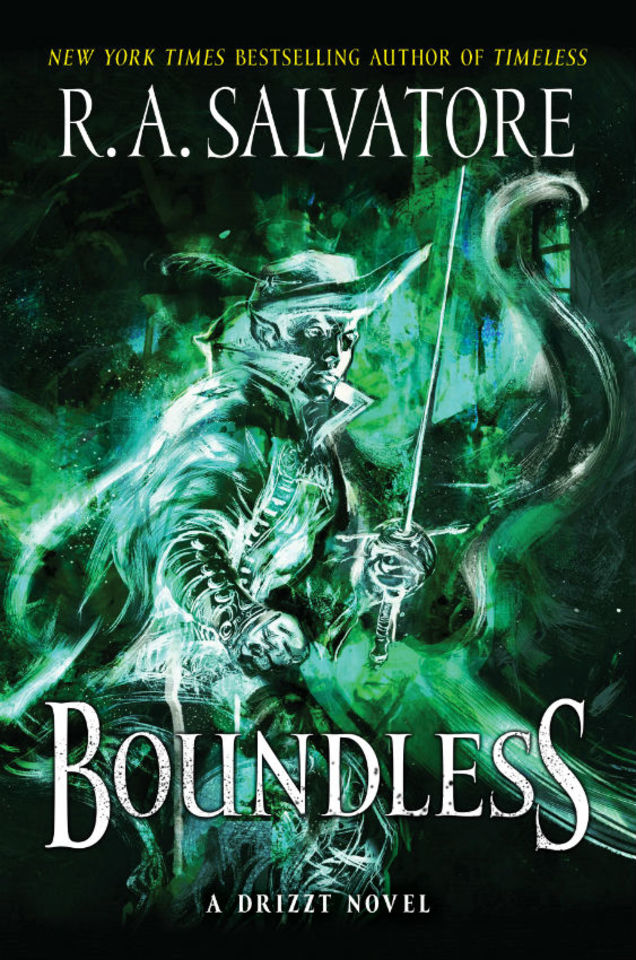 Pre-orders are now available along with a sneak peek at the new R. A. Salvatore Forgotten Realms novel Boundless
. From the cover blurb:
Split between time and two worlds, Zaknafein had always been conflicted. That inner turmoil was magnified by his inferior position as a male dark elf in the matriarchal drow society. Only his status as one of the greatest warriors—as well as his friendship with the mercenary Jarlaxle—kept him sane. When he finally perished, he was content knowing he left behind a legacy as substantial as his son Drizzt.

Except…someone isn't ready for Zaknafein to be dead. And now he's back, hundreds of years later, in a world he doesn't recognize. His son's companions are not the prideful—and bigoted—males the drow warrior was accustomed to in his previous life. Drizzt's circle includes dwarves, elves, and, perhaps worst of all, a human wife.

Struggling to navigate this transformed new world, Zaknafein realizes that some things have not changed: the threat of demons and the machinations of a drow matron no longer content with her family's position in the ranks of Houses.

Though he has been displaced in time, Zaknafein is still a warrior. And no matter what prejudices he must overcome, he knows he will do his duty and fight by Drizzt's side to stem the tide of darkness that threatens the Realms.​
This new book in the Drizzt saga will be available on September 10 of this year on Kindle for $14.99, in hardcover for a retail price of $27.99, on audio CD for a retail price of $59.99, or on Audible for one credit for subscribers (including free trials) or a flat purchase of $26.94.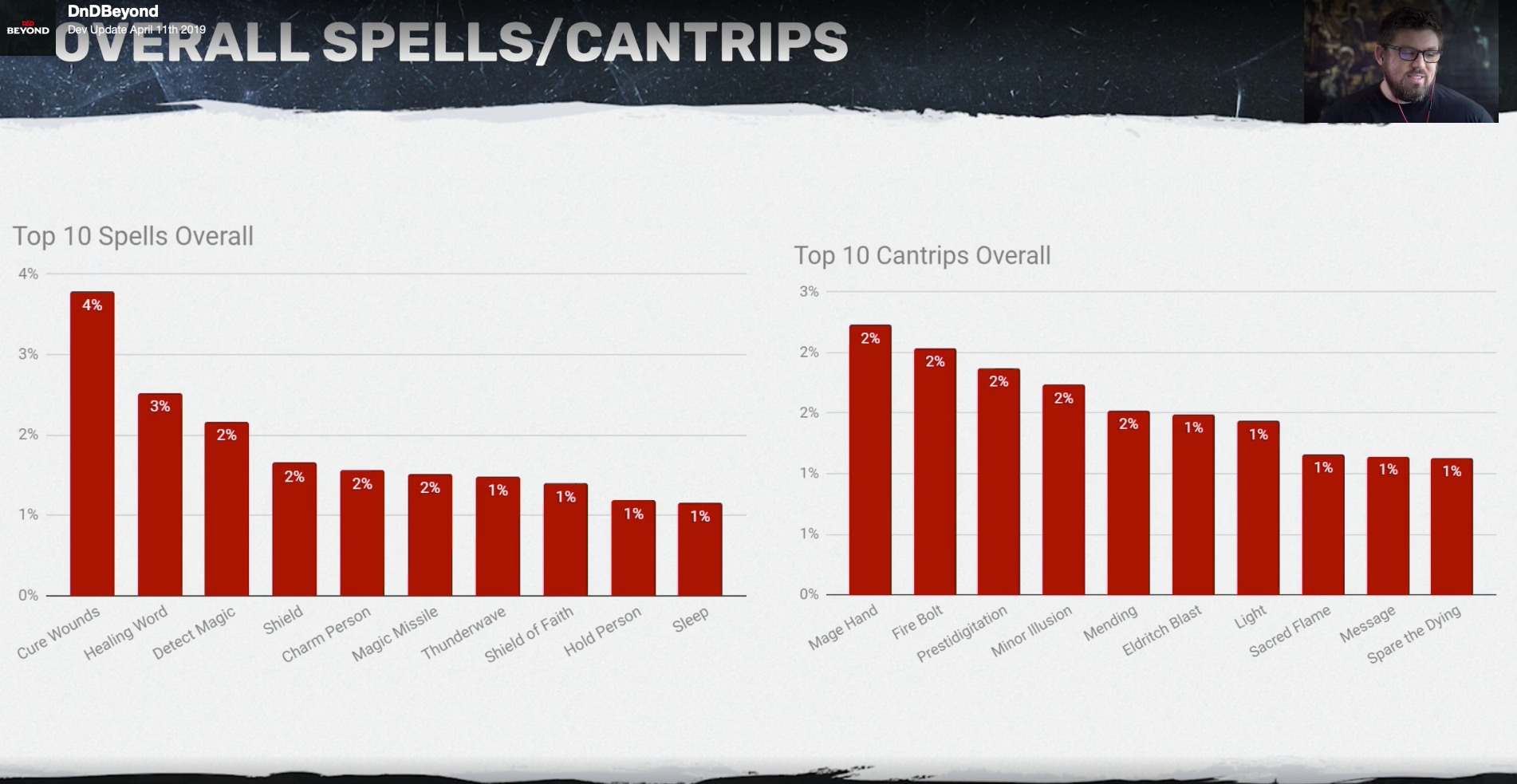 D&D Beyond cracked open their databases once again, this time to tell us the most popular spells across all classes
. The most utilitarian spells won out for the overall leveled spells with Cure Wounds, Healing Word, Detect Magic, Shield, and Charm Person taking the top five spots averaged across all spellcasting classes. The most popular cantrips across all classes are Mage Hand, Fire Bolt, Prestidigitation, Minor Illusion, and Mending, which tracks with my games where players will want spells that will allow them to argue with me as to what they're actually capable of and then, if I don't agree with their OP interpretations, just set everything on fire. The list also breaks down the leveled spells and cantrips for all spellcasting classes in 5
th
Edition including the newly-available Artificer class. And if my little aside wasn't indication, yes I know very, very well the pain that caused
the viral image "If Spells and Abilities Were Written How My Players Use Them" going around social media
.
Games Workshop wants to hear from you about Warhammer
. The survey will be open until Monday, April 22 and covers general opinions about
Warhammer
and
Warhammer 40,000
including the rules, ease of building/painting minis, the learning curve, and similar aspects of playing the game along with opinions on new products and the direction of the game. Additionally, one random winner will receive an entire army of the new plastic Sisters of Battle when they're released with ten others getting a squad of the Adepta Sororitas. And yes, the prize is available worldwide with a few restrictions.
The Tabletop Network is offering aspiring game designers a chance to learn more about the industry through the New Voices Scholarship
. The scholarship includes a badge for admission to the Tabletop Network Conference on November 18-19, 2019, in Dallas, Texas (which also includes admission to BoardGameGeekCon), hotel accommodations for three nights (Sunday, Monday, and Tuesday) of the conference, and a reimbursement of up to $500 for airfare to the event. Applications for the New Voices Scholarship closes on June 30 and currently has funding for five recipients (though they are soliciting sponsors to fund more).
Mensa announced the 2019 Mensa Select winners for tabletop games. Each year, Mensa selects five games from submitted nominees with a panel of over 300 judges at the Mensa Mind Games event choosing based on originality of concept, challenge, and design as well as value for price, ease of learning, and entertainment value. This year's winners are
Architects of the West Kingdom
from Renegade Game Studios,
Gizmos
from Cool Mini or Not Inc.,
Gunkimono
from Renegade Game Studios,
Planet
from Blue Orange Games, and
Victorian Masterminds
from Cool Mini or Not Inc. Next year's nomination process will start this fall for games entering distribution between June 1, 2018 and June 1, 2019 with the winners selected
at Mensa Mind Games in April 2020
, though details about next year's event have not yet been announced.
Do you have a 3D printer? Then you're probably starved for blueprints to create terrain and miniatures for your games! Do you not own a 3D printer? Then you might want to check your local library or university as many have printers available for public use.
Either way, you'll definitely want to look at the 3D Printable Dungeons & Cities Bundle on Humble Bundle
. The bundle has three price levels at $1, $8, and $15 offering a total value of $343 worth of plans for terrain, tiles for dungeons and caves, monster miniatures and more including treasure, chests, statues, crates, ruins, doors, and a lot more. This bundle benefits Navy-Marine Corps Relief Society and runs until Wednesday, March 1.
I love subscription boxes because it's like getting a present every month, and the Brassman's Adventure Club is a perfect gift for any dungeonmaster (even yourself)
. Each box features a new 5e-compatible adventure and supplement with all the maps, tokens, miniatures, player handouts, and more that you need to play. The subscription service comes in multiple tiers with the $15 level getting you three months at the Digital level (all PDF and print-and-play versions of the materials), $30 for the Busy Dungeon Master level with the first two months of adventures and basic handouts, the Instand Adventurer level at $50 for two months of adventures with full 24" x 36" battlemaps and ten miniatures, $75 Adventurer's Fan to add on a dice set and a set of physical rewards for players, and the $150 DM's Toybox for everything else for the two month subscriptions plus a custom solid mahogany DM's screen engraved with text of your choice. This project is fully funded and runs until Monday, April 22.
Another project perfect for the GM without much time to prep, the RPG Random Encounter Dice are, well, exactly what it says on the tin
. Each 10-sided die has a different monster on each side, making generating encounters on the fly easy. The dice comes in four sets of three dice each (for 12 total dice) and, because the dice simply indicate a monster, it's compatible with any fantasy roleplaying game system. One set of three dice is available for a $9 pledge, two sets for $17, three for $24, and all four sets for $30 (plus a bonus 12-sided random encounter die). This project is fully funded and runs until Thursday, April 25.
That's all from me for this week! Don't forget
to support our Patreon
to bring you more gaming news content. If you have any news to submit, email us at
news@enworldnews.com
, and you can get
more discussion of the week's news on Morrus' Unofficial Tabletop RPG Talk
every week. You can
follow me on Twitch to see more of Thela Iwidia, Chiss Jedi Knight in Star Wars: The Old Republic
, subscribe to
Gamer's Tavern on YouTube featuring videos on gaming history (such as my recent video on the history of Dragonlance) and gaming Let's Plays
, or you can listen to
the archives of the Gamer's Tavern podcast
. Until next time, may all your hits be crits!
Note: Links to Amazon, Humble Store, Humble Bundle, and/or DriveThru may contain affiliate links with the proceeds going to the author of this column.