Hello everyone, Darryl here with this week's gaming news! 2019 Release schedule for
Dungeons & Dragons
announced,
Pathfinder
playtest ends, Silver Gryphon pulls all
Savage Worlds
books from sale, Michael A. Stackpole resigns from GAMA Board, and more!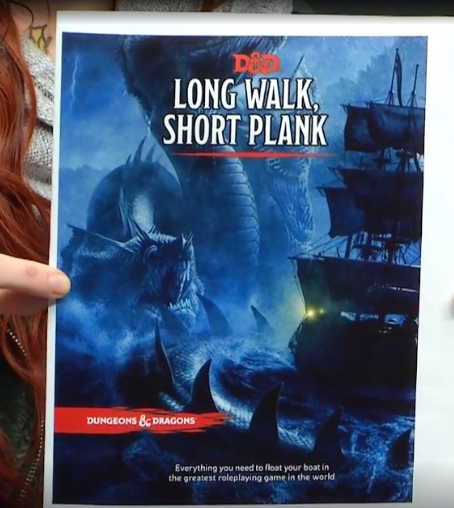 Wizards of the Coast announced a few details about the next product release for Dungeons & Dragons in a live stream with Kate Welch and Nathan Stewart
. This will
not
be Spelljammer, but will be themed around ships and release this spring. They also announced that there will be three to four big releases this year, planned for spring, summer, and fall. The fall products will be announced during their next major streaming event, scheduled for May 17-19. The image above is one of the four joke mock-ups created for the stream (you can see the rest in the EN World coverage of the announcement linked above).

Paizo has officially announced the end of the Pathfinder 2nd Edition playtest
. The bad news for those who didn't finish the playtest adventure is that the surveys are now closed, but the good news is that
the downloads are still available on the Pathfinder Playtest website
. The Pathfinder Society Organized Play playtest for the second edition is still ongoing, though, with surveys still open for the four released adventures and several general surveys for feedback on organized play focused rules. Jason Bulmahn said in the announcement (the full version is linked above):
For the past few months, we've been hard at work making refinements to the game, and that work is far from over here in the new year. The rest of the design team and I are going to be a little quiet over the next couple of months as we finalize parts of the game and get it ready to go to the printer. Once that hard work is done, you can expect us to start showing off the final version of the game. We can't wait to show you how it turned out!​
The Starfinder Critical Hit Deck is now on store shelves
. The fifty-two card deck features four different effects per card depending on the damage type being dealt and add extra oomph (a technical term) to your critical hits with additional effects or bonuses for future attacks. Of course, what are critical hits without critical fumbles?
Pre-orders are now available for the Starfinder Critical Fumble Deck
, another 52 card deck featuring fumbles, mishaps, and bad luck. Both decks have a retail price of $10.99, with the critical hit deck available now and the fumble deck available this April 9, 2019 to mass market.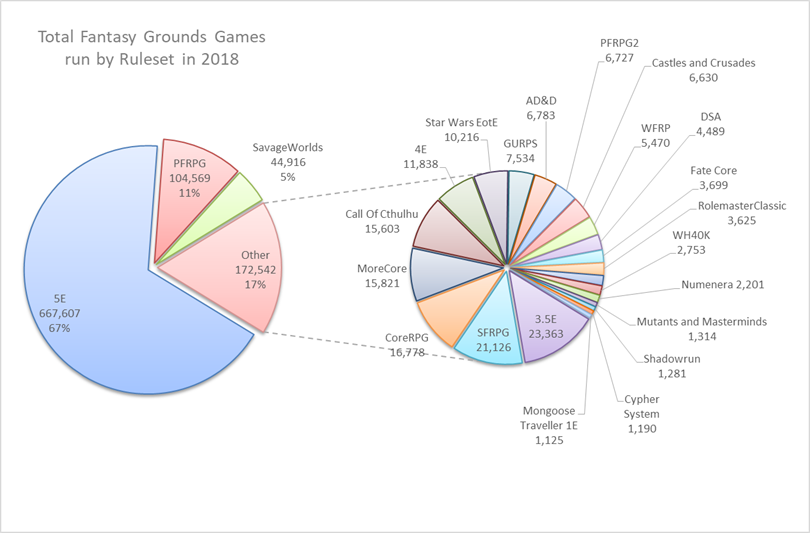 Fantasy Grounds released their data for game systems played in 2018
. As expected,
Dungeons & Dragons
tops the list at 67% of all games played and 667,607 games played over the past year. Second place is
Pathfinder
with 11%,
Savage Worlds
comes in third with 5%, and other systems making up 17% of all games played. While this isn't a direct correlation to overall popularity, it is a good indicator of which systems people are playing by tracking the 989,634 games played on the platform.
Silver Gryphon Games announced they will no longer sell products for Savage Worlds and have withdrawn all products for the system from sale
. The announcement from Ben Overmyer cited a change in the license from Pinnacle Entertainment Group that would require too many changes to their product back catalog to be tenable. Digital versions of all Silver Gryphon's
Savage Worlds
games have been removed from DriveThruRPG and print copies will be sold at conventions with no new print runs being done. The company will refocus efforts on their own game systems including
Æther, Ingenium,
and the forthcoming
Mysteries of a Broken World
which is due out later this year.
Michael A. Stackpole resigned from the GAMA Board this past weekend
. In an open letter, Stackpole highlighted his long career in gaming and with GAMA before going into his reasons for resigning. Specifically, Stackpole called the board "broken" and pointed out issues with ignoring votes and polls, the length of discussions to make any decision, and that he was accidentally CC'd into an email chain discussing him behind his back. Additionally, Stackpole called out the board for spending a very long time crafting a harassment policy but chose only to censure President Stephan Brissaud following
his confrontation at Gen Con last year
. The author and game designer's resignation is the second high-profile resignation
following Alliance Games's Mike Webb last year
.
Tumblr user "Artemis Entreri" posted a collection of possible ration packs organized by race
. The list starts with a general ration of bread, cheese, sausage, and dried fruit but moves on to rations specifically tailored to the requirements and culture of different Forgotten Realms races. The list features rations for humans (pictured above), dwarves, elves, halflings, half-orcs, orcs, gnomes (who'd think they'd like sardines so much?), and duergar. As a bonus, there's also sit-down meals for lizardfolk (only four crawfish?), drow, mind flayers, and ogres. Under each picture is a photo diary of the preparation and tasting of the different dishes.
Humble has their big winter sale going in their store and are promoting it by giving away A Story About My Uncle for free until January 12
. The sale itself goes on until January 24 and includes several tabletop RPG licensed games including
Dungeons & Dragons: Chronicles of Mystara
(yes, based on the old arcade game),
several Warhammer 40,000 titles
,
Torment: Tides of Numenera,
the entire Witcher series
, and games directly inspired by tabletop games like
Darkest Dungeon
and
Pillars of Eternity II: Deadfire
.
You know, it's nice to have fun dice with printed words that I can promote on here without censoring.
The Heck Yeah!/Oh No! D20 is pretty much what you're thinking it is
, a D20 where the 20 is replaced by "Heck Yeah!" and the 1 replaced by "Oh No!". Available in four colors so far (with more to be unlocked via stretch goals), these will make perfect dice for young players or anyone who just wants something a bit more fun to add to their collection. A four-die set (in two colors) is available for an HK$54 (about US$7) pledge, a six-die set (in three colors) is HK$78 (about US$10), and more up to a thirty-die set for HK303 (about US$39). This project is still unlocking more colors until Thursday, January 24.
What's a dice collection without an awesome dice tower?
e-Raptor has a new line of pretty interesting dice towers for 2019
. There is, of course, a raptor (with moving jaws), a space station, steampunk (with moving gears), dragons, Cthulhu's undersea palace, and several actual towers. You can get one tower for a $15 pledge, one advanced tower for $18, or a set of three for $50. This Kickstarter is still a bit shy of its $5000 funding goal, but has until Tuesday, January 22 to make the last thousand it needs to fund.
The project Treacherous Traps for 5th Edition is one of those titles that would make Peter very happy – it's exactly what it says on the tin
. The book has over 250 traps ready for use in your D&D 5e game as well as discussions about how to use traps in your game, a random trap generator, and guides to making your own traps. There are also several decks of cards available with the traps from the book, separated into 50-card decks by level and a 100-card deck for random trap generation. One trap deck is available for $12, the random trap generator deck for $16, the PDF of the book for $20, and the hardcover of the book for $40, along with several pledge levels for different bundles and combinations of decks and books. This project is fully funded and runs until Tuesday, January 22.
That's all from me for this week! Don't forget
to support our Patreon
to bring you more gaming news content. If you have any news to submit, email us at
news@enworldnews.com
, and you can get
more discussion of the week's news on Morrus' Unofficial Tabletop RPG Talk
every week. You can
follow me on Twitter @Abstruse
where I've been contemplating a new project,
follow me on Twitch where I'll get started streaming again very shortly,
subscribe to
Gamer's Tavern on YouTube featuring videos on gaming history and gaming Let's Plays
, or you can listen to
the archives of the Gamer's Tavern podcast
. Until next time, may all your hits be crits!
Note: Links to Amazon, Humble Store, Humble Bundle, and/or DriveThru may contain affiliate links with the proceeds going to the author of this column.