Hello, Darryl here with this week's gaming news. The Empyrea Kickstarter has been canceled amid controversy, statistical analysis of what we're playing on D&D,
Stranger Things
gets a card game, a new
Warhammer 40K
comic book, and more!
First, a correction.
Last week I reported on a controversy
involving comments from
The Dice Tower
founder Tom Vasel. I wrote that
The Dice Tower
shares ownership with online retailer Cool Stuff Inc. This is inaccurate. Cool Stuff Inc. only shares ownership with the yearly convention Dice Tower Con and is a sponsor, not an owner, of
The Dice Tower
podcasts and video shows. I apologize for the error.
Late on the evening of October 18,
the third update was posted to Frank Mentzer's Empyrea Fantasy Setting Kickstarter announcing its cancellation
. The full update is available in the link, and while there are no specific reasons given for the cancellation, the post speaks of many issues frequently brought up with Kickstarters and crowdfunding in the tabletop game industry. From support for local game stores to variety of content to vague talk of "hostilities" regarding different game systems, the post comments on much but doesn't give a definitive answer to why the project is being cancelled outside the statement "Thus, I will not use crowdfunding to circumvent the hobby for my personal benefit."
However, at the time of cancellation, the project only managed to raise $61,887 of a $250,000. To be so far from a base funding goal in such a large campaign is usually a sign to pull the plug and it's frequent for many companies to cancel campaigns rather than risk them completing without funding due to the time and cost to promote a crowdfunding campaign and the "bad look" of a failed campaign. Usually, such campaigns are repackaged and reworked with either a lower funding goal (especially with projects as ambitious as the Empyrea project) or the projects move forward with different revenue streams if at all.
The cancellation also comes shortly after former Paizo Project Manager and Gen Con Industry Insider
Jessica Price posted a Twitter thread speaking
of Frank Mentzer's 2015 interactions with her and an unnamed friend. The thread describes and has screenshots of Mentzer's "gross" interactions on Facebook following a convention and a later interaction where he reportedly blamed the victim of a sexual assault for her own attack, describing her as "sick" and needing to "get help". After blocking Mentzer on Facebook, he made a vague public post referencing the interaction with "an established industry professional" blocking him, further stating, "Be sure your Great Cause is worth it. If you're going to slam and lock a door, be sure you're never going to need it again." After this thread was posted, several members of the Empyrea team resigned, including designer Ted Fauster (
who wrote a long blog post about his resignation
), crowdfunding engineer Mike Myler, and Kevin Wilson (who was credited on the Kickstarter page only as "Business")
Update: Mike Myler resigned from the Empyrea project before Jessica Price's posts for unrelated reasons.
This is the statement from his website
:
All of my campaign settings are the result of crowdfunded projects and I'm 6/6 (thank you awesome backers!!!) There was one hiccup that people are probably going to be curious about–I am (despite requests from before launch and afterwards) credited as "Crowdfunding Engineer" for the Empyrea Kickstarter. This is not accurate. It would be unseemly for me to speak on it at length but I will share this small snippet of my contract because its intent was clear: I knew that decisions beyond my power to control or influence had fatally flawed the project, with such a high level of confidence that I demanded an amendment to my contract specifically detailing the primary element I knew was the biggest problem. I sent my resignation letter the morning of October 17th and wish them the very best of luck.
There is no announced timeframe for when or even if the Empyrea campaign setting will relaunch, either through crowdfunding or through traditional funding methods.
In a move that seems very "How was this not already a thing?", Hasbro has signed a deal with Netflix to produce games based on the television series
Stranger Things
. Considering the prominent placement of
Dungeons & Dragons
in the show, it seems a shoe-in of a cross-promotional deal. However, there has not yet been any announcement of a D&D book involving any of the show's elements. We are getting an Eggo-themed card game featuring Eleven on the cover (pictured above) where each player takes on the role of one of the show's characters attempting to be the first to discard their entire hand with the various "gimmick" cards themed around the Upside Down and Demogorgon. The game will be available for an MSRP of $15.00 this fall, timed to the release of the second season of the show.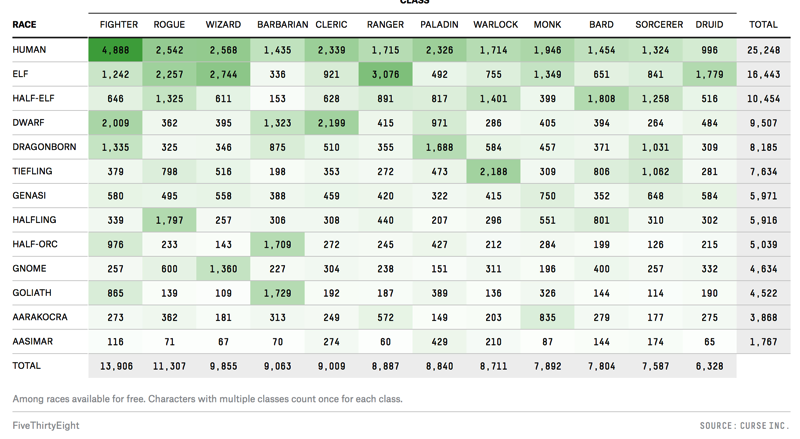 The statistics website FiveThirtyEight, which rose to prominence during the 2008 and 2012 presidential elections with their predictive algorithms,
turned their eye to Dungeons & Dragons data available from the D&D Beyond app for character class and race choices
. The dataset includes all race/class combinations from August 15 to September 15, 2017, and showed that the by far most popular race/class combination is the Human Fighter with 4,888 characters created out of every 100,000, with Elf Ranger coming in at second with 3,076. The least popular race/class combination is Aasimar Ranger, which had only 60 characters created per 100,000. The most popular class overall is Fighter and race is Human, while the least popular is Druid and Aasimar.
A new licensed comic series, Warhammer 40K: Deathwatch, is on its way this January from Titan Comics
. The four-issue miniseries will be written by Aaron Dembski-Bowden (
author of multiple licensed Warhammer 40K novels
) and art from Wagner Reis (artist on multiple Dynamite Comics lines including
Vampirella, Warlord of Mars,
and
Red Sonja
). The first issue will ship with three variant covers, while the series will focus on a fight between the Deathwatch defending an entire sector from hordes of Orks. The first issue releases January 3.
Speaking of Dynamite Comics and artist Wagner Reis,
the Humble RPG Book Pathfinder Worldscape Ultimate Crossover Bundle is still available
. This bundle features both game books for
Pathfinder
as well as comic books from the series and from other Dynamite Comics titles including ones Reis has worked on previously. There are different levels with even the $1 level getting you five game books, six maps, twenty-seven comics, and it goes up from there with more
Pathfinder
rulebooks,
Pathfinder Society
adventures, and Dynamite Comics graphic novels and comics. The $45 level has a total retail value of $667 and includes all four physical print comics for the crossovers with
The Traveler, Reanimator, Vampirella,
and
Dejah Thorin
set in the
Pathfinder
world as well as physical unpainted miniatures for Red Sonja, John Carter of Mars, Tarzan, Tars Tarkas, and a Starfinder human envoy miniature. If you want in on this bundle, you've got until Wednesday, October 25.
Undead is the third sourcebook for Chill 3rd Edition focusing on ponies
. No, I'm kidding, it's the undead obviously. Lots of undead. Zombies, vampires, liches, and more with enough variations of each to keep them fresh and interesting. And they've just broken the stretch goal for a special case written by Steve Kenson, who will be joining Chris Spivey, Sarah Richardson, Morgan A. McLaughlin McFarland, and more working on cases for this project, plus a brand new comic from Leonard O'Grady. The PDF is available for a $15 pledge, while the softcover is added on for $25. If you missed out on
Chill 3rd Edition
's release, there's the $35 level to get the core rulebook and the new
Undead
sourcebook and the $70 to get both in physical copy as well (
Chill
is a hardcover while
Undead
is a softcover printing). This campaign has not yet funded but still has until Halloween, Tuesday, October 31 (fitting for
Chill
) to hit its $16,000 goal.
Endure the Stars is a science fiction dungeon crawler game where 1-6 players
take on the roles of the surviving crew of a planet colonization ship attempting to survive a catastrophe. This is a second printing of the original game listed as a "1.5 edition" that updates and streamlines the rules and upgrades the components. The game itself focuses on tracking down escaped genetic lifeforms meant to assist in planetary colonization that have escaped on the ship, which is represented by a variable game board you explore as the game progresses. The game plus all expansions and stretch goals is available for a £72 pledge (about US$96) while those who already own the game can get the upgrades alone for £28 (about US$37) or the expansions as well for £48 (about US$64). This Kickstarter is fully funded and runs until Tuesday, October 24.
A narrative cooperative board game themed around 1940s noir mystery? I am at a loss for how much this presses my buttons. But yes,
Detective: City of Angels actually is a thing no matter how much I pinch myself to make sure I'm not dreaming
. Each of the 1-5 players takes on the role of a LAPD police detective trying to crack the case by interviewing witnesses and gathering evidence all over the city of Los Angeles. While this is not a Flying Frog game, you can see the clear influence as well as the works of Raymond Chandler, James Elroy, and the video game
L.A. Noire.
You can get the game alone for a $64 pledge, or add on the first expansion
Bullets Over Hollywood
with a $89 pledge. This project is at four times its funding goal and I couldn't be more thrilled to see a genre of gaming I've felt is far too neglected getting this much attention, and hopefully gets even more until it closes on Thursday, November 2.
That's all from me for this week! Find more gaming crowdfunding news at
the EN World RPG Kickstarter News website
, and don't forget
to support our Patreon
to bring you even more gaming news content. If you have any news to submit, email us at
news@enworldnews.com
. You can
follow me on Twitter @Abstruse
where I will be posting polls for what to cover next in my videos because I am far too indecisive, follow
Gamer's Tavern on YouTube featuring videos on gaming history and Let's Plays
, or you can listen to
the archives of the Gamer's Tavern podcast
. Until next time, may all your hits be crits!
Note: Links to Amazon, Humble Store, and/or DriveThru may contain affiliate links with the proceeds going to the author of this column.
[FONT=&amp]Save[/FONT][FONT=&amp]Save[/FONT]​