Hello everyone, Darryl here with this week's gaming news! Gameplay footage of
Baldur's Gate III
coming soon, Kickstarter votes to unionize, Paizo previews monster creation rules for
Pathfinder 2nd Edition
, and more!
If you want to catch up on all the week's news, be sure to check out
Morrus' Unofficial Tabletop RPG Talk
. This week, Morrus and Peter try out the
Starfinder
app on Alexa.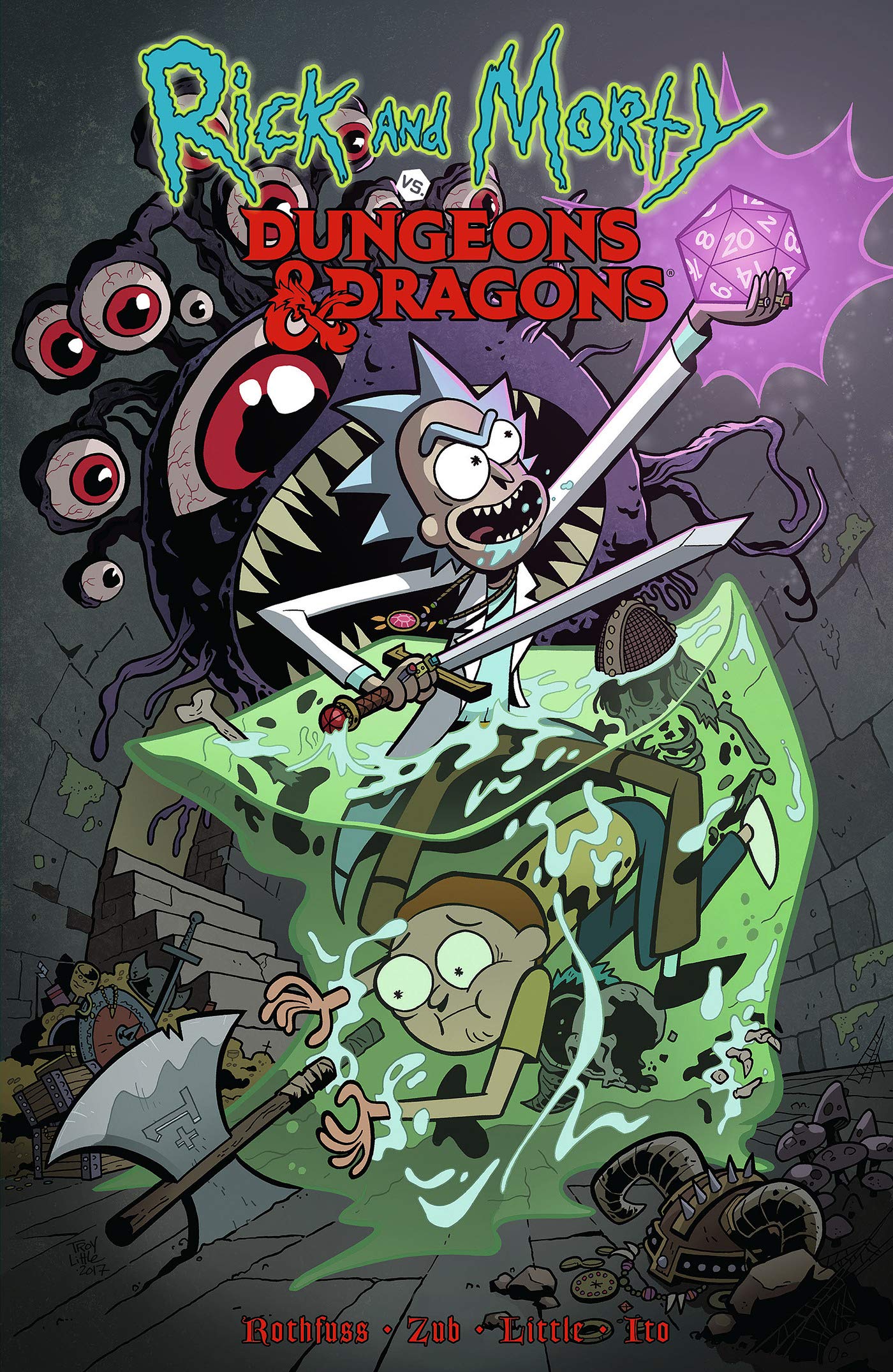 In case you missed it elsewhere on ENWorld this week…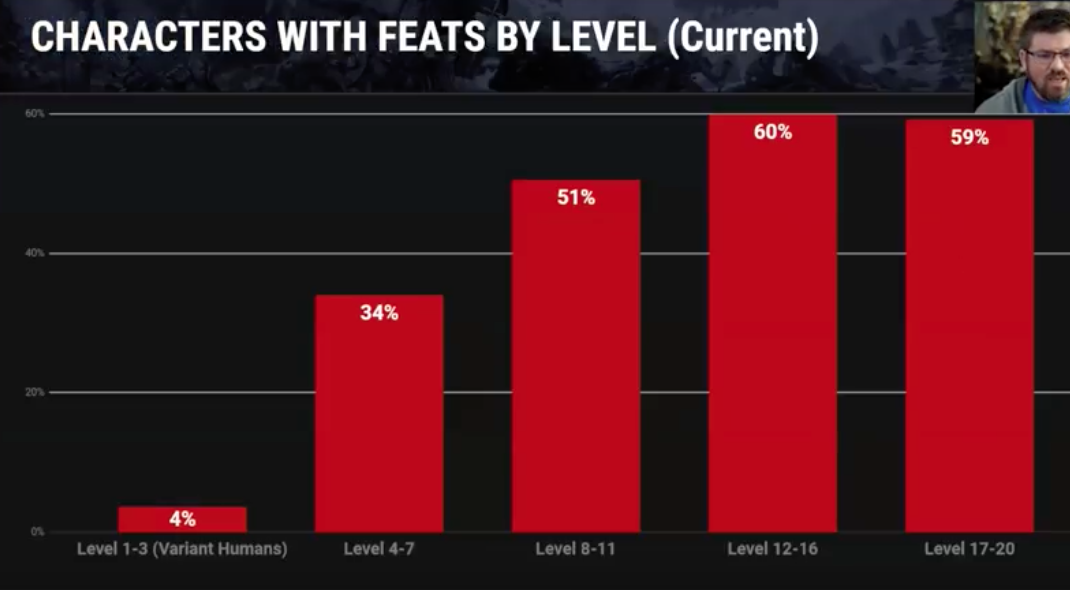 D&D Beyond released revised statistics for the most popular feats and how frequently they're used
. Only 4% of characters opt to start with a feat using the variant rules for Human characters, while the figure jumps to 34% for Level 4, 51% for Level 8, 60% at Level 12, and 59% at Level 16. This is a slight increase over two years ago. The most popular feat is War Caster with a significant lead over the second place of Tough, with Sharpshooter and Observant tied for third. There's also a breakdown of feat choice by class as well, partnered with the charts from 2018 to see how builds have changed over the past two years.
Larian Studios announced gameplay footage and live demos of Baldur's Gate III will be at next week's PAX East
. The first look will be on Thursday, February 27 at 3:30 PM Eastern (20:30 GMT) during a live presentation at the convention.
Larian Studios also released a promotional video for the upcoming reveal with behind-the-scenes details of how they're developing the game
. The developers are promising another 100+ hour experience but with many surprises that "even fans of critically-acclaimed
Divinity: Original Sin 2
won't expect". There's been no release date set for the game, but rumors are flying that one may be announced at the event if not later this year at E3.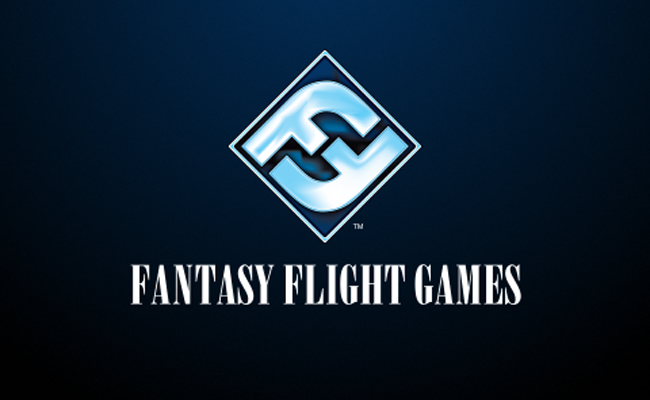 D20 Radio reports that they have confirmed that Fantasy Flight Games is ending active roleplaying game development
. This statement was backed up by Katrina Ostrander, Creative Director of Story and Setting at Fantasy Flight, on Twitter who said "Yeah. This is the answer I gave to people asking about the L5R RPG when I ran it last weekend." This confirms rumors that followed the closing of Fantasy Flight Interactive and other company layoffs back in January. Currently announced products will still be produced (in fact,
Fantasy Flight announced the release of Path of Waves for Legend of the Five Rings last weekend
) so there will still be support for
Star Wars, Legend of the Five Rings
, and other Fantasy Flight roleplaying games for several months at least.
Kickstarter employees officially voted to unionize, joining the Office and Professional Employees International Union Local 153
. This vote follows a months-long effort for Kickstarter United to organize the tech company, becoming the first major company in the technology industry to do so. The push to unionize started following a conflict over a comic book called
Always Punch Nazis
, which was mass reported by users for violating the terms of service against "projects that encourage violence against others". Kickstarter management cancelled the project over objections of their employees, which started the effort to organize. Kickstarter also controversially fired two employees involved in the unionization effort, both of whom filed federal complaints over their termination while Kickstarter management maintains that the firings were for performance-based reasons. A successful card check (where employees sign a card requesting organization) was conducted in October by Kickstarter United, but management refused to recognize the union and insisted on a National Labor Review Board vote. The NLRB vote resulted in a 47 to 36 margin supporting organization.
Kickstarter United made a statement on Twitter
: "#KickstarterUnited has now been certified by the NLRB: We Are A Union!!! So, what does this mean? 1) Our media blackout is now over (did you miss us?) 2) We'll begin discussing our priorities and forming an inclusive and representative bargaining committee for everyone at Kickstarter so that we can... 3) Bargain our first contract! #1u"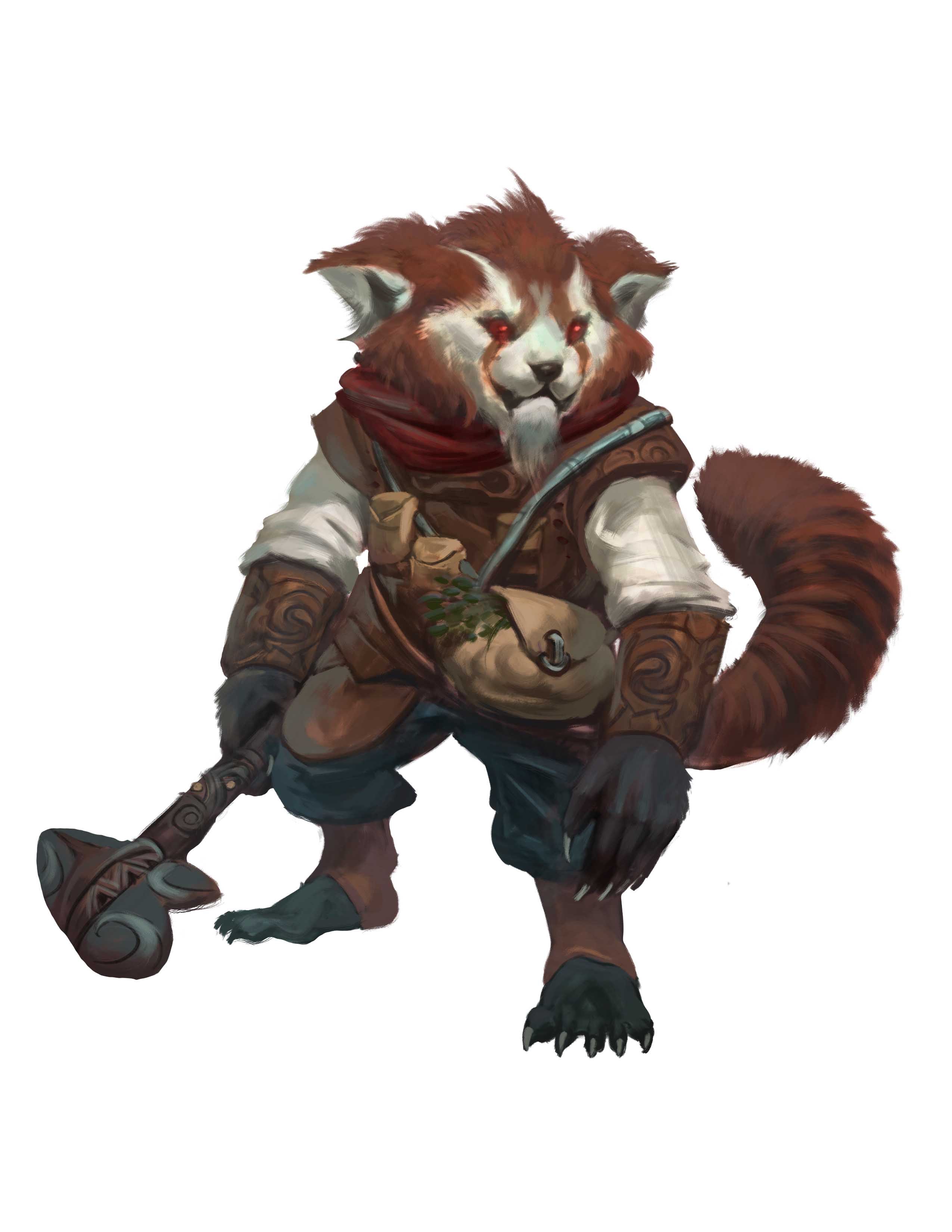 Paizo released a preview from the upcoming Pathfinder Gamemastery Guide featuring a preview of the monster creation rules
. Or rather, an example of what you can create. On a recent Twitch stream from Paizo (
archived on YouTube
), Logan Bonner and Adam Daigle showed off the rules for monster building by working with the Twitch chat to create a monster based on a piece of art from the
Gamemastery Guide
. That creation is now available, the Ailuran, a reclusive fey with an obsession for silver. The full stats for the new monster are presented in the link above so you know what you have an idea of how flexible the new monster creation rules are (seriously, they created a new perception ability called "silversense").
The Pathfinder Gamemaster Guide is set for release to mass markets on March 10 with a retail price of $49.99
.
Final Sword Productions announced on Monday that Daniel Scott Palter, the founder of West End Games, passed away
. Palter was founder and president of West End Games when they published the incredibly influential licensed games
Ghostbusters
and
Star Wars: The Role-playing Game
in addition to their own properties in
Paranoia
and
TORG
. His influence stretched even farther than the roleplaying industry
as ICv2 called him the "unsung hero" of the Star Wars brand
and many consider the West End Games
Star Wars
game as the start of the incredibly popular
Star Wars
Expanded Universe. Final Sword Productions stated that both projects Palter was working on, the Honorverse and the Emberverse, would continue in his honor.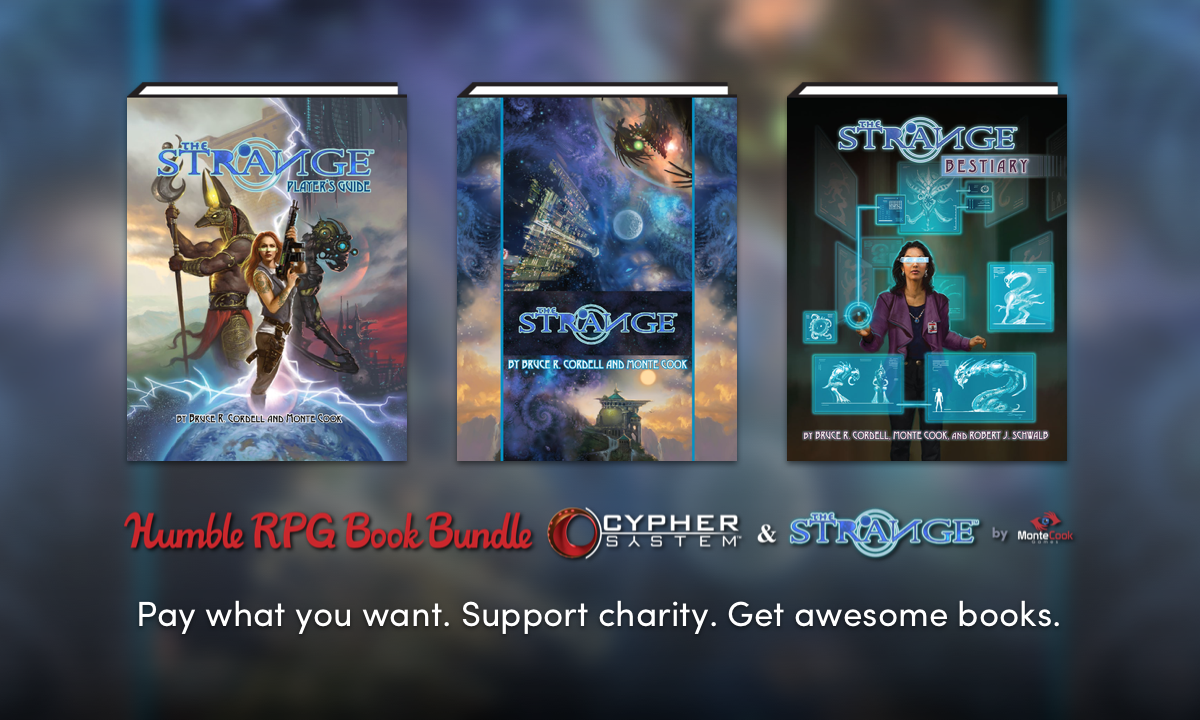 Monte Cook Games and Humble have put together the Cypher System Bundle featuring The Strange and other games using the Cypher System
. The bundle features an entire library of books for
The Strange
, Bruce Cordell's roleplaying game about "recursions" of pocket realities where every version of the world from any story is real, from mythology and ancient epics to comics and movies. You've also got the Bruce Cordell's
Gods of the Fall
about gods and demigods, Shanna Germain's
Predation
with its mix of science-fiction technology on a primordial earth in the age of the dinosaurs, and the 1980s influenced superhero-slash-horror of
Unmasked
. This bundle runs until Thursday, March 4.

ZineQuest2 is still going strong over at Kickstarter and, with so many amazing, unique projects out there, I picked a few to give a very brief preview to.
An interesting system-agnostic in-world book about artifacts, The Watching Book works both as a resource for DMs or a hand-out for players
to read about hidden treasures (or curses) throughout any fantasy world. The PDF is available for $5 and the physical copy for $8 along with copies to get other books in the same world. This Kickstarter ends on Monday, February 24.
Pretty much exactly what it says on the tin, You Got a Job on the Garbage Barge is a setting/adventure that works with any OSR-style system
that places the characters on a garbage barge. It also includes 100 different kinds of trash found on the barge and a list of 50 smells. The PDF is $5 and the physical copy is $12. This Kickstarter ends on Tuesday, February 25.
Anything I write will not do justice to the cuteness and innocence of Winter Harvest, an RPG about woodland animals protecting each other over the four seasons
as they prepare for winter with a strong focus on storytelling and oral history. The PDF is available for $7 and the physical copy is $15. This Kickstarter ends Thursday, February 27.
Finally, Ancestry & Culture is an alternative to "race" in 5e rules by replacing it with culture and heritage
, allowing more flexibility in character creation by combining different aspects in new and interesting ways while also more accurately reflecting real-world communities and their influence on development. The PDF is available for $5 and the physical copy for $8. This Kickstarter ends on Saturday, February 29.
That's all from me for this week! Don't forget
to support our Patreon
to bring you more gaming news content. If you have any news to submit, email us at
news@enworldnews.com
, and you can get
more discussion of the week's news on Morrus' Unofficial Tabletop RPG Talk
every week. You can
follow me on Twitch where I'm starting a playthrough of the Mass Effect series starting this Tuesday and continuing Gabriel Knight with voice actor and game designer Kevin Czarnecki,
subscribe to Gamer's Tavern on YouTube for videos on gaming history, RPG reviews, and gaming Let's Plays
, or you can listen to
the archives of the Gamer's Tavern podcast
. Until next time, may all your hits be crits!
Note: Links to Amazon, Humble Store, Humble Bundle, and/or DriveThru may contain affiliate links with the proceeds going to the author of this column.