Hello everyone, Darryl here with this week's gaming news! A big update to Roll20 with exciting new features, more previews for
Warhammer Fantasy Roleplay
and
Pathfinder 2nd Edition
, ENnie Award news, a new game system from
Harlem Unbound
designer Chris Spivey, and more!
Roll20 rolled out their newest update with a big new feature available for free, the Charactermancer
. The character creation app integrates with the Roll20 virtual tabletop and includes a step-by-step process of creating a character that can be directly imported into games within minutes of starting. At this point, only
Dungeons & Dragons 5th Edition
is supported, but a teaser on their website shows Pathfinder support coming "Soon™". The system is still new as it only allows character creation but not character management (so no levelling up through the Charactermancer) and it currently only contains options available in the SRD and the
Player's Handbook
(though a purchase of the
Player's Handbook
through the Roll20 system is required to unlock those options, currently on sale for $19.99 until July 5, regular price $29.99).
Another highly requested feature added in this update is Compendium Sharing, which allows you to share rules compendiums purchased through the Roll20 system with other players within your game. There are specific restrictions based on your subscription level, but even free users are allowed to share their purchased compendiums with one active game containing no more than six total players including the user (so you plus five other players). Both of these features plus various other updates and bugfixes
are live now on the Roll20 website
.
Cubicle 7 released the attribute list for the much-anticipated new edition of Warhammer Fantasy Roleplay
. The new abilities will include: Weapon Skill (melee combat), Ballistic Skill (ranged combat), Strength (physical strength), Toughness (hardiness and healthiness), Initiative (awareness and reaction), Agility (coordination and speed), Dexterity (fine motor manipulation), Intelligence (analysis and understanding), Willpower (determination), and Fellowship (ability to influence and befriend). Specifically noted in the post was the decision to split Dexterity and Agility to better reflect certain tropes.
"Dwarfs are known for their exquisite works of craftmanship rather than for being flexible acrobatics, and we believed supporting that difference was important, allowing Dwarfs to make intricate machines, jewellery, and artefacts, but not have a natural flair for dance. So we used Dexterity to reflect manual dexterity, leaving Agility to define nimbleness of the body."
The
Warhammer Fantasy Roleplay 4th Edition
Starter Set is schedule for release in early September with a retail price of $29.99
, while the
Core Rulebook is due sooner with a release date in August and a retail price of $59.99
.
Chris Spivey will develop a new science fiction roleplaying game for Chaosium
. Few details are available at this time, but the game will be based on
Chaosium's Basic Roleplay System
and will launch with a core rulebook, GM pack with screen, and an adventure anthology. Though he has an extensive resume in game design ranging from
Call of Cthulhu
,
Vampire: The Requiem
, and more, Spivey is probably best known for his
Darker Hue Studios and its release, Harlem Unbound
, which was shortlisted this year for the prestigious Diana Jones Award. In the press release, Spivey stated,
"I am excited and honored to be brought on by Chaosium. I grew up playing Call of Cthulhu, Stormbringer, Nephilim and more. Now the chance to fully manage a science fiction line that only previously existed in my own mind has left me speechless, but let's hope not wordless."
More details on the system and world will be announced at Gen Con.

The newest Pathfinder 2nd Edition preview is a very interesting one, Archetypes
. In the new system, Archetypes will be a series of feats taken instead of class feats that are accessible by multiple different classes. After taking a "Dedication feat", you can take one of the archetype feats instead of the class feat granted at every other level. You're restricted in the number of Archetypes you can take by needing a minimum number of feats related to that Archetype before you're allowed to take another Dedication feat. The two archetypes previewed are the Pirate (which includes summaries of the feats Sea Legs and Boarding Action) and the Gray Maiden (which previews the Unbreakable feat). If you missed out on the preorder from Paizo, Amazon still has both the
hardcover and softcover Pathfinder Playtest book available for preorder
as well as
the Deluxe Hardcover Edition
. The rulebook will be available to those who preordered on August 2 (with pickup availability at Gen Con for those who ordered through Paizo) with a free PDF version available from the Paizo website.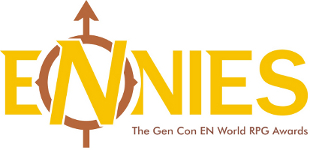 The application period for the ENnie Award judges opens this weekend
. The application process starts on Saturday, June 30 and running until Saturday, July 7. In order to apply, you must be at least 18 years of age by August 3, 2018, you cannot have any professional relationship with any RPG publisher from the time period of January 1, 2017, to August 1, 2019, (including unpaid work and work on free products), have not been an ENnies judge for two consecutive years, and must be able to read and write clearly in English. Next year's judges will be announced at the ENnie Award Ceremony at Gen Con.
Additionally, applications have opened for publishers and for the ENnie Award Dream Date auctions
. Which means you can expect information about how to bid on an evening with your favorite game publishers coming soon. ENnie Award nominations for this year will be announced on Wednesday, July 4, with the public voting period opening soon thereafter. You can find the list of nominations here on ENWorld, on the
official ENnie Awards website
, and in
a special episode of Morrus' Unofficial Tabletop RPG Talk podcast
.
This Kickstarter is titled solely Critical Role
. Pretty sure that's enough to get most of you to click on it, but this project from Steamforged Games is for licensed custom miniatures from the player characters of the
Critical Role
live streams. Yes, both teams, as both Vox Machina (including the armored bear Trinket) and Mighty Nein are included, along with Kickstarter exclusives. The unpainted miniatures are fully assembled and made from PVC, ready to paint immediately. The only reward level is £45 (about US$59) for 22 total miniatures. I'll give you three guesses as to whether or not this Kickstarter has funded. It runs until Friday, July 6.
Triumvene is a narrative roleplaying game inspired by the impressionist art movement
. Yes, really. The setting is a low-magic fantasy world based on the industrial revolution with a focus on cultural strife and upheaval as the world is changing faster than the system can adapt. The game system is narrative based and not combat focused to allow for fast-playing, cinematic scenes. And as you can guess from a game system based on an artistic movement, the art is absolutely gorgeous. The PDF is available for a £12 (about US$16) pledge, the hardcover core rulebook added on for a £37 (about US$49) pledge, and deluxe signed edition for £57 (about US$75). This Kickstarter is fully funded and ends
very
soon so make sure to jump in before this Saturday, June 30 if you're interested.
ENWorld is a family-friendly website and, as such, there is certain language that I cannot use on this site because it is NSFW and, by its very nature, is adult. This project has one such word in the title of the Kickstarter. So with that warning in place, let's see if you can figure out what I'm talking about.
This project from Justin Sirois is for a custom 20-sided die that has the single-syllable word starting with the letter F that many of us have muttered when rolling a critical failure in place of the 1, and with the world "Yeah" replacing the 20
. If you follow me on Twitter, you have probably seen me use this word many, many times. A $15 pledge gets you ten D20s in a single color of your choice between black, red, or blue, an $18 pledge gets you twelve dice with four of each color, and there are multiple other price breaks for ordering more dice along with custom skull-shaped dice pedestals and "HydroStone" dice trays. This project is fully funded and runs until Tuesday, July 24.
That's all from me for this week! Find more gaming crowdfunding news
by following our Kickstarter news tag
, and don't forget
to support our Patreon
to bring you more gaming news content. If you have any news to submit, email us at
news@enworldnews.com
. You can
follow me on Twitter @Abstruse
where I'll be announcing the various
marathon streams I'll be doing for Dragon Age: Origins on my Twitch channel
, follow
Gamer's Tavern on YouTube featuring videos on gaming history and gaming Let's Plays
, or you can listen to
the archives of the Gamer's Tavern podcast
. Until next time, may all your hits be crits!
Note: Links to Amazon, Humble Store, Humble Bundle, and/or DriveThru may contain affiliate links with the proceeds going to the author of this column.
[FONT=&quot]Save[/FONT][FONT=&quot]Save[/FONT]​