Hello everyone, Darryl here with this week's gaming news.
Starfinder Beginner's Box
coming soon,
Dungeons & Dragons
on network television, Mercedes Lackey health scare from Gen Con, Target exclusive games,
Dark Tower
returns, and more!
Paizo announced a new introductory set for their Starfinder roleplaying game, Starfinder Beginner Box
. The boxed set will be a self-contained game with streamlined rules similar to
the Pathfinder Beginner Box
. There are not many details yet as the box is still in development, but it's been announced it will include separate books for Gamemasters and players, stand-up pawns, dice, and maps (plural). There's no retail price announcement, though the
Pathfinder Beginner Box
currently has a retail price of $34.99. The boxed set is expected in Spring 2019. While there's no more firm of a date yet, but
the Starfinder Pawns: Alien Archive 2 Pawn Box will be released on March 12, 2019, according to Amazon
(the hardcover for
Starfinder: Alien Archive 2 has a release date of October 16, 2018
).
Joe Manganiello appeared on The Late Show with Stephen Colbert this week to promote his Death Saves line of D&D clothing
. The result is a full segment of a broadcast network late night show devoted to both the guest and the host talking about
Dungeons & Dragons
. And while other guests have previously talked about roleplaying games before as Stephen Colbert is a gamer and, as you're surely aware, you can't put two gamers in a room together before they start talking about games. This segment, however, was entirely devoted to Manganiello and Colbert talking about games. Seriously, it's nine minutes of discussions of D&D races, classes, meatgrinder adventures, and their preferred method of rolling characters (both prefer 3d6 in order). The full video is available on
The Late Show
's YouTube channel (embedded below) as well as their Facebook page (linked above).
[video=youtube;pD0epul2H94]https://www.youtube.com/watch?v=pD0epul2H94[/video]

​
There have been a few announcements of some luxury gaming products this past week.
The Beadle & Grimm boxed set line was announced some time ago with a retail price of $500 but with little information about what's inside
. Now, we know. The set will include the
Waterdeep: Dragon Heist adventure
broken into eight smaller books, several handouts (small maps, artwork, letters, journals, newspapers, and more), two large canvas maps (one of Waterdeep itself and the other unannounced), several battlemaps scaled for miniature use, twenty-two total miniatures, a custom DM screen, "encounter cards" (folded cards with monster artwork on one side and stat blocks on the other for hanging on the DM's screen to track initiative), a "dragon coin", and more that hasn't been released yet.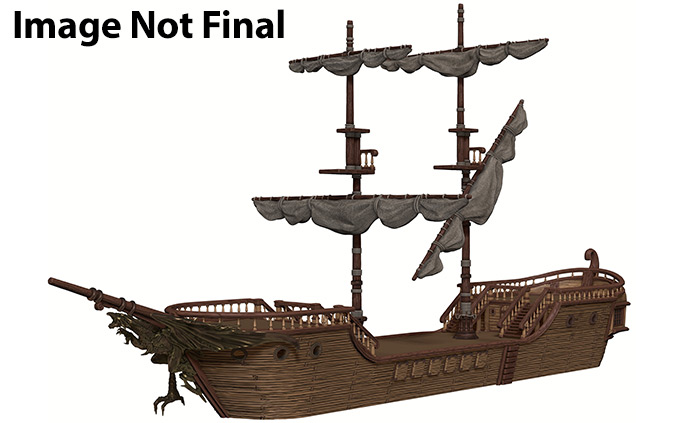 WizKids also revealed information about a ship previously announced at the New York Toy Fair, a "miniature" of a sailing ship called The Falling Star to-scale for miniature use
. The ship will be 33" long, 17.2" tall, and with a deck 6.4" wide and mast 12.6" long. The broadside hatches open and close, and the ship itself is built out of tiles that can be removed to track battles on the deck or in the hold. This "miniature" will retail for $249.99 and be released in May of 2019.
Finally, the naval-scale wargame Star Wars Armada from Fantasy Flight Games will get the largest ship in the canon: The Super Star Destroyer Executor
. The 24" long "miniature" (okay, yes, it's a scale reproduction, but between this and the
Falling Star
can we really call these "miniatures" when they'll take up half a coffee table?) will include all the cards, tokens, and other materials to add to your
Star Wars Armada
game with three different configurations for the model. Two of these options were announced, the 220 point "Star Dreadnought Command Prototype" (which is the weakest of the variants and includes eight attack dice, a hull value of 22, nine upgrade slots, and six firing arcs) and a 35 point command staff card for Emperor Palpatine. The Super Star Destroyer will be available in "the first quarter of 2019" from Fantasy Flight (
though the pre-order page on Amazon lists a release date of March 29, 2019
) with a retail price of $199.99.
Fantasy author Mercedes Lackey had a health scare that forced her to withdraw from several events at Gen Con this past weekend
. Original reports from Friday morning listed her as hospitalized by a stroke following symptoms of dizziness, disorientation, and hallucinations. After running several tests at the hospital, it turns out she was poisoned by her hotel room. The room had recently been renovated with new carpet, furniture, and paint but had not been properly aired out, leaving toxic fumes in the room in a phenomenon known as "outgassing". In case you've ever wondered what a bestselling fantasy author poisoned by her hotel room hallucinates,
Lackey wrote on Facebook
"When I opened the door to the paramedics, and the hotel manager, I saw the medics, the manager, and standing between them a beautiful woman with long sandy-brown wavy hair in an astronaut's orange jumpsuit."
Lackey recovered in time to resume her scheduled on Sunday and is reportedly back at home safely.
Stronghold Games and Indie Boards & Cards announced on Friday that the two companies will merge
. Both companies (along with Action Phase Games, previously acquired by Indie Board & Cards) will each retain their independent brands. Indie Boards & Cards is best known for their games
The Resistance
,
Coup
, and
Kodama
, while Stronghold Games is best known for
Space Cadets
,
Terraforming Mars
, and
Survive: Escape from Atlantis!
And because a board game company merger/acquisition can't happen without Asmodee also grabbing a piece of the story,
Asmodee acquired Galapagos Jogos
, a large regional distributor for Brazil which already acted as distributor for the Portuguese language South American for Asmodee.
Target announced exclusive distribution deals for over one hundred new games, ninety-five of them exclusive to Target stores
. The majority of these games are standard fare you'd expect from a big box chain such as licensed board games and variants of mainstream board games like
Monopoly, Battleship,
and
Sorry
. However, added to the non-exclusive list was the
Dungeons & Dragons Starter Set,
which has already been seen on endcap displays in stores. Additionally, exclusive variants of
Ticket to Ride New York
and
The Oregon Trail Game
were announced as well as the non-exclusive distribution of
Superfight 90s Deck, Choose Your Own Adventure: House of Danger,
and
Game of Thrones: Hand of the King
.
Restoration Games announced the follow-up to their re-release of the classic
Fireball Island
,
a new edition of the 1981 electronic board game Dark Tower called Return to Dark Tower
. The original game involved moving around a board gathering armies and supplies to lay siege to the titular Dark Tower while battling the forces of evil, using a large portable computer to track randomize events using a keypad to enter codes (
demonstrated in this demo of a hard-to-find functional version by YouTuber Noah Antwiler aka Spoony
). The sequel game will refocus the design into a cooperative game as the players work together to gather resources and plan for the final assault on the tower. The game will go to Kickstarter sometime in 2019 with an estimated release in 2020.
Humble Bundle decided that one Humble Book Bundle on game design wasn't enough so added a second one.
The Game Design & Puzzlecraft Book Bundle from Lone Shark Games features $270 worth of books on game design for tabletop games
, including books from designers like Monte Cook, Shanna Germain, Mike Selinker, Robin J. Laws, Elisa Teague, James Lowder, Wolfgang Baur, Justin Gary, and more.
The Program Your Own Games Book Bundle from Mercury Learning and Information features $649 worth of books
covering video game development and digital filmmaking including primers on Python, video game writing, game testing, storyboarding, and studio production techniques. There's also
the Valiant Universe Humble Comics Bundle available as well with several digital trade paperbacks of Valiant Universe comics
. These bundles will be available until August 15, August 20, and August 22 respectively.
Your Best Game Ever
from Monte Cook Games isn't really a game book, but it may be one of the most important game books
. The book is a resource for gamers for all roleplaying games regardless of system focused on teaching new techniques, tips, tricks, and advice for making any game better. The list of contributors is impressive, including names like Matt Mercer, John Rogers, Monica Valentinelli, Matt Coville, Tom Lommel, Jennell Jacquays, Alina Pete, and a lot more giving advice for any gaming experience level from brand-new players to lifelong grognards. The PDF is available for a $20 pledge and the hardcover for $45, with several backer levels and add-ons for deluxe editions and several of Monte Cook Games's other products. This project is fully funded and runs until Friday, August 24.
Domina Magica
is a roleplaying game based on the maho shojo genre of anime and manga, more popularly known as "Magical Girl" in the US
. The complete system focuses on playing school-age girls with powerful magical abilities used to fight evil, keeping it secret as they deal with the drama of classes, friends, and family. And if you want to know how much the designer Emily Reinhart gets the aesthetic, the game mechanics involve using a "cootie-catcher" and every backer level gets a slap bracelet – even the one dollar level. The PDF is available for $25 and the hardcover available for $50. This project is fully funded shortly after launch and will unlock stretch goals until Thursday, September 6.
That's all from me for this week! Find more gaming crowdfunding news
by following our Kickstarter news tag
, and don't forget
to support our Patreon
to bring you more gaming news content. If you have any news to submit, email us at
news@enworldnews.com
. You can
follow me on Twitter @Abstruse
where you can help convince me to finally get back to
streaming on Twitch and finishing up Dragon Age: Origins before deciding which game to play next
, follow
Gamer's Tavern on YouTube featuring videos on gaming history and gaming Let's Plays
, or you can listen to
the archives of the Gamer's Tavern podcast
. Until next time, may all your hits be crits!
Note: Links to Amazon, Humble Store, Humble Bundle, and/or DriveThru may contain affiliate links with the proceeds going to the author of this column.