Hello everyone, Darryl here with this week's gaming news! A summary of the big D&D announcements and aftermath, One Ring Second Edition, an Elder Scrolls narrative wargame announced, Spiel des Jahres 2019 nominees announced, and more!
There were several big announcements this weekend at the The Descent live event. Don't blame me spellcheck, they gave it that name.
A full run-down of the announcements from the first day is available here
, but the big ones are
the new adventure for levels 1-13 Baldur's Gate: Descent into Avernus due on September 17
and two new starter sets, one branded for
Rick and Morty
(which will also be accompanied by a second graphic novel by Patrick Rothfuss and Jim Zub) and
one named Dungeons & Dragons The Essentials Kit, which is a more robust version of the original Starter Set
. There was also a last-minute announcement of
an Eberron hardcover book but with no other information given beyond that
, and we got a look at the
Mad Max
influence on
Descent into Avernus
with the full stats for the Infernal War Machine
. You can get the miniature (which is 11" long) as part of
the Baldur's Gate: Descent into Avernus miniature line
which also features 45 additional figures available in boosters of 1 large and 3 medium/small.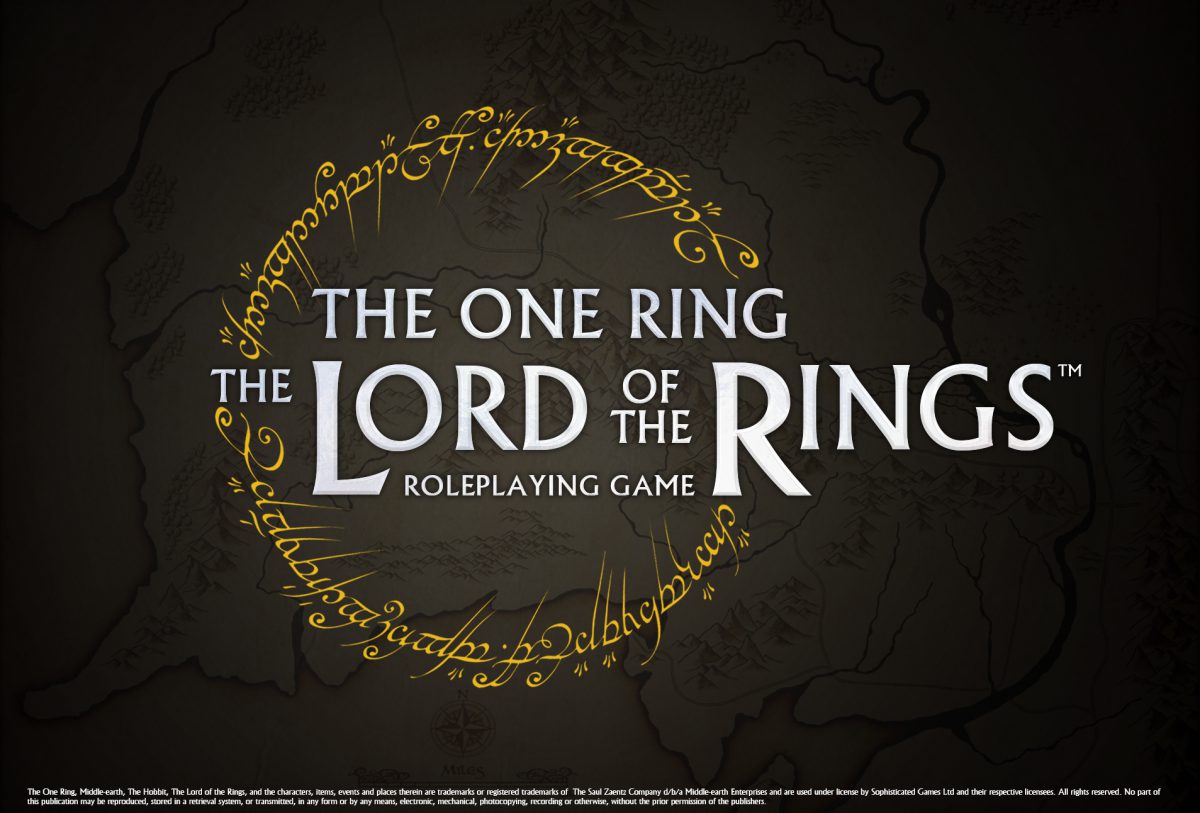 Cubicle 7 is on a roll after uniting all the
Warhammer
related roleplaying licenses under their banner by
announcing a second edition of the licensed Middle Earth roleplaying game The One Ring
. First, there's a big change in the branding as the line will not be known as
The One Ring – Lord of the Rings Roleplaying Game
. The new game will be set twenty-five years after the defeat of Smaug (which would be the year 2966 of the Third Age, and about thirty-five years before Bilbo's infamous Eleventy-First birthday party and fifty-two years before Frodo started his quest leading to the War of the Ring. If this seems like an odd place to set the game, the Wikipedia page for the timeline (which is rather detailed and based on the Appendices) lists the only notable event from 2957 to 2980 as "Aragorn joins the army". So there's lots of room in that area for players to create their own adventures in Middle Earth.
There will also be a robust launch line including the core rules, a starter set, loremaster's screen, a bestiary titled
Fell Foes
, a city guide to Minas Tirith and surrounding areas, a full campaign adventure set in Gondor titled
The Errantries of the King
, and an adventure exploring Khazah-dûm called
Moria – The Long Dark
. No prices or specific release date has been announced, but we should expect the new edition of
The One Ring
coming this holiday season with releases going into the first quarter of 2020. There are no details yet whether the Moria adventure will replace the previously-announced boxed set Kickstarter that never launched or if this will still be crowdfunded.
Modiphius announced a tabletop miniature skirmish wargame licensed from the Elder Scrolls video games titled The Elder Scrolls: Call to Arms
. Based on the announcement, the game looks to be similar to the company's other big
Bethesda
licensed product,
Fallout: Wasteland Warfare
as it not only works as a traditional skirmish wargame, but also has a narrative campaign mode, an "AI System" to control non-player characters (either for solo or co-op play or just to add a wild card factor into a battle between players). The first miniature is available for pre-order now for $19.99 titled "Dragonborn Triumphant", though it looks like whoever was on the ads for
Skyrim
and not the redhead Breton fighter-sorceress known for her self-enchanted dragonscale armor that was the
actual
Dragonborn (at least when I played the game…difficulty of having a robust character creation system and a need for marketing around a central protagonist). While the license applies to all Elder Scrolls games, the first wave will focus on
Elder Scrolls V: Skyrim
and include several NPCs from that game including Mjoll the Lioness, Ulfric Stormcloak, Hadvar, Rolof, General Tullius, and "I am sworn to carry your burdens" herself, Lydia. The limited edition "Dragonborn" mini will ship this summer, but the full game won't be available until the holiday season this year (which for those outside the United States, means a late October or early November release).
Spiel des Jahres, the greatest honor for tabletop board/card games, announced the nominees for this year's awards. For the Spiel des Jahres (Game of the Year):
Just One by Ludovic Roudy and Bruno Sautter
,
LAMA
by Reiner Knizia, and
Werewords by Ted Alspach
. Kinderspiel des Jahres (Children's Game of the Year):
Fabulantica
by Marco Teubner,
Go Gecko Go!
by Jurgen Adams, and
Valley of the Vikings
by Marie and Wilfried Fort. Finally, the Kinnerspeil des Jahres (Hobbyist/Connoisseur Game of the Year):
Carpe Diem by Stefan Feld
,
Detective: A Modern Crime Board Game by Ignacy Trzewiczek, Przemysław Rymer, and Jakub Łapot
, and
Wingspan by Elizabeth Hargrave
. If you don't see a link for a game, it's possible it doesn't have wide distribution yet in the United States. However, even a nomination for any of the Spiel des Jahres awards turns a game into an instant must-have. The 2019 Spiel des Jahres Awards will be announced on July 22 in Berlin.
I'm not sure to label this as EN World, EN Publishing, or En5ider, but either way, that's your disclosure of the business relationship between this and the site.
Either way, there is a twelve-page preview of the upcoming A Touch More Class book for 5e
. The preview gives you an overview of the new classes for 5e included in the book: Bloodweaver, Fatebender, Gemini, Geomancer, Gunfighter, Lodestar, Monster Tamer, and Tinkerer. And if you want a full look at what to expect from these classes, the full version of the Savant is included. The Savant is an analytical unarmored fighter that feels a lot like the Robert Downy Jr. version of Sherlock Holmes, using Intelligence to rapidly analyze a situation and react appropriately with several tricks and maneuvers. This book plus an expanded version of the original
A Touch of Class
will be on Kickstarter soon.
The Ninja Division Tabletop Bundle is still going for another week
, featuring over $300 worth of print and-play tabletop games like the 2d tournament fighter inspired
Way of the Fighter
and expansions for the
Super Dungeon Explore
anime-themed dungeoncrawl game. Anyone who follows me on Twitter may be sick of seeing this, but
I always talk way too much about the Vegas Creative bundles when they show up as the top-tier $25 level gets you a fully functional video editor, an audio editor, and a lot of support software
for creating your own podcasts and YouTube videos plus options like CD, DVD, and Blu-Ray authoring. You just do not get a video editor this easy to use this cheaply. If you're even considering at any point creating your own video content, this is a must-get bundle because you'll kick yourself if you miss out and see the prices of other video software. Finally,
there's a trove of books in the Computer Graphics Bundle on how to create digital art with a lot of focus on both characters and on maps, which is the perfect starting place if you're looking to create art for your own games
.
I always love when the premise of a game sells (or doesn't sell) itself.
You know immediately if you want Sagas & Six-Guns when I tell you the subtitle: Viking Cowboy Roleplaying
. The stories are inspired by Norse mythology and folklore like
Beowulf
and the tropes of the Old West. And there's only one system capable of this,
Savage Worlds
. And an interesting idea needs an interesting origin story, and this game does, listening to a pair of metal albums back-to-back, one about Western outlaws and the other about Norse myths. The PDF is available for a $10 pledge, an at-cost softcover for $15, and an at-cost hardcover for $20. You'll need to supply your own version of the
Savage Worlds
core rules. This Kickstarter is, at time of writing, less than 10% away from its $2000 funding goal and it has until Wednesday, May 29, to get that last $180.
And another perfectly titled game,
GeneFunk 2090 is probably exactly what you think it is – A transhumanist cyberpunk game based around biohacking and gene-splicing
. Stop me if you've heard this one: You and your team are professional security "consultants" who perform investigation, intelligence, protection, "protection", hostile extractions, and "permanent" extractions for a fee from corporations and anyone else who can follow. The rules are a modified 5e system, though despite the temptation from both
Shadowrun
and the D&D rules used as the basis, there's no magic or fantasy elements in the game. You can get the core rulebook in PDF for CA$19 (about US$14) or the hardcover for CA$49 (about US$36). This Kickstarter is fully funded and runs until Thursday, May 30.
That's all from me for this week! Don't forget
to support our Patreon
to bring you more gaming news content. If you have any news to submit, email us at
news@enworldnews.com
, and you can get
more discussion of the week's news on Morrus' Unofficial Tabletop RPG Talk
every week. You can
follow me on Twitch to see more of Thela Iwidia, Chiss Jedi Knight in Star Wars: The Old Republic
after I stream a bit of
Shadowrun Dragonfall
for my full video review of the
Shadowrun
Beginner Box coming this week on the
Gamer's Tavern YouTube channel, featuring videos on gaming history (such as my recent video on the history of Dragonlance), RPG reviews, and gaming Let's Plays
, or you can listen to
the archives of the Gamer's Tavern podcast
. Until next time, may all your hits be crits!
Note: Links to Amazon, Humble Store, Humble Bundle, and/or DriveThru may contain affiliate links with the proceeds going to the author of this column.