Hello everyone, Darryl here with this week's gaming news. Big new product announcements and reprints from Wizards of the Coast, an Old Spice-based character class, a
Warhammer 40K
café is coming soon, the game industry mourns the passing of an award-winning artist, and more.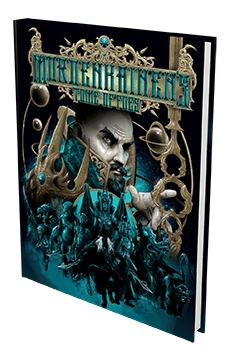 Wizards of the Coast had several big product announcements this past week.
The first was the newest rulebook for Dungeons & Dragons, Modenkainen's Tome of Foes
. The 256-page hardcover book will focus on monsters, NPCs, and new playable races and subraces. Full details are available at the link above to EN World's coverage of both the fireside chat with Mike Mearls and Jeremy Stewart and the official press release. The book will be available in game stores on May 18 (with an exclusive variant cover) and in retail outlets May 29 (
and is already available for pre-order from Amazon
) for a retail price of $49.95.
The Dungeons & Dragons Rules Cyclopedia is back in print as a PDF and print-on-demand title
. Compiled by Aaron Allston and based on the BECMI rules set for
Basic Dungeons & Dragons
, this 304-page book brings all the rules together into one sourcebook that is one of the most highly regarded roleplaying products of its era. The PDF is available for $9.99, a softcover print version for $24.99, and a hardcover for $29.99 (with bundles for each printed version to include the PDF for an additional $2).
Finally,
author R.A. Salvatore will return to the Forgotten Realms with the long-promised story
detailing the history of Zaknafein Do'Urden (father of the iconic Drizzt) and the houseless Drow mercenary Jarlaxle and the eventual reunion of father and son. The first of the announced trilogy,
Timeless
, will be available September 18 with a cover price of $27.99 for the hardback and $14.99 for the Kindle ebook from publisher Harper Voyager.
Old Spice (the personal hygiene company) has decided to get into the game design business with their new "Old Spice Gentlemen Class"
, released via Twitter. The tweet only says
"for the greatest role playing game of all time"
, so it's unknown what (if any) rules system this uses beyond the rules themselves (which seem to be
Dungeons & Dragons 3rd/3.5 Edition
or
Pathfinder
).
There's also no license included with the linked document
, which may be a problem if the class uses OGL material without being OGL licensed. As far as the class itself…I mean, it's a marketing ad meant to look like a D&D product, so I'm not so sure I'd trust it to be very balanced. Either way, it's still an amusing look at how mainstream tabletop roleplaying games have become to think that a major company is creating custom D&D classes as brand advertisements.
Games Workshop is opening an official Warhammer 40,000 café
. The location will be a full-service café that also features gaming space, displays of unique miniatures, painting classes and supplies, and special events. While the game café concept is nothing new, this is one of the first that is sponsored and owned by a game company itself to be used as a marketing tool and, as stated in the release,
"also act as a hub for the Warhammer hobby in North America"
. At this time, there's no set date for the opening of the café, nor even an announcement of where it is beyond "North America".
Update
It was announced yesterday that the cafe will be in Grapevine, Texas (a suburb of Dallas).
A Wrinkle in Time is getting a tie-in board game to go along with the upcoming film
. However, rather than simply throwing together a reskinned licensed game, USAopoly put together a unique puzzle-focused cooperative game. Each of the one to three players takes on the role of one of the film's main characters as they solve logic and mathematical puzzles and decode secret clues in order to work together to rescue Mr. Murray.
The game will be available sometime after the film's March 9 release with an MSRP of $34.95.
One of the designers behind the video game Subnautica was fired following a series of "hateful statements" on Twitter
. Following the release of the game, tweets surfaced from sound designer Simon Chylinski, including mocking transgender issues, immigration, people of color, representation in game design, and other statements which caused controversy on social media. Unknown World's game director Charlie Cleveland released the following statement,
"Over the weekend we discovered that one of our team members had made many hateful statements online that are against our company values. After discussing the matter with him, we decided to stop working with him immediately."
Subnautica, which had been in early access, released officially this past week
to rave reviews with a "Very Positive" rating on Steam and Metacritic score of 87.
Prolific game artist William O'Connor passed away on January 31 at the age of 47
. O'Connor worked across more games and products than can be listed, including
Dungeons & Dragons, Magic: The Gathering, Vampire: The Masquerade,
and more working for almost every major publisher in a career spanning almost three decades
with a long list of awards from the gaming and art community
.
The official Onyx Path Twitter account said,
"Saddened to hear of the passing of William O'Connor, one of the most recognizable WW artists. Covers included the Ashen Knight trilogy, Gehenna, Orpheus' supplements, Trinity's Darkness Revealed, and so much more. A favorite is the Vampire Storytellers Handbook, where WOC included himself in the lower-left corner, illustrating the cover."
Achtung! Cthulhu Tactics
is a new action-RPG video game from designers Auroch Digital based on the Modiphius tactical miniatures game and roleplaying game
. The game will be a turn-based strategy game with heavy roleplaying elements using the same mechanic basis as the Modiphius 2d20 Momentum System. And if you act fast,
the rulebook for the skirmish game is currently free on Drive Thru to promote the new video game
. The video game is already funded by traditional sources for a single-player campaign released in Q4 of 2018, but the Kickstarter is to add more content including playable characters, factions, monsters, and new features. The game and the PDF of the two core tabletop roleplaying game are available for a £20 (about US$28) pledge, while a £60 (about US$84) gets you all the current
Achtung! Cthulhu
RPG books in PDF with £150 (about US$209) to add on nine print books for the tabletop game. This Kickstarter is just shy of funding, but has until Sunday, March 4 to hit its funding goal and start unlocking stretch goals.
Evil Hat looks to expand its offering of custom Fate dice and Fate point tokens
. The
Fate
dice are standard 16mm six-sided dice with the +, -, and blank sides you're used to for
Fate
and
Fudge
systems, while the
Fate
point tokens are one-inch diameter plastic chips to represent your
Fate
points. There's not a whole lot more that can be said as they're incredibly useful dice for a multitude of games out there and Evil Hat's already proven they can manufacture quality dice for their systems. A token set is available for a $12 pledge that includes thirty tokens with the
Fate
logo, a three-pack of dice (12 dice total) for $15, and a $27 pledge gets you a set of each. There's also add-ons (even for the $1 pledge level) for more dice with stretch goals to unlock more colors and designs. And every order with a shipped goal gets a free set of four "ghost dice" (versions of the Frost Dice currently available that didn't quite turn out icy enough). This Kickstarter's already unlocking stretch goals for more colors and designs and will keep running until Friday, March 2.
One of the best things about the new growing popularity of tabletop gaming is the brand new genres being brought to the industry outside the normal action/adventure.
Good Society: A Jane Austen Roleplaying Game is exactly one of those games that I never thought I'd see but I'm glad will exist
. The game is built around custom characters you make by choosing between nine character roles, seven fantasy backgrounds, your relationships, and your secret desire as you interact in the regency setting of Jane Austen's books. There's also a LARP version of the rules as an already-unlocked stretch goal. A PDF copy of the game is available for a AU$13 (about US$10) pledge (with some early-bird slots still available at the time of writing at AU$6 (aboutUS$5)), all the PDFs unlocked through the campaign for AU$22 (about US$17), or a hardcover version for AU$56 (about US$44) plus more options for physical cards for NPCs. This Kickstarter is fully funded and runs until Monday, March 5.
That's all from me for this week! Find more gaming crowdfunding news at
the EN World RPG Kickstarter News website
, and don't forget
to support our Patreon
to bring you even more gaming news content. If you have any news to submit, email us at
news@enworldnews.com
. You can
follow me on Twitter @Abstruse
where I've taken to analyzing game design and genre fiction and the way we talk about it critically, follow
Gamer's Tavern on YouTube featuring videos on gaming history and Let's Plays
, or you can listen to
the archives of the Gamer's Tavern podcast
. Until next time, may all your hits be crits!
Note: Links to Amazon, Humble Store, Humble Bundle, and/or DriveThru may contain affiliate links with the proceeds going to the author of this column.