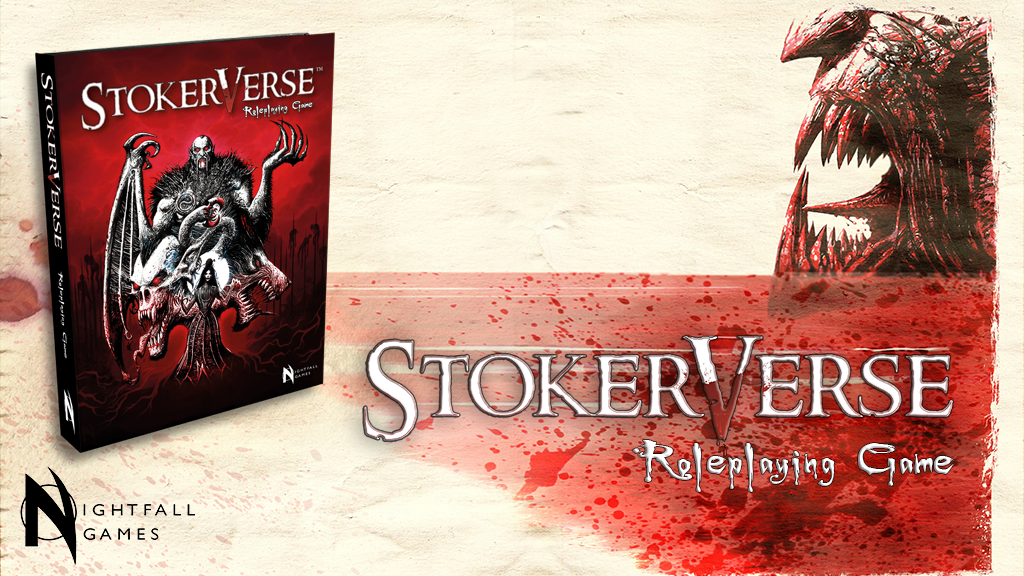 Enter Dracula's world with the StokerVerse Roleplaying Game
​
Torn from the dark imagining of Dacre Stoker, Chris McAuley and artist Clint Langley, the StokerVerse is based on the manuscripts of the all-time master of Vampire fiction Bram Stoker.
In the StokerVerse Roleplaying Game you are drawn into a dark and twisted universe inspired by Bram Stoker's Dracula. Faced with terrors from the harsh realities of the Victorian period and the ever-present shadows of the era you have the unenviable task of facing the Vampire courts and saving those you can. The dark forces have a master plan to awaken their ancient masters...can you stop them before they end you!
Rules
StokerVerse Roleplaying Game features Nightfall Games'
S5S system
, seen in
SLA Industries 2nd Edition
and
The Terminator RPG
. The S5S is a d10-based rules system. At its core, this system uses a pool of dice, one Success die, and five Skill dice per player. The more skilled your character is in the task being attempted, the more likely you are to succeed and "succeed big."
What's in this Book?
The book is a full colour, American letter-sized book including everything you need to play in the StokerVerse:
192 pages of background, art, stats and rules.
Non-player characters (NPCs), many of which will be familiar to readers of 19th century literature, albeit with a StokerVerse twist, (including the likes of van Helsing, Jack the Ripper, Frankenstein's Monster and Miss Habersham to name but a few).
A number of playable characters, including Harker, Mina and Seagrove.
The story of Dracula, the powers behind his curse and the creatures that continue his foul legacy.
Occult secrets including the art of the séance and the powers of mesmerism.
The world of 1890s London, with all the secret lore set to inspire the Games Master (GM) to conjure up their own wicked imaginings.
And of course, a bestiary groaning with vicious beasts, malevolent spirits and demonic foes.
Support Here us here on Kickstarter
https://www.kickstarter.com/projects/nightfall/stokerverse-roleplaying-game