Nightfall Games Team up with Mantic to produce Hellboy RPG​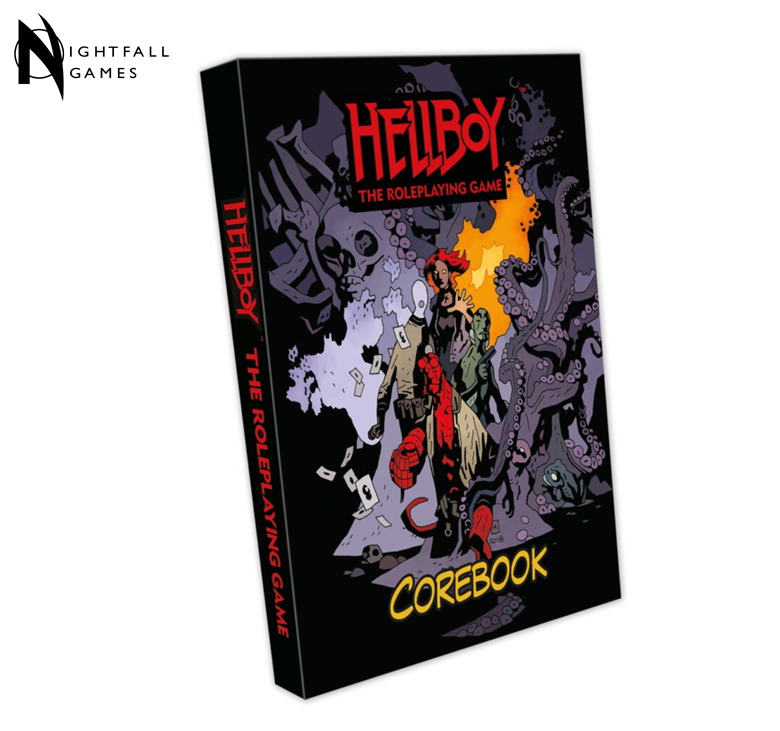 Nightfall Games are very proud and excited to announce we will be working Mantic Games to get their rather awesome 'Hellboy RPG' out into the roleplaying games community.

Nightfall Games
will be hosting the PDFs on our
DriveThruRPG
site and will be selling the books, dice and GM's Screens on our website and at shows – including the upcoming
Dragonmeet
2022.
As part of the launch we will be offering the digital
'Hellboy RPG bundle'
which will include massive savings, new products and each and every one of the
Nightfall Games QuickStarts
PDFs(
The Terminator RPG, SLA Industries, SINS RPG, Demon Dog
and
Devil's Run RPG
).
Nightfall Games will also be working with Mantic Games on some new Hellboy RPG products, which include the upcoming
'Korhonen'
series of interconnected B.P.R.D cases written by Benn Graybeaton alongside previous and new
'Hellboy RPG'
contributors. Get the first of these cases,
'Cannister 7'
here (or as part of the bundle deal).
'To be able to work on new content for 'Hellboy RPG' has been a dream come true. It is good to be able to work both with original contributors and new ones and to do so from my position within Nightfall Games." – Benn Graybeaton, Director of Projects. Nightfall Games
"Hellboy has a great cast of characters, diverse locations and legendary monsters from the pages of folklore and myth," said Ronnie Renton, Mantic CEO. "The comics provide a fantastic foundation on which to build an immersive, fun and fast paced Role-Playing Game that will let players experience some of their favourite moments from the series and also create whole new adventures of their own. We are excited to be working with Nightfall Games to get our products out to the RPG community"
Full Press Release here:
Nightfall Games Team up with Mantic to produce Hellboy RPG -
Check out Hellboy RPG on DriveThruRPG:
https://www.drivethrurpg.com/browse/pub/3600/Nightfall-Games/subcategory/6310_43342/Hellboy-RPG