Hello everyone,


We are pleased to announce that the Kickstarter campaign for
Orbis Aerden: Reign of the Accursed
is now live! Help us spread the word and consider pledging if you are interested in the game. Thank you for your support.
Link:
https://www.kickstarter.com/projects/2092558243/orbis-aerden-reign-of-the-accursed-0
Reign of the Accursed is a horror tabletop roleplaying game about the accursed godspawns, monsters with the semblance of men who carry inside them the blood of a fallen god. As an accursed, you will be thrown into a dark underworld of malevolent schemes, twisted mind games, and damning investigations, underlined by uncompromising brutality and abject terror.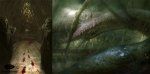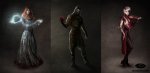 Reign of the Accursed takes place in Orbis Aerden, a fictional Gothic Victorian era setting.




website: http://www.deadeyedshadegames.com/
Last edited: