Get ready for the horrors of Tian Xia, organized play for Pathfinder and Starfinder, errata updates, and a new policy on the use of artificial intelligence in Paizo's products.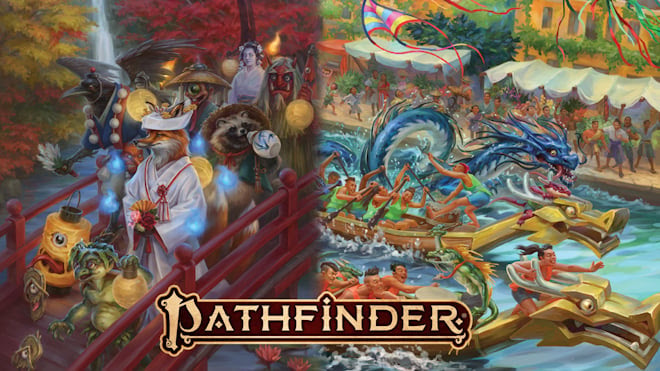 Tian Xia​
Coming this fall, Pathfinder will going to Tian Xia starting with the
Season of Ghost Adventure Path
in October. This horror-themed campaign will take players from 1st to 12th level over four volumes:
The Summer that Never Was, Let the Leaves Fall, With No Breath to Cry
, and
To Bloom Below the Web
. Each adventure in the path will take place over the course of a different season, starting with the Season of Ghosts in the small town of Willowshore. Heroes must work together to help the people of Willowshore prepare for winter in the face of a sinister curse. Can you save your hometown from this supernatural horror or will it become the next haunted ruin?
In 2024, get ready for not one, but two Lost Omen books!
Lost Omens Tian Xia World Guide
will cover the different nations and cultures that inhabit Tian Xia. Learn the secrets behind the undying emperor, offer a prayer to the local kami, and learn about the yaoguai wars that shaped the landscape.
The Lost Omens Tian Xia Character Guide
will introduce new rules to bring your characters to life with six brand-new ancestries and a ton of new backgrounds. There will also be expanded heritages and feats for existing ancestries.
March Organized Play Update​
Pathfinder Society Scenario #4-11: Prisoners of the Electric Castle
and
Starfinder Society Scenario #5-15: Beta Test
will be available digitally on March 29.
Replays are coming! A lot of players have been asking for it and Paizo is delivering. All players will start with 2 replays (current players may have additional replay credits based on the number of games played prior to February 18, 2023) and all GMs will earn one replay for each GM rank they achieve. Additional replays can be purchased for 40 Achievement Points per replay.
Players must indicate to their GM when they are using a replay so it can be reported properly. Replays can be used on any sanctioned content that is scenario-length or shorter, but not long-form content like standalone modules or Adventure Path volumes.
Starfinder Errata Updates​
The following options have just been made legal for Starfinder Society play: all garottes and vibrogarottes (
Starfinder Armory
); mature xenolash (
Starfinder Pact Worlds
); thasphalt blaster (
Starfinder Drift Crisis
); Devastating Throw, Draconic Shot, Hurl Ally, ink gland augmentation, and linnormling creature companion (
Starfinder Interstellar Species
); and Zeitgeist mystic connection (
Horizons of the Vast Adventure Path
).
Artificial Intelligence​
With all of the talk and use of AI generated imagery and text,
Paizo will be updating its creative contracts
with the stipulation that all work submitted to them will be created by a human. They believe that the human touch is an integral part of the success of their games and will continue to work with them into the future.
Starfinder: Enhanced Edition​
In October this year, Paizo will be putting out a pre-order for the Enhanced version of Starfinder. It will include revised classes, new archetypes and feats, a new starship combat system, and more. You can find our coverage
here
.
Last edited by a moderator: