Paizo announces a new partnership with TableTopTown and a rundown of new releases.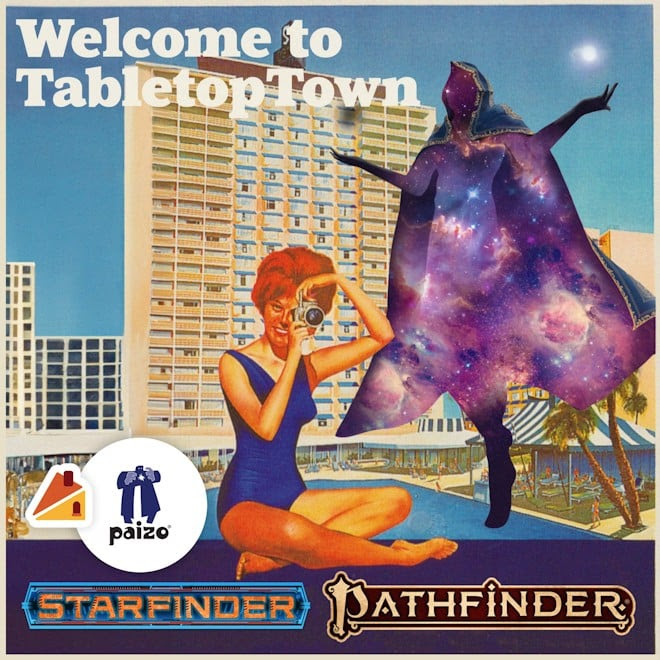 Partnering with TableTopTown​
Paizo has entered a multi-year licensing agreement with TabletopTown to bring
Pathfinder
and
Starfinder
into the asynchronous, mobile gaming space. TabletopTown is a casual, text-based interface currently in an open beta with a full launch coming later this summer.
TabletopTown will streamline the more technical aspects of gameplay while preserving the details and depth of the rich lore of both
Pathfinder
and
Starfinder
. This will allow new players to get started more easily while allowing veteran players to focus on the details they love.
If you want to try it out, of just learn more about the platform, visit TabletopTown's
website
and download the
beta
. You can also join their
Discord
to learn about new features as they are released. Pathfinder and Starfinder will be available for purchase from the in-app Marketplace at launch.
New Releases​
The following scenarios are available right now.
Pathfinder Society Scenario #4-16: Dacilane Academy's First Great Prank War sees a group of Pathfinders helping the academy blow off some stress with a prank war. Nothing could go wrong with that! Until a caravan of fey catch wind of it and join in. Pathfinders need to calm down the friendly fey, defeat some evil fey that infiltrated the caravan, and ensure that this is the best prank war ever.
Starfinder Society Scenario #6-05: Unearthing Ulumbia digs into the Organization's past and reveals their interest in ancient Ulumbia, a long destroyed civilization on Deepwater Prime. Travel to Deepwater Prime to unearth the secrets of ancient Ulumbia, but beware, there may be some of the Organization's agents to contend with.
Pathfinder Society Scenario #4-17: Trapping the Hag's Claw is the conclusion to the Year of Boundless Wonder. The Society is laying a trap for Aslynn, using one of the mysterious items from the vault. The trouble is, she's caught wind of the plan and is ready to overturn it and be done with the Pathfinder Society once and for all.
Releasing August 3, 2023:
Last edited by a moderator: