Two Different Bundles for Pathfinder
​
Host an online Pathfinder game for your friends through Fantasy Grounds Unity, the virtual tabletop RPG system that connects heroes, explorers, and fortune-hunters around the world! With this bundle, you can run or participate in online campaigns full of thrilling combat, deep rules, and perilous fantasy-adventure powered by the legendary first-edition Pathfinder system.
This kit full of virtual Game Masters' essentials includes a 3-month Fantasy Grounds Unity Ultimate subscription (so your friends don't need a subscription to join you), along with tons of player's guides, rulebooks, and other resources for your campaigns. Plus, your purchase helps support Children's Miracle Network Hospitals and a charity you choose!
Play Pathfinder two ways!
Pick up this complete bundle and even more in our Pathfinder Double Bundle, and you'll receive $10 in Wallet credit.
Forge a path into limitless fantasy adventure with this epic collection of Pathfinder 2nd Edition essentials from Paizo! This bundle is filled with the books new explorers need to create heroes and set out on their journey in the legendary Pathfinder tabletop RPG universe, including the Core Rulebook, monster-filled Bestiary, and ready-to-play adventures—along with the physical Beginner's Box at the $50 or more tier. Plus, you choose how much of your purchase supports The Trevor Project and Tabletop Gaymers!
Choose from thousands of games for PC, Mac, Linux, and Android while supporting a charity of your choice. New games added every day!
www.humblebundle.com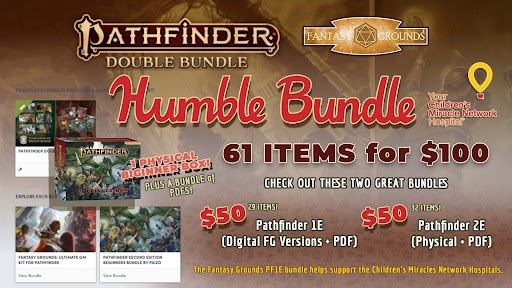 Last edited: