The [Forgotten Realms] Realmspace Traveller's Guide - Preview Edition - v1.1a (adjustments made to comply with site regulations) is now available and the Hyperspeed system playtesting has begun!
Both the preview document and the Hyperspeed system prototype can be downloaded for FREE at Dungeon Masters Guild.
[In case anyone is wondering why it is now being called Hyperspeed and not "the other term" - this is in compliance with DMsGuild regulations, allowing the product page to stay open, for the time being.]
Also feel free to leave feedback and suggestions on the product page.
NOTE: For testing out interplanetary navigation, one can use the distance figures given in chapter 1, section 2 of the Realmspace Preview document.
https://www.dmsguild.com/product/226326/REALMSPACE-Travellers-Guide--PREVIEW-EDITION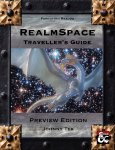 ​