Welcome to the Bundles, Freebies, and Sales News, the weekly column at EN World that helps make sure you don't miss out on big tabletop RPG bundles, charity fundraisers, and sales from around the internet.
Freebies and Pay What You Want
Note: While "Pay What You Want" downloads are available for free, please support the creators if you are able!
As we slowly make our way into October, it's a good time to stock up on horror adventures
like Contact from Cameron Tressler for Call of Cthulhu 7th Edition
. This modern-day scenario sends the investigators to unravel a missing persons case that leads to alien conspiracy theorists and learn whether they may be right about the extraterrestrials.
Price: Pay What You Want (Suggested: $0.00)
And of course you'll need some good maps for your horror adventures, and
Knightmap has yet another one with The Coastal Horror or Beaches Horror
.
This map set includes two versions of the map in 4K JPG, a horror version and a peaceful paradise version to show the transition, with each of those with weather and time of day effects available with and without a grid.
Price: Pay What You Want (Suggested: $0.50)
Sometimes I just have to let the description on DriveThruRPG speak for itself, and
the Delicious Mutatu (5e) Safe to Eat* Edition from Picostrix Press is one of those
:
Travellers, mutatoes are good for you! Do they look like a disgusting purple-brown mess? Yes. Do they squirm like Change-fueled worms? Yes. Are they poisonous if too ripe or not ripe enough? Also yes. But mutatoes also provide fast healing and amazing nutritional value… in exchange for some mild and (often) temporary Change burns. And - on top of that - free darkvision (sometimes)! That's what I call a true gift of the ocean.

Get your free mutato now!

Side effects include headache, nausea, vomiting, death, dizziness, yellow phlegm, dysentery, cardiac arrhythmia, mild heart explosions, varicose veins, purple stool, darkened soul, carcinization, more vomiting, visions, hemorrhoids, extra limbs, mild discomfort, tentacles, spontaneous dental explosion, sugar high, even more vomiting, starfish, the colour dabazle, scales, and mild rash.
Price: Pay What You Want (Suggested: $1.00)
The
Old School Essentials
players out there
will want to look at The Tomb from FEI Games, Inc
. This scenario features four rooms for a party of 4th to 6th level to enhance and flesh out another adventure.
Price: Pay What You Want (Suggested: $0.50)
Over on Dungeonmasters Guild,
Eric van Citteren released the drop-in adventure The Wizards Gallery for 9th level characters
. Explore the wizard's gallery in order to find clues among the displayed possessions and experiments to find out where the spellcaster disappeared to.
Price: Pay What You Want (Suggested: $2.00)
If you want to add more depth to
your tavern adventures and roguish encounters, the Gambling Den supplement by Peter Carlson
adds rules for playing cards and other games of chance with options for bluffing, reading tells, and of course cheating.
Price: Pay What You Want (Suggested: $2.00)
Due to the news I've had to cover in the
News Digest
column,
I've got a bit of fondness for LisaTwo's new Bardic subclass College of the Contract
. While other bards learned the art of song, you learned the art of contract law and can forge magical contracts with those desperate enough to trust you.
Price: Pay What You Want (Suggested: $0.97)
Bundles and Sales
Note: I have included end dates when listed for the following sales, but please be warned that those without published end dates may end suddenly so be sure to plan purchases accordingly.
Humble has
a huge sale on RPG video games if you hurry
including a significant number of games based on tabletop RPGs. You can pick up significant discounts on
Pathfinder: Kingmaker
,
Pathfinder: Wrath of the Righteous
,
Torment: Tides of Numenera
,
BattleTech
,
Shadowrun Returns
,
Shadowrun: Dragonfall
,
Werewolf: The Apocalypse
,
Call of Cthulhu
, and associated DLCs and expansions plus many other titles.
Price: Up to 90% off
End Date: September 27, 2022
Over on DriveThruRPG,
the September System Sale is coming to a close with a huge sale on Savage Worlds
. Not only can you get the core rules of
Savage Worlds Adventure Edition
and other supplements and settings from Pinnacle Entertainment Group, but
over two thousand
products over available from third party add-ons, licensed campaign settings, genre sourcebooks, adventures, and a lot more.
Price: Up to 50% off
End Date: September 29, 2022
On DMs Guild,
Grim Press has put together a huge bundle of Fantasy Grounds mods ready to add you're your VTT
. The collection features a total of 21 mods with new NPCs, monsters, enemies, sidekicks, magic items, character options, and a lot more.
Modihpius has put together
the perfect starting bundle for those interested in the alternate history horror game Achtung! Cthulhu
. The bundle features the
Quickstart, Gamemaster's Guide, Player's Guide,
and
Shadows of Atlantis
adventure to give you everything you need to start fighting the cosmic horrors against the backdrop of World War II.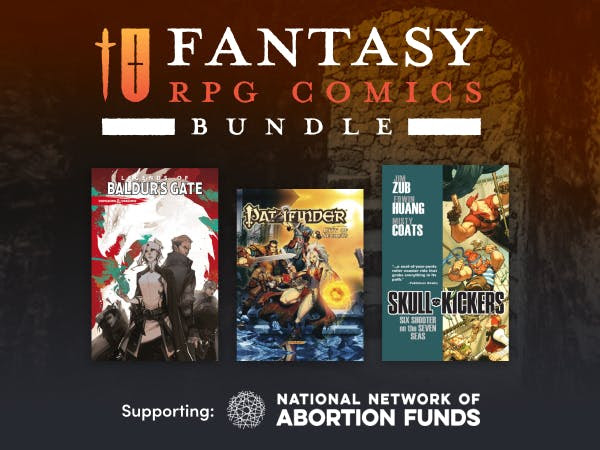 Charity Bundles and Sales
Over on Bundle of Holding,
The Apocalypse Engine Bundle offers a bundle of Powered by the Apocalypse games
. The base level features the sci-fi game
Last Fleet
, the magical academy setting
Pigsmoke: An RPG of Sorcerous Academia,
and three ashcan preview edition of upcoming Magpie Games RPGs:
Crossroads Carnival, Passing,
and
Rapscallion
. The bonus collection adds on five more games and supplements including
The Between
and its second season expansion
, Hearts of Wulin, Voidheart Symphony,
and
Bite Marks
.
Price: $9.95 (78% off) with variable-cost Level-Up option
End Date: October 12, 2022
Charity: Direct Relief (10%)
The bundle for the "acid-fantasy" adventure RPG Troika! is still going on Bundle of Holding
. The Starter Collection includes the
Troika Numinous Edition Core Rulebook
along with three third-party adventures and campaigns, while the Bonus Collection adds on three more adventures plus the six issue compilation
Aetherjack's Almanac
.
Price: $12.95 (72% off) with variable cost Level-Up option
End Date: October 2, 2022
Charity: Direct Relief (10%)
3D printer owners, are you ready for another huge collection of ready to print STL files?
The Humble Bundle 3D Printable Dungeons, Creatures, and More Bundle from Fat Dragon Games
features terrain, minis, buildings, accessories, decorations, and even plans for a holder for minis to ease painting. The bundle comes in three tiers but I'm not even going to attempt to summarize what's included as each of the items is itself a bundle of related STL files making for the "58 items" listed as the top tier purchase a misnomer as it includes hundreds of designs.
Price: $1/$10/$18 (96% off at top tier)
End Date: October 8, 2022
Charity: Extra Life/Children's Miracle Network Hospital (user-defined, default 5%)
Humble Bundle and Cubicle 7 is ready to help you have adventures across time and space with their Doctor Who bundle
. This isn't the 5th Edition version, but the BBC-licensed custom rules system built specifically for adventures in the TARDIS. Even the base $1 level gets you the first edition core rulebook for the custom rules system along with three adventures while the $10 level adds on the
Aliens & Creatures
guide and sourcebooks for the first three incarnations of The Doctor and the top-tier $18 level gets you the Twelfth Doctor Edition of the core rulebook, sourcebooks for all the Doctors up to the Twelfth, books for Companions, UNIT, and the Black Archive, and a lot more for a total library of 28 books.
Price: $1/$10/$18 (97% off at top tier)
End Date: September 28, 2022
Charity: BBC Children in Need (user-defined, default 5%)
The Fantasy RPG Comics Bundle is an amazing library of comic books and graphic novels
based off of tabletop RPGs. The first tier includes
Pathfinder Volume 1
and
Skullkickers Volume 1
, the mid-tier adds on further
Pathfinder
and
Skullkickers
volumes plus two
Dungeons & Dragons
collections, while the top tier adds on the
Legends of Baldur's Gate
and
Evil at Baldur's Gate,
even more
Pathfinder
and
Skullkickers
volumes, and
DIE Volume 1
.
Price: $1/$8/$15 (91% off at top tier)
End Date: October 13, 2022
Charity: National Network of Abortion Funds (user-defined, default 5%)
The Black Library is back on Humble Bundle
with a collection of Warhammer 40,000 audio books and fully produced audio dramas
. The lowest level gets you five full novels including the first books in the series
Vaults of Terra, Watchers of the Throne, Dawn of Fire,
and
Dark Imperium
series plus the novel
Eye of the Night
and a sampler collection, while the second tier adds on an additional seven titles (including the second books in each of those series) and the top tier contains a total of 21 books finishing out all those series plus a lot more.
Price: $1/$10/$18 (98% off at top tier)
End Date: October 6, 2022
Charity: EveryLibrary Institute (user-defined, default 5%)
If you'd like to take
a deep dive into the works of fantasy pioneer J. R. R. Tolkien, Humble has the All About Tolkien Bundle
. The bundle includes biographies, essays, artbooks, lore examinations, travel books, cookbooks, and classic texts that inspired the tales of Middle Earth. Not only the perfect bundle for a close examination of the life and works of Tolkien, but an invaluable reference in the depth of worldbuilding the author created.
Price: $1/$10/$18 (94% off at top tier)
End Date: October 15, 2022
Charity: Active Minds (user-defined, default 5%)
That's all for this week! If you know of any bundles or sales starting soon, please
contact me on the EN World Discord
or
send me a message here on EN World
.
Discount percentages have been rounded to the nearest whole number and are based on the standard retail price provided by the site. Note: Links to Amazon, Humble Store, Humble Bundle, Fantasy Grounds, and/or DriveThruRPG may contain affiliate links with the proceeds going to the author of this column.