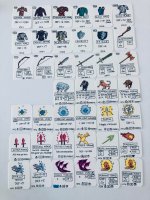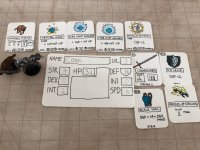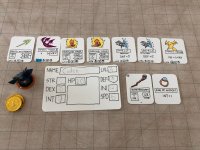 (Some cards I quickly created before the start of our second campaign. And their corresponding "character sheets" at level 3.)
With more time at home, I wondered if it was time to introduce my boys to TTRPG. It started with
bedtime stories
. Instead of reading, I started telling stories leaving end of the sentences hanging, asking the boys to complete the story. They quickly caught on to this "new" type of bedtime stories as our collective imagnation made and progressed stories night after night
A month later, we started our first campaign. It spanned multiple story arcs ending with epic finale vs Tiamat!

(Epic sky battle with Tiamat, finale of first campaign!)
A few weeks later, taking lessons learned from first campaign, I restarted a brand new campaign using cards! While the boys miss their previous heroes and objected to starting new characters, they quickly took to the new system! Only STR, DEX, INT. No race, no class, no alignment. The little handdrawn cards quickly became their most prized possession. Even between sessions, I could see the boys taking them out just staring at them.. no doubt their little brains firing up with imagination! Second campaign was a big success!
Oh, yes, so in case you clicked the thumbnail and wondered, yes those are Monster Hunter Worlds references. My boys loved MHW. So after the first Lost Mine story arc from Start Set, we moved on to save Neverwinter and a certain Tower of Wizardry from strange monsters appearing through mysterious portals. Each week, they face a new monster from MHW. After defeating them (most of the time they did win), the monster will drop two corresponding loots. The boys are thrilled!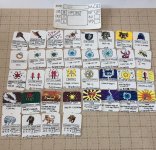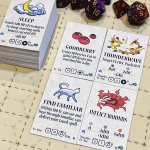 (Familiar map? It's one of the first encounter from Lost Mine campaign of Starter Set. Their "character sheets" towards later part of the second campaign.)
Following the conclusion of the second campaigns, both boys started designing their own campaigns! And cards! Oh man, do they love to draw their own versions of utterly powerful and broken cards
We started playing with them. While the younger one struggled with running a game smoothly, his enthusiasm and excitement of running his very own campaign is very high! (Hint: it is not very fun. But I am an extremely proud dad.) The older one seemed to get the hang of it more and I told him to follow a 2+1 or 3+1 formula. That is 2 battles (or 3) plus one event per session. Event can be puzzles, NPCs events, or just something totally out of ordinary. I'm very surprised when he ran the following sessions and indeed introduced some very interesting story events! (No major plot, just very memorable and fun from kids perspective... like we heard a tiny cooing sound in between encounters... we investigated.. a "baby dragon" popped out... (yeah).. and after some interactions.. it made some funny sounds (my boy totally acted it out), it ran off! End of encounter!)
We are now in the rest period, planning for the third campaign. I'm tweaking the mechanics abit. And I'm thankful the boys are still very interested and keen. I just printed out some stuffs and did a test run with them this afternoon. They got so into it, they begged to play 3 encounters in a row!
I'm so blessed my kids want to play games with me!