I have a monster called the
shadrahath
, which
@BastionLightbringer
sketched in the great
Free Character Portrait Request Thread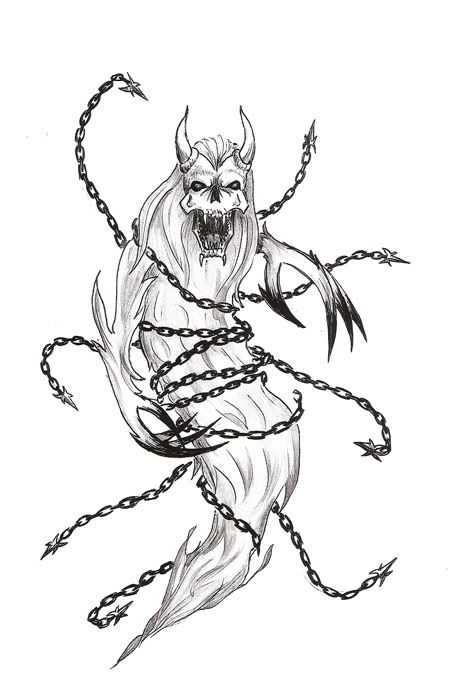 Wispy black and bluish wraith body with long claws, surrounded by tentacle-like spectral chains with a solid skeletal horned fanged face like a mask which is more distinct than the spectral body
The shadrahath are ancestors who attempted to evade death by transferring their consciousness via a mechanical construct through the Astral and into the future where they could possess their descendants. However, their attempt was thwarted by heroes and they became spectral undead bound by fetters of meteoric iron (from the remnants of their construct). A shadrahath was bound to a living descendant. If that descendant died, "disbelieved" in the shadrahath (more than just a roll – think the quest of Sparrowhawk vs. the gebbeth in
Wizard of Earthsea),
or broke the shadrahath's fetters, then the shadrahath ceased to exist. Each shadrahath had a strange relationship to their bonded living descendant, such that they could usually communicate either empathically, via dreams, or full-on telepathic contact, some went on to possess their descendants, and others were bound in magical prisons by their descendants. There was one area of my campaign which was basically the Valley of Shadrahaths where hundreds of them dwelled.
They were essentially wraiths with more story and slight stat changes: they had a fear power, some could cast
hallucinatory terrain,
they could sense living descendants for many miles, and could also use their chains as weapons.