Here's a page from my house-rules, revealed to my players at last weekend's Session Zero. It pertains to the strange rule in the 5E Player's Handbook regarding druids and metal armor: "Druids will not wear armor made of metal."
That rule never sat right with me. And all of the arguments for/against it on Reddit and here on EN World weren't very convincing. So I went with a "best of both worlds" workaround for my homebrew campaign. Here's the page (click to embiggen):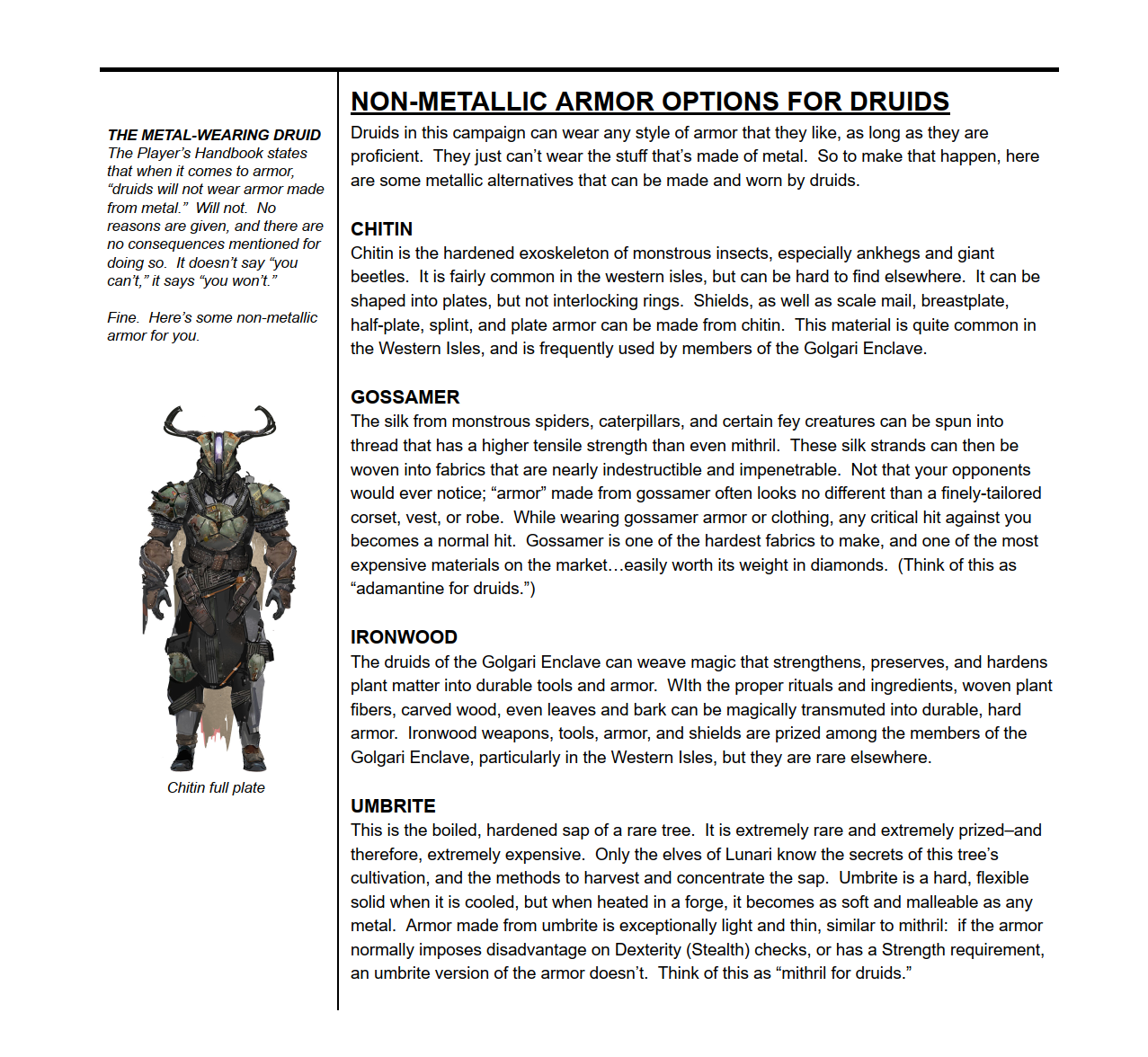 Druids still can't wear metal armor, as per the PHB, and still can't wear heavy armor, mithril, or adamantine. But they have other equivalent options in my campaign: chitin and ironwood are functionally equal to steel, umbrite is functionally identical to mithril, etc. If they want to wear a breastplate, they can go hunt some ankhegs.
Just thought I'd put it out here, for anyone who might find it useful.
NON-METALLIC ARMOR OPTIONS FOR DRUIDS
Druids in this campaign can wear any style of armor that they like, as long as they are proficient. They just can't wear the stuff that's made of metal. So to make that happen, here are some metallic alternatives that can be made and worn by druids.
CHITIN
Chitin is the hardened exoskeleton of monstrous insects, especially ankhegs and giant beetles. It is fairly common in the western isles, but can be hard to find elsewhere. It can be shaped into plates, but not interlocking rings. Shields, as well as scale mail, breastplate, half-plate, splint, and plate armor can be made from chitin. This material is quite common in the Western Isles, and is frequently used by members of the Golgari Enclave.
GOSSAMER
The silk from monstrous spiders, caterpillars, and certain fey creatures can be spun into thread that has a higher tensile strength than even mithril. These silk strands can then be woven into fabrics that are nearly indestructible and impenetrable. Not that your opponents would ever notice; "armor" made from gossamer often looks no different than a finely-tailored corset, vest, or robe. While wearing gossamer armor or clothing, any critical hit against you becomes a normal hit. Gossamer is one of the hardest fabrics to make, and one of the most expensive materials on the market…easily worth its weight in diamonds. (Think of this as "adamantine for druids.")
IRONWOOD
The druids of the Golgari Enclave can weave magic that strengthens, preserves, and hardens plant matter into durable tools and armor. WIth the proper rituals and ingredients, woven plant fibers, carved wood, even leaves and bark can be magically transmuted into durable, hard armor. Ironwood weapons, tools, armor, and shields are prized among the members of the Golgari Enclave, particularly in the Western Isles, but they are rare elsewhere.
UMBRITE
This is the boiled, hardened sap of a rare tree. It is extremely rare and extremely prized–and therefore, extremely expensive. Only the elves of Lunari know the secrets of this tree's cultivation, and the methods to harvest and concentrate the sap. Umbrite is a hard, flexible solid when it is cooled, but when heated in a forge, it becomes as soft and malleable as any metal. Armor made from umbrite is exceptionally light and thin, similar to mithril: if the armor normally imposes disadvantage on Dexterity (Stealth) checks, or has a Strength requirement, an umbrite version of the armor doesn't. Think of this as "mithril for druids."
Last edited: