Here is the June 10, 2022 Friday Freebie map. Click to enlarge.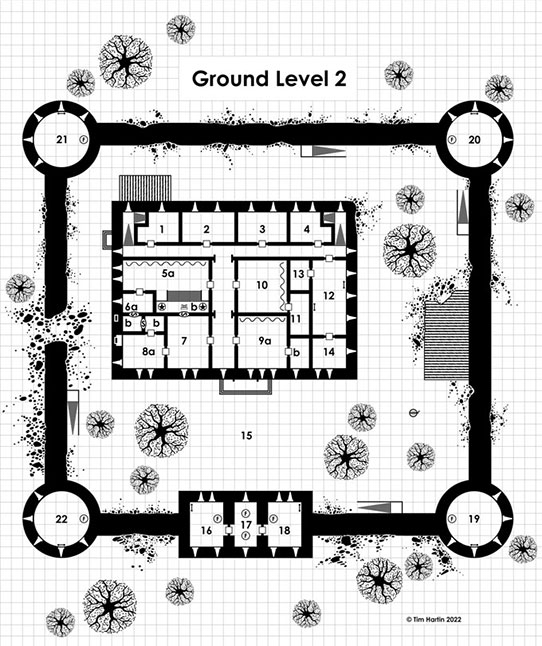 Map Details:
Grid Size: 48x56 10' Squares (72 dpi); VTT Size: 1700x2025
The white triangular shapes on the keep and tower walls are arrow slits/loops.
Areas 5 a), 9 a), and 10 have tapestries.
Area 5 b) has a dais/raised platform.
Area 5 b) has statues.
The white rectangular shape with black centre to the left of area 6 b) is a chimney.
Area 8 a) has a fireplace.
Areas 12, 16, 18, 19, 20, 21, and 22 have ladders leading up.
Area 15 is the courtyard.
Areas 16 to 22 have trap doors in their floors.
I have an Enhanced version of this week's Friday Freebie for sale here:
Friday Enhanced Map: 06-10-2022 - Paratime Design | Building Maps | DriveThruRPG.com
The June 10th, 2022 Friday Enhanced Map product contains a multi-layered PDF (allowing the options of numbered or non-numbered areas, secret doors on or off, and grid or no grid, and all permutations) and a zip file with all relevant (8 maps) map files as individual jpg images. The Enhanced map has a grid size of 48x56 10' Squares (72 dpi); VTT Size: 3400x4050. All for $2 (US).
Cheers,
Tim