Here is the January 13th, 2023 Friday Freebie map. Click to enlarge.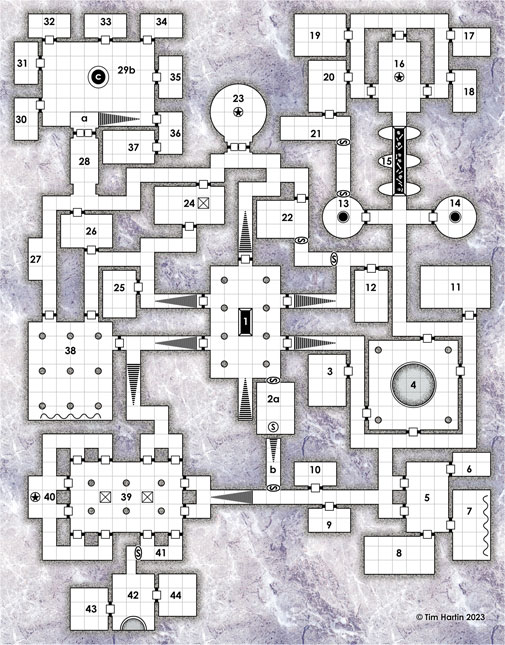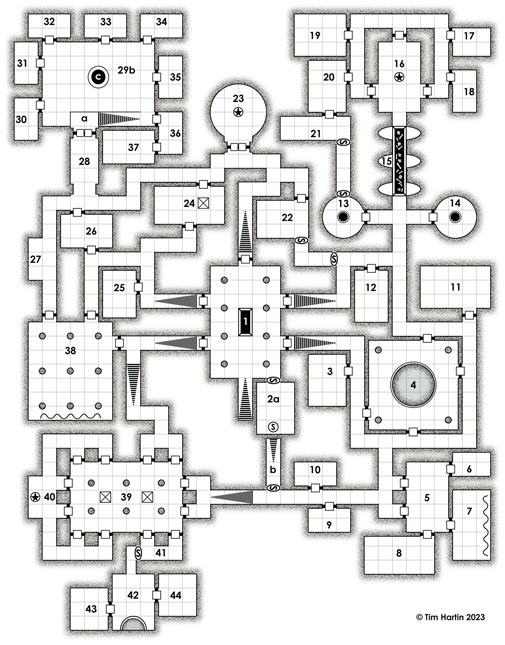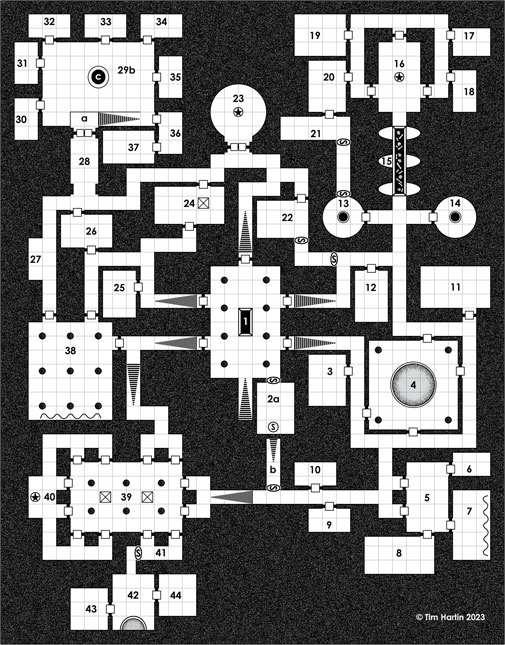 Map Details:
Grid Size: 48x56 10' Squares (72 dpi) or 72x92 5' Squares (72 dpi); VTT Size: 1700x2025
Areas 1, 13, 14, and 29 c) have open pits/wells. Area 15 is a long open pit littered with bones (skeletons?).
Areas 1, 4, 38, and 39 have columns/pillars.
Area 2 a) has a secret trap door in the floor that opens to the stairs directly underneath it in area 2 b) (the stairs directly underneath the trap door are not shown on the map).
Area 4 and 42 have pools/fountains.
Areas 7 and 38 have tapestries.
Areas 16, 23, and 40 have statues.
Areas 24 and 39 have hidden pit traps.
Area 29 a) is at a higher elevation than area 29 b) and c).
I have an Enhanced version of this week's Friday Freebie for sale here:
Friday Enhanced Map: 01-13-2023 - Paratime Design | Dungeon Maps | DriveThruRPG.com
The January 13th, 2023 Friday Enhanced Map product contains a multi-layered PDF (allowing the options of numbered or non-numbered areas, secret doors on or off, and grid or no grid, and all permutations) and a zip file with all relevant (16 + 1 bonus map) map files as individual jpg images. The Enhanced map has a grid size of 48x56 10' Squares (72 dpi); VTT Size: 3400x4050. All for $2 (US).
Cheers,
Tim