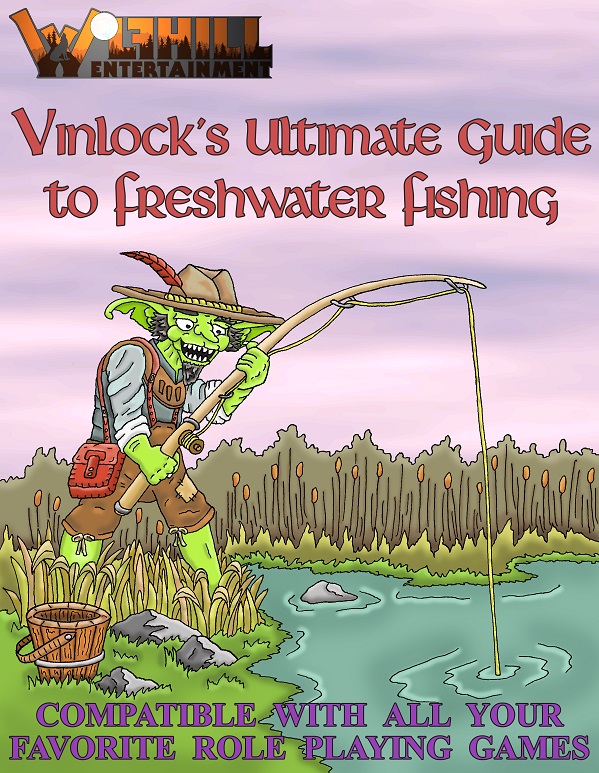 Wolfhill wants to be your second favorite publisher! Come see why the majority of our business comes from repeat customers! We want you to be our next new customer, which is why this product has a special introductory price. Additionally, buy this product today and get a 50% off code emailed to you for one of our other products.

"Vinlock's Ultimate Guide to Freshwater Fishing"
makes fishing more exciting for everyone! This ready to print pdf is compatible with any Role Playing Game. Designed to stand-alone, it can also be used in conjunction with another Wolfhill Entertainment product, "
Sprucemere Fishing Village
". Offering a new way of using gear, choosing angling location, getting a bite, battling the catch, special rewards, and unique fish, this product will offer your Players something fun during adventures and their downtime.
As always, the Wolfhill Goblin offers you a lot of value for an affordable price.
Featuring:
Equipment to increase angling abilities
Full colour fishing location map (GM and Player versions)
Original colour artwork
2 random outcome tables
A unique battle system to reel in a fish
12 unique fish species with special attributes
Magical items and effects associated with fishing
You're bound to hook your Players interest, reel in excitement, and net some fun!
Click for more information or to buy it now
Vinlock's Ultimate Guide to Freshwater Fishing - Wolfhill Entertainment | DriveThruRPG.com
NOTE Our 2020 William Fox grand total is in. Together we managed to raise $1757.62CAD (with 400 from Wolfhill Friends) towards an infant ventilator for McMaster Children's Hospital. This is fantastic news; Thank you so much!
The Wolfhill Goblin wants to give an additional special discount for the first 25 customers to click on the discount link for "Ghosts of Mhifteran" $0.99.
DriveThruRPG.com - Order Contents