None of the Warhammer games have ever bothered with much in the way of subtlety and
Age of Sigmar - Soulbound
follows this fine tradition with a fiery enthusiasm. This isn't necessarily a bad thing.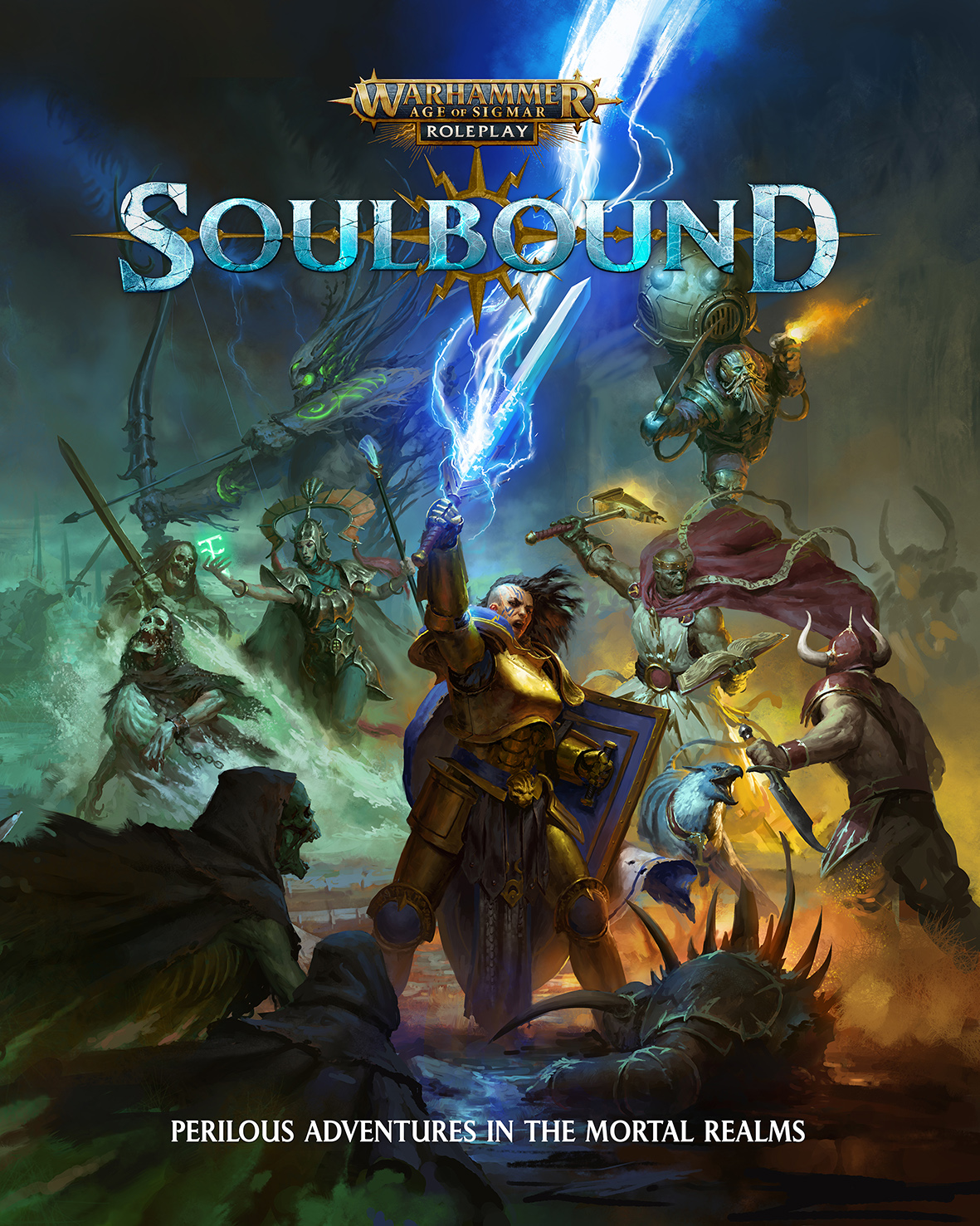 It's a game that revels in having powerful characters performing mighty deeds, all set against a backdrop of crazy magical environments that make a typical D&D world feel like a slice of gritty medievalist simulation. The heroes aren't even thrown together by friendship or even convenience, but by raw divine intervention that marks them as special right from the moment the ink dries on their character sheets.
From that point on they're bound together by destiny, fated to explore
Age of Sigmar's
madcap cosmology and battle the forces of chaos, death and destruction. One week they might be tasked with destroying a powerful demon who has seized a levitating fortress, the next they might head into the sewers to battle gun-wielding ratmen.
And while this divinely-inspired set-up may seem a little cliched, maybe even a little silly to some, there's no denying that flexing your dice and indulging in some old-fashioned power fantasies can be hellishly entertaining. This is especially true when the fantasies in question are supported by a well-built set of rules that play smooth as elven silk. Mostly, anyway.
The rules in question are built around a core dice-pool mechanic that's superficially similar to the ones that power
Shadowrun
and
Tales From the Loop.
This means that when a character runs into trouble or is faced with some obstacle that demands a test, they grab a number of d6s determined by their stats and skills and try to roll as many successes as possible.
However, where most other RPGs tend to keep either the number you need to generate a success or the amount you need to pass a check relatively static,
Soulbound
leaves both variables to the GM's discretion. The idea is that challenging but comparatively straightforward tests, like tricking some suspicious guards with a quick lie, might require high rolls but only one or two successes. An easier but rather more complex task, such as trying to spread that same lie through an entire settlement, might have a lower target number but require several successes if it's to work effectively.
It's a rather clever little system that flows easily in most situations, especially in its streamlined combat encounters. However, there are a few fringe cases where it behaves a little weirdly.
For one thing, most characters will have only one or two dice in their pool for the skills they haven't explicitly focused on, often making more complex rolls virtually - or entirely - impossible. On the other end of the scale, characters who do excel in certain areas can soon find that they stroll through all but the hardest of low-complexity tasks. Even a brand new Battlemage can very easily stack things so they have less than a one-in-ten chance of failing a "very hard" arcana check.
Honestly, though, this quirk doesn't feel too out-of-character for a game where the heroes are so pointedly talented. In many ways it makes sense that a bulky Fyreslayer can haul himself up a cliff with little apparent effort, or that the Wych assassin can casually slip her way by a pair of sleepy bandits with such skill that only the worst of bad luck might cause her to fail. They are, after all, powerful heroes.
And just to be clear, unless you take the time to fiddle with character creation you are going to be playing as powerful heroes. If you head into
Soulbound
in the hopes of finding something even remotely similar to the long-running
Warhammer Fantasy RPG
series, where you had a fair chance of running a game where the most martially-inclined member of the party was the rat-catcher, you're likely to be disappointed.
For those who like their Warhammer experiences dirty and bloody this might be a mark against
Soulbound
. However, if you approach it from the perspective of an over-the-top exploration of high-fantasy nonsense it has the opportunity to be hellishly good fun.
If you get to the end of a session and haven't done at least one thing totally badass, you're probably playing it wrong. Really, that might be all we need to say about it.