Gaming is fun, and fun is for everyone
Hi! So if you don't want to read the blurb below for why I want this, I'll just say that I am running a Forgotten Realms campaign, but haven't read much of its fiction/novels so don't have much deep lore knowledge. So I was hoping for some help to learn who some of the greatest heroes of Forgotten Realms are, who are also dead. Preferably died fairly recently, and are not in the old past of Netheril and other dead empires.
Now, the reason I want this info is I'm working on creating a hidden faction in my campaign, who are much like the Court of Owls from Batman. Essentially, these are some of the most wealthy and influential people across the Sword Coast, who are the true engineers of the Lord's Alliance. Although they are more Lawful Neutral than evil, their main goal is to protect their own power first, safety of the cities second. They are more of a reactive instead of proactive faction, who have a network of agents that react to any adventurers that become too powerful and show a willingness and ability to challenge the Lord's Alliance power structure.
I'm calling them something like the Masked Lords, or the Masked Court, as a sort of higher-umbrella version of the Masked Lords of Waterdeep.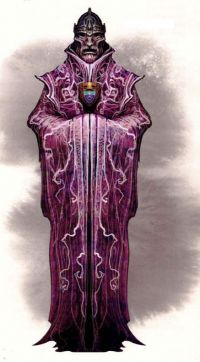 Now, at first I thought these Masked Lords would react to new powerful adventurers by hiring a team from say Acq. Inc, or using something like Force Grey. Then I realized that the members of these organizations aren't typically higher than level 10; they're simply not strong enough to tackle really powerful adventurers in levels 11-20.
Which has led to my idea (largely inspired by the Talons, again from Batman), or
Force Black
. This is a really elite team of assassins, made up of the most powerful adventurers of the past. The catch? They all died, their souls long passed on. These are their corpses reanimated, with their old powers, to fight for the Masked Lords beyond their mortal life. They're practically robots, the only thing left is programming to follow the Masked Lords orders. As a truly deadly force, they are held back for only the most covert and dangerous assassinations.
So that's where I need your help! Who are some adventurers from Forgotten Realms, who are now dead? A mix of different classes would be ideal, but you can name whoever you can think of!