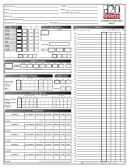 I tweaked my d20 system sheet to reflect some of the design improvements I made in my other sheets. This also uses layering to allow you to switch between Hit Points and Vitality/Wounds, so you'll need Acrobat 6 or later to use it.
I also made a special version to celebrate the 2005 NCAA Basketball Championship, won by my own beloved Tar Heels! Oh yeah, and another one for 2009!
And by request, I did a quick-and-dirty version for St. Patrick's Day!
This work is licensed under a
Creative Commons License
. Character sheet created by
Mad Irishman Productions
.