At today's Wizards Presents event, hosts Jimmy Wong, Ginny Di, and Sydnee Goodman announced the 2023 line-up of D&D books, which featured something old, something new, and an expansion of a fan favorite.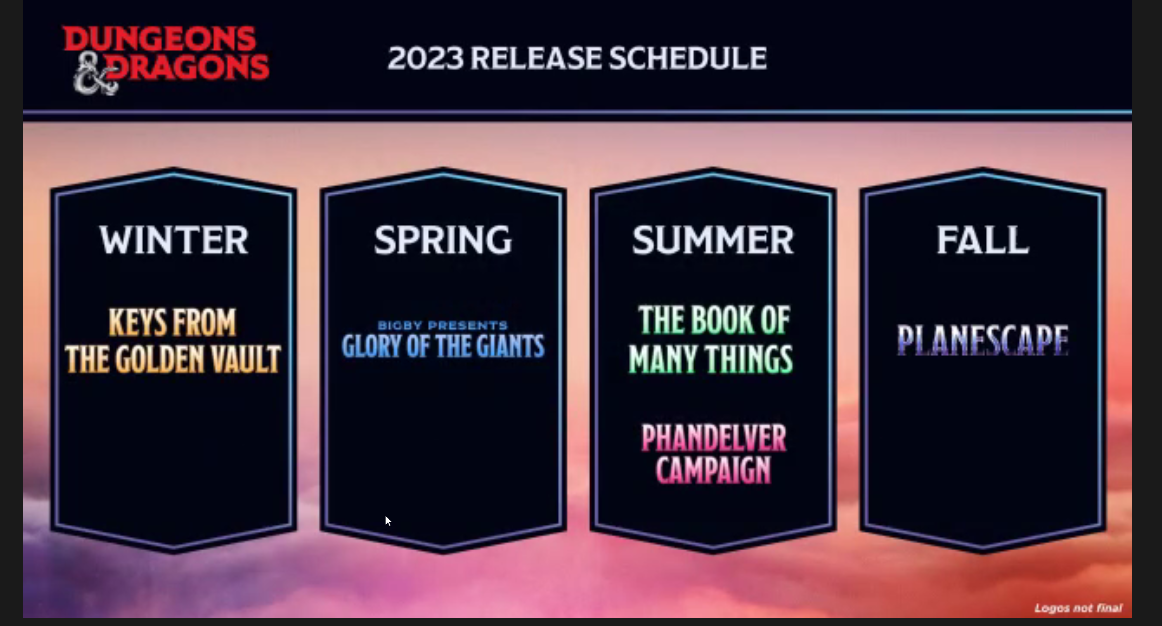 The first of the five books,
Keys from the Golden Vault
, will arrive in winter 2023. At Tuesday's press preview, Chris Perkins, Game Design Architect for D&D, described it as "
Ocean's Eleven
meets D&D" and an anthology of short adventures revolving around heists, which can be dropped into existing campaigns.
In Spring 2023, giants get a sourcebook just like their traditional rivals, the dragons, did in
Fizban's Treasury of Dragons
.
Bigby Presents: Glory of the Giants
will be a deep dive into hill, frost, fire, cloud, and storm giants, plus much more.
Summer 2023 will have two releases.
The Book of Many Things
is a collection of creatures, locations, and other player-facing goodies related to that most famous D&D magic item, the Deck of Many Things. Then
"Phandelver Campaign"
will expand the popular
Lost Mine of Phandelver
from the
D&D Starter Set
into a full campaign tinged with cosmic horror.
And then last, but certainly not least, in Fall 2023, WotC revives another classic D&D setting –
Planescape
. Just like
Spelljammer: Adventures in Space
,
Planescape
will be presented as a three-book set containing a setting guide, bestiary, and adventure campaign in a slipcase. Despite the
Spelljammer
comparison they did not confirm whether it would also contain a DM screen.
More information on these five titles will be released when we get closer to them in date.
Last edited by a moderator: