Stamford, CT, October 1, 2023:
Mal and Tal Enterprises, LLC is pleased to announce our latest monster guide,
5E RPG: Celtic Adventures,
out this month.
You can purchase it here
.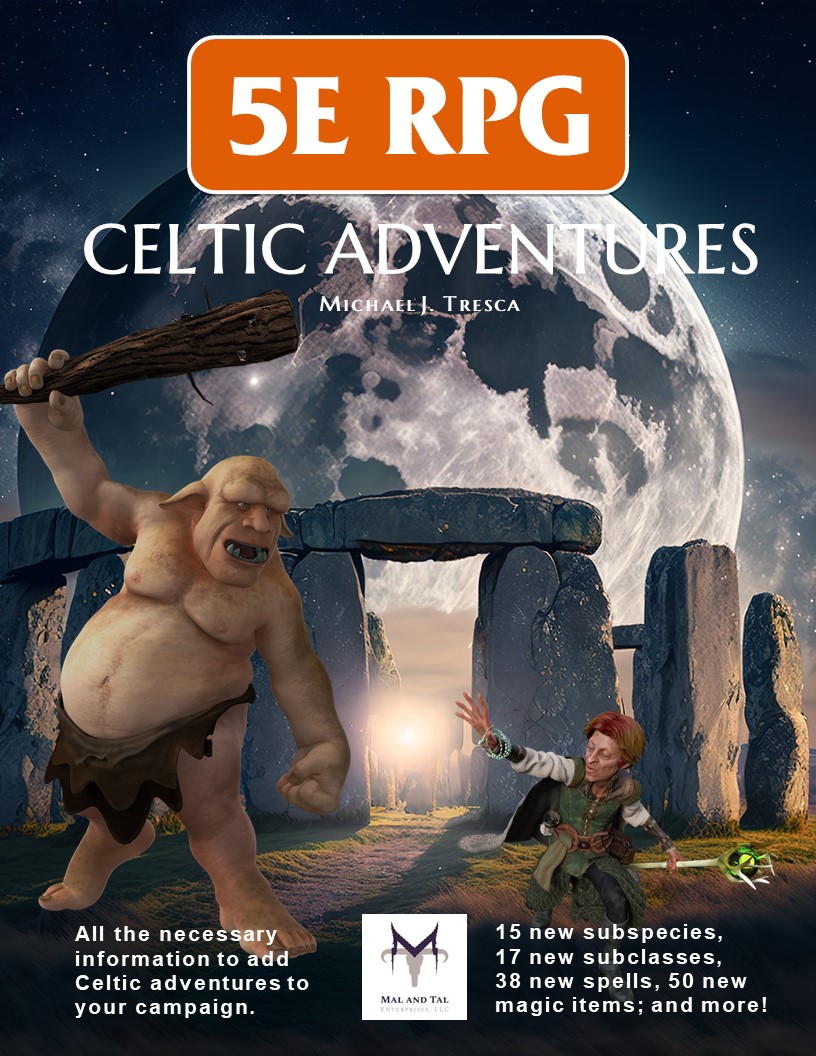 Enter the battle frenzy!
Join a campaign where barbarians, bards, druids, paladins, and rangers all belong. This is where the roots of fantasy gaming began, with swords that talk and glow, hidden elven lands, and warriors capable of astonishing feats of glory. This campaign setting features six different Celtic cultures to play in, along with a timeline and notes on Celtic culture; four new NPCs; five castles with detailed descriptions and maps; six new planes of existence; 15 new subspecies; 17 new subclasses; 38 new spells; 50 new magic items; and 125 new deities grouped into six different pantheon. Grab your spear, lime your hair, and prepare yourself for a battle that will shake your foes to the core. Celtic Adventures await!
This product is included free for our
Tier 3 through 5 Patrons on Patreon
. To be notified of new freebies as they're posted, join our Patreon for just $1/month. You'll receive 3 digital decks of cards, 4 monster supplements, a comic, and a novel as soon as you join. At higher support levels, patrons receive 10 more digital decks, an additional 500+ 5E monsters, three setting books, a full digital comic series, a digital novel trilogy, an autographed physical copy, and much more with new content added monthly.
Join us at Patreon today
!
About Mal and Tal Enterprises, LLC
Mal and Tal Enterprises, LLC is a writing and game design studio led by Amber and Mike Tresca. Their company produces podcasts, novels, comics, and game accessories. For more information,
see their web page on DriveThruRPG
.