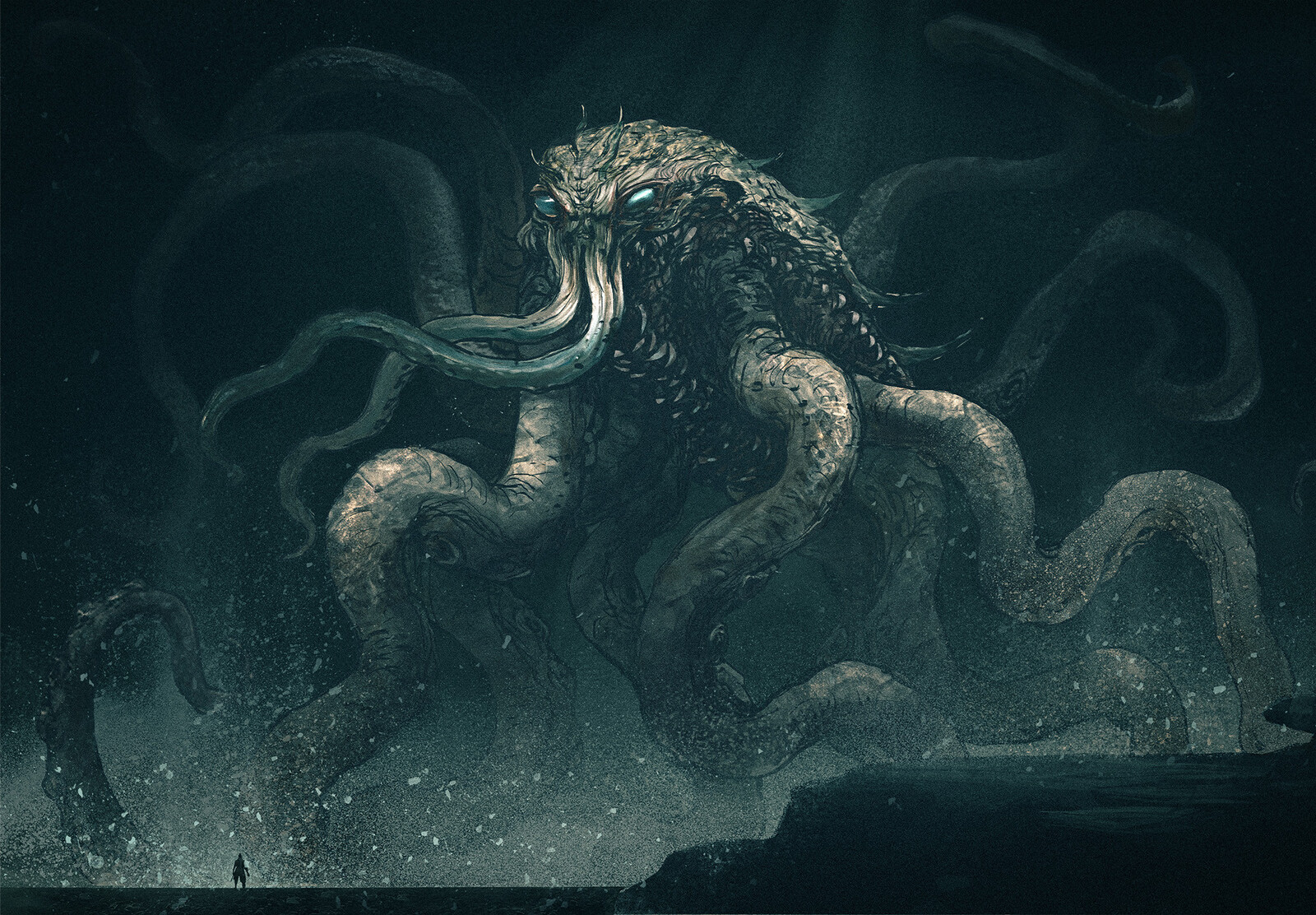 Sea Monster
by Pneg Gao
| | |
| --- | --- |
| Dagon (WIP) | Challenge TBD |
| Gargantuan fiend (demon prince), chaotic evil | TBD Elite XP |

Armor Class
23 (Natural Armor)
Hit Points
930 (60d10 + 600; bloodied 465)
Speed
60 ft., fly 180 ft.

| | | | | | |
| --- | --- | --- | --- | --- | --- |
| STR | DEX | CON | INT | WIS | CHA |
| 29 (+9) | 28 (+9) | 30 (+10) | 30 (+10) | 30 (+10) | 30 (+10) |

Saving Throws
Str + 18, Dex +18, Con +19, Int+19, Wis +19, Cha +19
Skills
athletics +18, arcana +19, deception +19, insight +19, intimidation +19, perception +29, persuasion +19, religion +19
Damage Resistances
acid, lightning
Damage Immunities
cold, fire, poison; bludgeoning, piercing, and slashing from nonmagical attacks that aren't silvered
Condition Immunities
charmed, exhaustion, frightened, petrified, poisoned
Senses
truesight 500 ft., Passive Perception 39
Languages
all, telepathy 360 ft.
Proficiency Bonus
+9
Maneuver DC
26

Archduke (Elite Trait; 1/Rest).
The first time Asmodeus is bloodied, all conditions and effects he is suffering end for him, all of his abilities recharge, and his Elite Actions and Traits are active for 1 hour.
Banishment.
When Asmodeus drops to 0 hit points, and he is not in Nessus, his body is destroyed but his essence travels back to his domain in Nesses, and is unable to take physical form for a time.
Infernal Might.
While in Hell, Asmodeus's attacks ignore all resistances of creatures with less than 20 hit dice and he scores a critical hit on a roll of 17 or greater.
Limited Magic Immunity.
Unless he wishes to be affected, Mephistopheles is immune to cantrips and he has advantage on saving throws against all other spells and magical effects and any creature that makes a spell attack against Mephistopheles has disadvantage on the attack roll.
Lord of Nessus.
While on Nessus, Asmodeus can't be surprised or changed into another form against his will, he can't be targeted by divination magic, perceived through magical scrying sensors, and is immune to any effect that would sense his emotions or read his thoughts. Additionally, Wisdom (Insight) checks made to ascertain his intentions or sincerity have disadvantage.
Additionally, while on Nessus, any creature hostile to Asmodeus that starts its turn within line of sight of him must either avert its eyes (if the target is surprised, it cannot avert its eyes) or succeed on a DC 20 Wisdom saving throw at the end of each of its turns. If it fails three attempts before it succeeds on three attempts it is dominated, as in the
dominate monster
spell. If a creature succeeds on its saving throw or the effect ends for it, it is immune to Authority of Nessus for 24 hours.
Lord of the Nine.
While in hell, Asmodeus can revoke or grant control of a layer of hell. To do so he must be on the layer and then must spend a full round doing nothing but concentrating on this task. At the end of the round the Lordship of the layer changes as Asmodeus desires. If Asmodeus revokes control without assigning to another, he gains control of the layer and that plane is considered Nessus for any of Asmodeus' traits or abilities.
ACTIONS
Multiattack.
Asmodeus makes two melee attacks. He can replace one of these attacks to cast an at will spell.
Ruby Rod.
Melee Weapon Attack:
+21 to hit, reach 10 ft., one target.
Hit:
30 (4d8 + 12) magical bludgeoning damage plus 27 (6d8) acid, cold, or lightning damage, Asmodeus' choice.
Slam.
Melee Weapon Attack:
+18 to hit, reach 5 ft., one target.
Hit: 19
(3d6 + 9) magical bludgeoning damage plus 14 (4d6) fire damage and the target must succeed on DC 26 Strength saving throw or be knocked prone, grappled, or stunned until the end of its next turn (Asmodeus's choice).
Hellfire Pillar (recharge 5-6).
Asmodeus chooses a point on the ground that he can see within 480 feet of him. A cylinder of fire, 100 feet tall with a 15-foot radius, rises from that point and lasts for 1 minute. Creatures in the area when the pillar erupts, or that end their turn in the area, lose their immunity or resistance to fire damage, or gain vulnerability to fire damage if they did not have any resistance or immunity, for 1 minute. In addition, each crearture must make a DC 27 Dexterity saving throw, taking 55 (10d10) fire damage on a failure, or half as much damage on a success.
Innate Spellcasting.
Asmodeus's spell casting ability is Charisma (spell save DC 27, +19 to hit with attack spells). Asmodeus can innately cast the following spells, requiring no material components, and all are cast at the highest possible level:
At will:
alter self
(can become any size when changing his appearance),
animate dead, counterspell,
detect evil and good
,
detect magic
,
dispel magic
, fear, fireball, geas, hold monster,
invisibility
(self only),
lightning bolt, mage hand, magic missile, scrying, suggestion
3/day each:
banishment, blight, cone of cold, hold monster, ice storm,
wall of fire
2/day each:
disintegrate, dominate monster, fire storm, forcecage, plane shift, symbol
1/day each:
gate
, holy aura, meteor swarm, power word kill,
wish
Fireball (3rd level). Mephestopheles chooses within 120 feet of her that then explodes in flame. Each creature in a 20-foot radius sphere from that point must make a DC 24 Dexterity saving throw, taking 28 (8d6) fire damage on a failed save, or half as much damage on a successful one.

Meteor Swarm (9th level). Mephestopheles selects four points within 1 mile of him. A sphere of flame strikes the ground at each point and explodes in a 40-foot radius. The effects of a sphere reach around corners. Creatures and objects in the area take 14d6 fire damage and 14d6 bludgeoning damage, and flammable unattended objects catch on fire. If a creature is in the area of more than one sphere, it is affected only once.
Summon Devil (3/Rest).
Asmodeus magically summons one of the following type of devils: 2d4+2 bone devils, 1d6+2 horned devils, 1d6+2 erinyes, 1d4+2 ice devils, or 1d4 pit fiends; or one of his Dukes; or (25% chance of success) one arch-devil.
Teleport.
Asmodeus teleports, along with any equipment he is wearing or carrying, up to 120 feet to an unoccupied space he can see. While on Nessus, the distance Asmodeus can teleport is doubled.
Planeshift (1/Rest). Asmodeus can
REACTIONS
Asmodeus can take two reactions per round, but only one per turn.
Counterspell.
When a creature Asmodeus can see within 60 feet of him casts a spell, he can attempt to disrupt it. If the spell is 3rd level or lower, it fails and has no effect. If the spell is 4th level or higher, Asmodeus makes an Intelligence check (DC 10 + the spell's level). On a success, the spell fails and has no effect.
Diabolical Influence. If Asmodeus is targeted for a ranged weapon or spell attack, he adds +4 to his AC, if the attack misses then he can telekinetically move the closest creature to him (aside from the creature who targeted Asmodeus for the initial attack) to take the hit instead of him. If the attack still hits, then this reaction does not take effect.
LEGENDARY ACTIONS
Asmodeus can take 3 legendary actions, choosing from the options below. He can use one legendary action option at the end of another creatures turn and any unused legendary actions at the end of the round. Asmodeus regains spent legendary actions at the start of his turn.
Elite Recovery.
Asmodeus ends one condition or negative effect currently affecting him. He can do so as long as she has at least 1 hit point, even while
unconscious
or
incapacitated
.
Fling.
One medium or smaller object or creature held or grappled by Asmodeus is thrown up to 60 ft in a direction of its choosing and knocked prone. If a thrown target strikes a solid surface the target takes 3 (1d6) bludgeoning damage for every 10 feet it was thrown.
If the target is thrown at another creature, that creature must succeed on a DC 27 Dexterity saving throw or take the same damage and be knocked prone.
Regenerate.
Asmodeus regains 40 hit points.
Slam.
Asmodeus makes a Slam attack.
Teleport.
Asmodeus uses his Teleport action.
Ruby Rod (Costs 2 Actions).
Asmodeus makes a Ruby Rod attack or uses on of the artifacts powers.
Puppet Master (Elite Action).
Asmodeus exerts precise control over one creature he has dominated and forces to use its reaction to move and/or attack one of Asmodeus' enemies.
Chill Gaze (Elite Action; Costs 2 actions).
Asmodeus can force one creature within 240 feet of him that can see him to look into his eyes. The creature must make a DC 27 Wisdom saving throw, taking 65 (10d12) cold damage and be paralyzed until the end of Asmodeus next turn on a failure and half as much damage on a success.
Hellish Recharge (Elite Action; Costs 3 actions)
.
Asmodeus recharges hellfire pillar and uses it.
---
EQUIPMENT
Ruby Rod
Rod, artifact (requires attunement by a lawful evil fiend)
This rod can be wielded as a Large magic mace that grants a +3 bonus to attack and damage rolls made with it. Additionally, it deals an extra 6d8 cold, fire, or acid damage, your choice. on a hit.
Absorption.
While holding this rod, you can use your reaction to absorb a spell that is targeting only you and not with an area of effect. The absorbed spell's effect is canceled, and the spell's energy — not the spell itself — is stored in the rod. The energy has the same
level as the spell
when it was cast and is stored as a charge, see Spells below. Once the rod is fully charged (50 charged), it can't absorb more. If you are targeted by a spell that the rod can't store, the rod has no effect on that spell.
Heaven's Bane.
On a hit, the rod deals an extra 10d10 radiant or necrotic damage to celestials, your choice.
Lord of Hell.
While holding the rod you can use an action to cast Mass Suggestion at 9th level. If you are in hell, the spell ignores immunity to the charmed condition, the range is 1 mile, there is not limit on the number of devils targeted, and devils have disadvantage on the saving throw.
Rulership
. You can use an action present the rod and command obedience from each creature of your choice that you can see within 240 feet of you. Each target must succeed on a DC 20 Wisdom saving throw or be
charmed
by you for 8 hours. While
charmed
in this way, the creature regards you as its trusted leader. If harmed by you or your companions, or commanded to do something contrary to its nature, a target ceases to be
charmed
in this way.
Spells.
The rod has 50 charges. While holding this rod, you can use an action to cast one of the following spells (spell save DC 20, +12 to hit with attack spells):
arcane eye
(4 charges),
bestow curse
(3 charges),
acid arrow
(9th level; 9 charges)
cone of cold
(9th level; 9 charges),
lightning bolt
(9th level; 9 charges).
The rod regains 3d10 + 10 charges daily at dawn.
Special.
While Asmodeus is in possession of the Ruby Rod it uses his save DC and attack bonus and attacks made with it ignore resistance to cold, acid, or lightning damage. Additional, it has the following property:
Returning.
The rod magically returns to Asmodeus' hand when summoned (no action).
Last edited: