A collection of colorful minor magical treasures to spice up your game without breaking it - coming soon to Kickstarter!
We've already delivered the PDF rewards for Mythological Figures (in under two minutes - a personal record!) and the print run for those hardcovers has been commissioned and paid for.
Coming in September is a little mini 'Quickstarter'
which will only last two weeks and is digital only.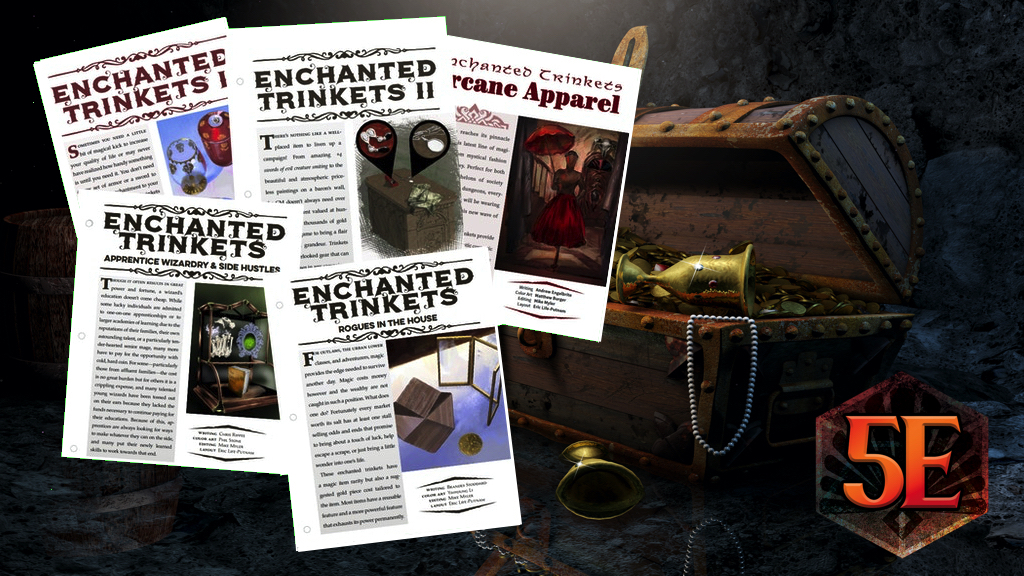 This collection of five short PDFs for the 5th edition of the world's oldest roleplaying game presents you with 65 minor magical items suitable for inserting into any campaign. These items are not mighty artifacts, and they won't turn the tide of a war, but they can spice up and add colour to a magical world!
And the best bit? They're only £1 each! Each PDF contains a dozen or more items.
Equip your character with a
marble of direction, messenger ant, box of bees,
or a
cage of folly
. Discover a
conch of the secret voice, wand of cobwebs, paradise parasol,
or a
prismatic gow
n. Uncover wondrous magical treasures without breaking your game!
This is a "Quickstarter" -- it's only here for a couple of weeks, so don't miss out! Note that this Kickstarter is for digital (PDF) products only, which will be delivered as soon as the Kickstarter campaign ends.
Click here to get notified when it launches!